'Aatsinki' — Documenting The Harsh Beauty of Living Off The Finnish Land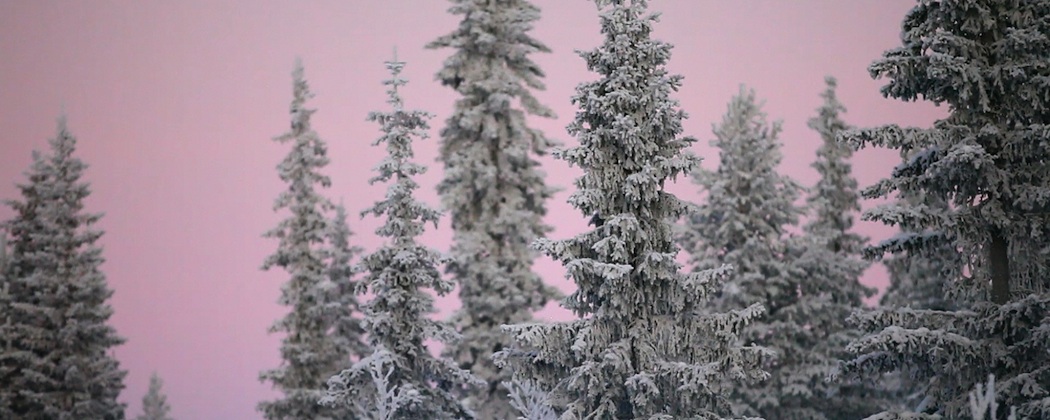 This article is more than 9 years old.
When it comes to aesthetics, Ang Lee's got nothing on Jessica Oreck. In her latest film, "Aatsinki," which screens at the Brattle Theatre tonight at 7, the independent filmmaker has an eye for the precious details of landscapes and their sweeping vistas alike. For a year, she lived with the reindeer herders of Finnish Lapland, following them on foot, snowmobile, and all-terrain vehicle as they in turn follow the migrations of reindeer across the thawing woodland.

A visual ethnographer, Oreck joined these rugged Arctic cowboys around the campfire, capturing the business of rounding up reindeer in the wild for touristy sleigh rides and — the more bloody alternative — their meat and hides. But the Aatsinki family farm is more than a business. It's a way of life.
At question is this: What way of life is characterized by back-to-the-land simplicities a la Thoreau mediated by advanced technology? The Aatsinkis whittle spoons from pine trees and boil the water for their coffee in kettles suspended over open fires. Dinner is prepared in the same way, usually on the end of a stick. But they also man helicopters and use sophisticated tracking devices in their pursuit of reindeer over forest and tundra. Their farm is no backwoods operation. And that's the problem. While Oreck passes no judgment — we see through her eyes but never hear her speak --the irony is a bit much.

Never has living off the land seemed less sustainable, or less unplugged from the technological overdrive of our postindustrial world. Certainly, reindeer herding does not approach the horrors of factory farming, but it's not all kumbaya either. I winced watching calves gutted and disemboweled, their corpses strung up in, well, what looks an awful lot like a factory-cum-kitchen.
That's not to say Oreck's documentary is short on the beauty of nature in the Northern realm. Quite the contrary. It succeeds in building a visual narrative that is pure poetry without a textual element, relying on the changing seasons to tell its tale. Even the Finnish dialogue that is translated, and not all of it is, serves as an addendum. From it, we can glean which reindeer are male and which are female, what animal has made those tracks through the snow, or whether the mushrooms Aarne Aatsinki's little girls pluck from the ground are poisonous or good to eat.
By contrast, there are moments that approach the mastery of a 17th century Dutch painting, with Aarne's profile silhouetted by the flickering of a candle as he waits in the dark for his kettle to heat.
That is partly what's so appealing about Oreck's documentary. There is a deep and abiding beauty in Aarne and his brother Lasse's relationship with the land, violent though it may sometimes be. It's the stuff myths are made from, but through Oreck's lens it is a relationship as genuine as it is complicated.
And that leaves a viewer conflicted. Is living off the land really good for the environment, or, more to the point, how is it possible that it isn't? The Aatsinki family appears both anachronistic in their traditions and advanced in their technological apparatus. If they can't truly succeed in living sustainably in the natural world, is there hope for any of us?
I want to ask Oreck what she thinks, and why she sought out reindeer herders to tell us their story. Luckily, through the efforts of the DocYard, she will be in attendance at the Brattle Theatre on Monday, January 27 for the screening of "Aatsinki" and a Q&A moderated by the Harvard Peabody Museum's Ilisa Barbash. Her documentary is well worth seeing for its artistry anytime, but this may be the only opportunity we'll ever get to ask questions about Arctic cowboys.

Robyn Day is a Boston-based photographer and contributing writer at Big Red & Shiny and Art New England. She manages the publicity and marketing initiatives at Lacoste Gallery.