The Bettye LaVette Tour — Defiant, Triumphant — Comes To Johnny D's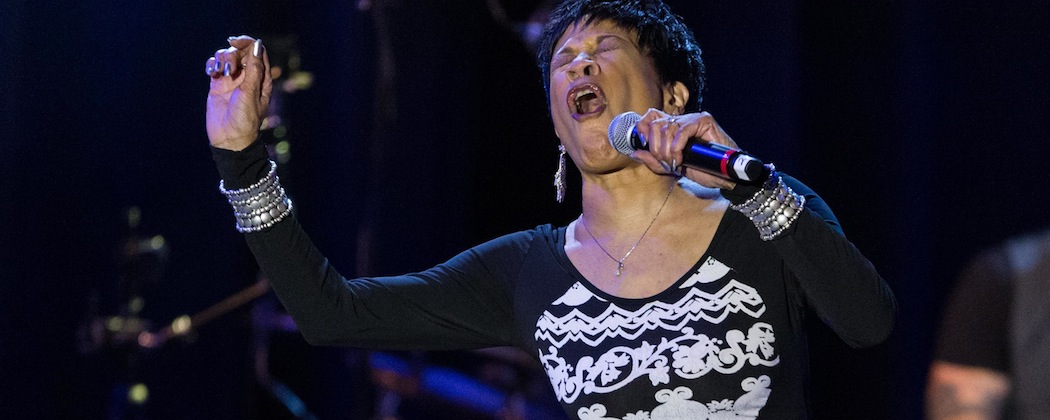 This article is more than 7 years old.
HUDSON, N.Y. — The story of Bettye LaVette is one of grit, determination and luck, and it's one that gets played out and retold in every concert she gives through the songs she sings, the things she says, and mostly through her soulful, defiant and ultimately triumphant performances, such as the one she gave at Club Helsinki Hudson Jan. 11. It's hard to imagine that her Johnny D's date in Somerville Feb. 4 will be any less exultant.
LaVette was one of a number of Detroit-bred R&B singers coming up the ranks in the early 1960s. But as she pointedly put it at one point at Helsinki, "I didn't 'Mash Potato' and I didn't 'STOP!'," as she raised her hand in a sly dig at Motown contemporary Diana Ross. Then LaVette launched into "My Man — He's a Lovin' Man," her sole top 10 R&B hit, recorded in 1962 when she was just 16. Her goal had been to get on "American Bandstand" with the hit, but as she explained, it was just too sexy (and probably too black). And then the thin, lithe 68-year-old demonstrated just how sexy it was — and how sexy she still is — with moves like Jagger (who undoubtedly copped them from the likes of LaVette).
LaVette never stopped performing and recording, but she mostly wandered in the wilderness for the next 40 odd years, until a savvy manager paired her on "I've Got My Own Hell to Raise," with songs by contemporary female songwriters of all stripes, including Lucinda Williams, Sinead O'Connor, Fiona Apple and Dolly Parton, thus launching LaVette's late-career "comeback" of the last decade or so. (Always self-deprecating, she called her current tour the "Coming Out of the Crypt 50th Anniversary Tour.")
Most of her concert consisted of songs recorded over the last 10 years, including those from "I've Got My Own Hell" and the award-winning follow-up, "Interpretations: The British Rock Songbook." Given their provenance, the material she drew upon was top-notch — it included Bob Dylan's "Everything Is Broken," George Harrison's "Isn't It a Pity" and Bob Seger's "Like a Rock" — and she performed cabaret-style with appropriate backing from her funky, versatile quartet.
LaVette has a unique style she applies to her material — rearranging most of the tunes to emphasize the funk or blues strut, if it's there, and if not, to place it there. Her singing boasts the unpredictable phrasing of a jazz singer; the elastic tone of a blues singer; and the upbeat dynamics of an R&B shouter. Her delivery is emotional, often with an insistent, almost angry (albeit well-earned) edge. Where George Harrison was sad and plaintive on the original "Isn't It a Pity," for example, LaVette found a vein of outrage.
She forefronted the gospel hidden inside Seger's "Like a Rock" — with the assistance of pitch-perfect vocal harmonies from her musicians — and took an a cappella stab at O'Connor's "I Do Not Want What I Have Not Got." Her voice is sharp and cutting, and she commands the stage like a master.
It turns out that LaVette's feel for rock material predates her recent career focus. She knowingly followed up a version of "Everybody Knows This Is Nowhere" (rendered as "Everybody Knows This Ain't Nowhere") saying, "I know all the white faces here tonight know that was a Neil Young song," before launching into Young's "Heart of Gold," which she first recorded in 1969, anticipating how her career would finally gain purchase 30-plus years later after finding her niche as a cabaret soul-rock singer performing mostly before white, baby-boomer audiences.
Seth Rogovoy is the author of Bob Dylan: Prophet Mystic Poet. His online magazine, The Rogovoy Report, is at www.rogovoyreport.com. He lives in Hudson, N.Y.

Seth Rogovoy Contributor, The ARTery
Seth Rogovoy was a contributor to WBUR's The ARTery.