Mass. Approves 20 Medical Marijuana Dispensaries
04:48
Play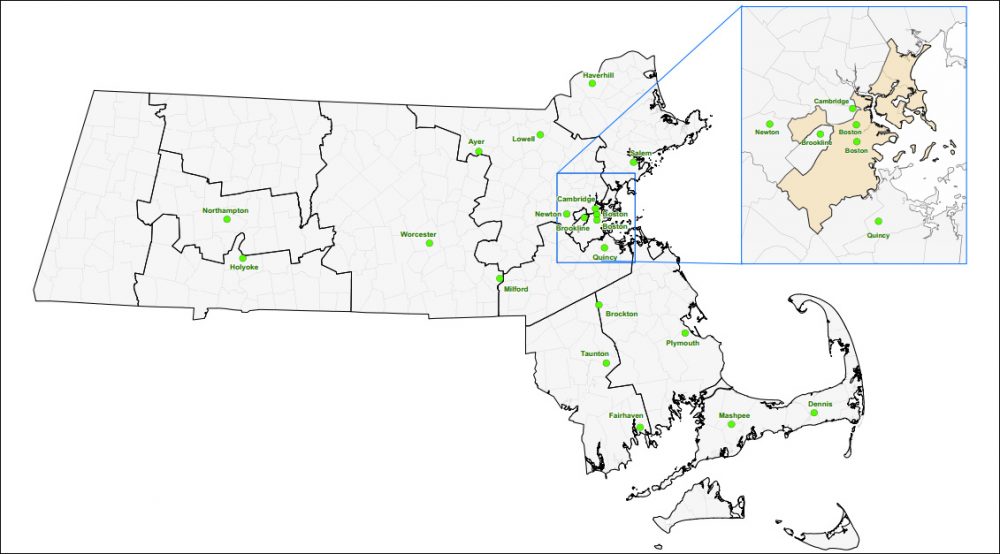 This article is more than 7 years old.
A small grocery store and a former warehouse are among the buildings that may soon be redesigned to open for a very different purpose: selling marijuana to qualifying patients.
The Massachusetts Department of Public Health on Friday approved 20 medical marijuana dispensary licenses in 19 communities.
Voters approved the use of marijuana for medical purposes in 2012. The law said the state could OK up to 35 dispensaries, with at least one, but not more than five, in each county.
Boston, in Suffolk County, has two licenses. Four licenses were awarded in Middlesex County, with two licenses each in Barnstable, Bristol, Essex, Norfolk, Plymouth and Worcester counties. Hampden and Hampshire counties each got one license.
The dispensaries are in the following cities and towns: Ayer, Boston (2), Brockton, Brookline, Cambridge, Dennis, Fairhaven, Haverhill, Holyoke, Lowell, Mashpee, Milford, Newton, Northampton, Plymouth, Quincy, Salem, Taunton and Worcester.
Four counties do not yet have a dispensary. Six qualifying dispensary applicants were invited to seek an alternate location, in order to serve the remaining counties. State officials said they may issue additional licenses in June.
Owners who were notified they cleared state approval will now have to begin the local approval process, which includes zoning, inspection and public health rules in some communities.
Each dispensary is required to grow and process the marijuana they sell, a process state officials call "seed to sale." Most dispensaries have tentative leases in rural areas of the state where they plan to grow the plants.
Some local public health officials have said that dispensaries will not likely open before early to late summer. That will give owners time for the first growing cycle, property renovations, local hearings, inspections and financing.
Allison Jones, from Rutland, said she's thrilled that she will be able to buy marijuana from a licensed, regulated facility. Jones is still undergoing surgery three years after a car was pushed on top of her on a Connecticut highway. She says dispensaries will give patients a range of options that are not available on the black market, and that will be certified for safe growing.
The Massachusetts Medical Society (MMS) continues to offer cautions for patients, providers and the state.
In a statement, MMS President Ron Dunlap said patients must take into account that "there is insufficient scientific information about the safety of marijuana for 'medicinal' purposes." Dunlap suggests that patients ask about the warning signs and side effects of marijuana, as they would for any prescribed drug.
Patients can request a certificate for legal marijuana use from a physician with whom they have a "bona fide physician-patient relationship," and be in possession of a 60-day supply (up to 10 ounces).*
Marijuana is allowed for patients with "cancer, glaucoma, AIDS, hepatitis C, amyotrophic lateral sclerosis (ALS), Crohn's disease, Parkinson's disease, multiple sclerosis and other conditions as determined in writing by a qualifying patient's physician," according to regulations published last year by DPH.
Correction: An earlier version of this story incorrectly reported the amount of marijuana a qualifying patient can possess. It is a 60-day supply, or 10 ounces, not 60 ounces. We regret the error. This post was last updated at 2 p.m.
This article was originally published on January 31, 2014.