Compagnie Kafig: Renaissance, Frenzy And A Visual Feast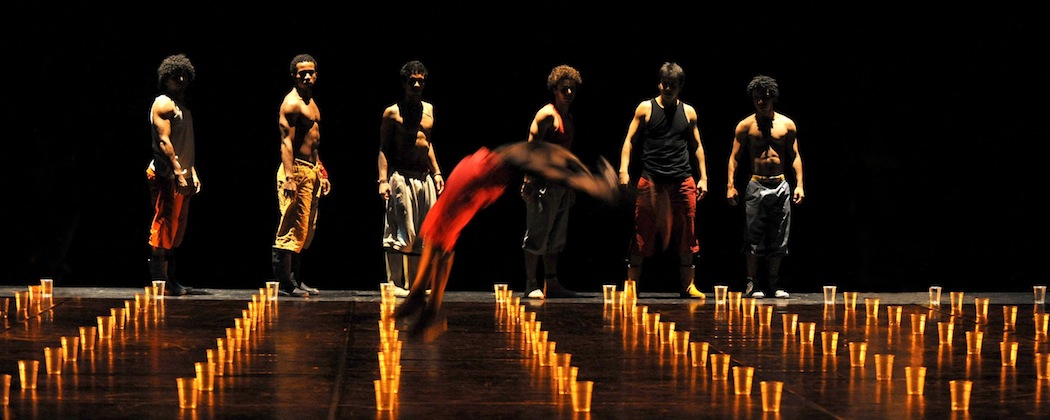 This article is more than 7 years old.
A heavy and swift backbeat on drums and conga accompany a young man as he leaps into consecutive backflips across the stage, lined with more than 100 cups of water. At the end of his acrobatic journey, he joins his 10 fellow Brazilian dancers, each at the beginning of a straight row of cups, to tut, body wave, cross-step, and whirl into a synchronized line of semi-hand stands. As the men jump, spin, and slide toward the audience, the dancers collect, collapse and balance cups of water in quick rhythmic moves.
This is part of "Agwa Correria," a dance performance by Compagnie Käfig that provides a visual feast as it celebrates two themes — water's vital essence and promise of renaissance, and the humorous and frenetic pace of everyday life. The performance is fluid in several dance genres, including hip-hop, samba, capoeira, modern, and Bossa Nova.
Take a look. It's part of the program they'll be doing for the Celebrity Series of Boston debut performances Feb. 7-9:
Mourad Merzouki is the Lyon-based choreographer who created the company in 1996. Many of the performances reflect his extensive experience in circus and martial arts, hip-hop and modern dance.
Merzouki explains some of the history behind his troupe of dancers: "I was introduced to the Brazilian dancers by Guy Darmet, who used to be the Director of the Maison de la Danse in Lyon, and lives between France and Brazil. He knew these dancers very well and since he followed my career for more than twenty years, he asked me to create a piece for them. These young dancers, mostly from Rio's favelas (slums), were dancing in the streets to express themselves, to exist, to survive … rhythm and passion are really present within them. It profoundly fascinated me and I decided to create the piece 'Agwa' for them."
"Agwa," created in 2008, has received accolades for its inventive and dynamic dance expression. Merzouki was inspired to create "Correria" in 2010 with the same cast of dancers and the Company has since performed more than 200 times in 15 countries.
Merzouki hopes the audience will take home the idea "that dance does not have any boundaries, it is a gathering and universal. In today's context, I think this is an important message to convey. I hope the audience will experience a great moment of dance with the Brazilian troupe, and that this piece will bring them inspiration, motivation and the willingness to open themselves to the rest of the world!"