Great-Great-Grandmother's Escape From War Inspires Dirk Powell's Album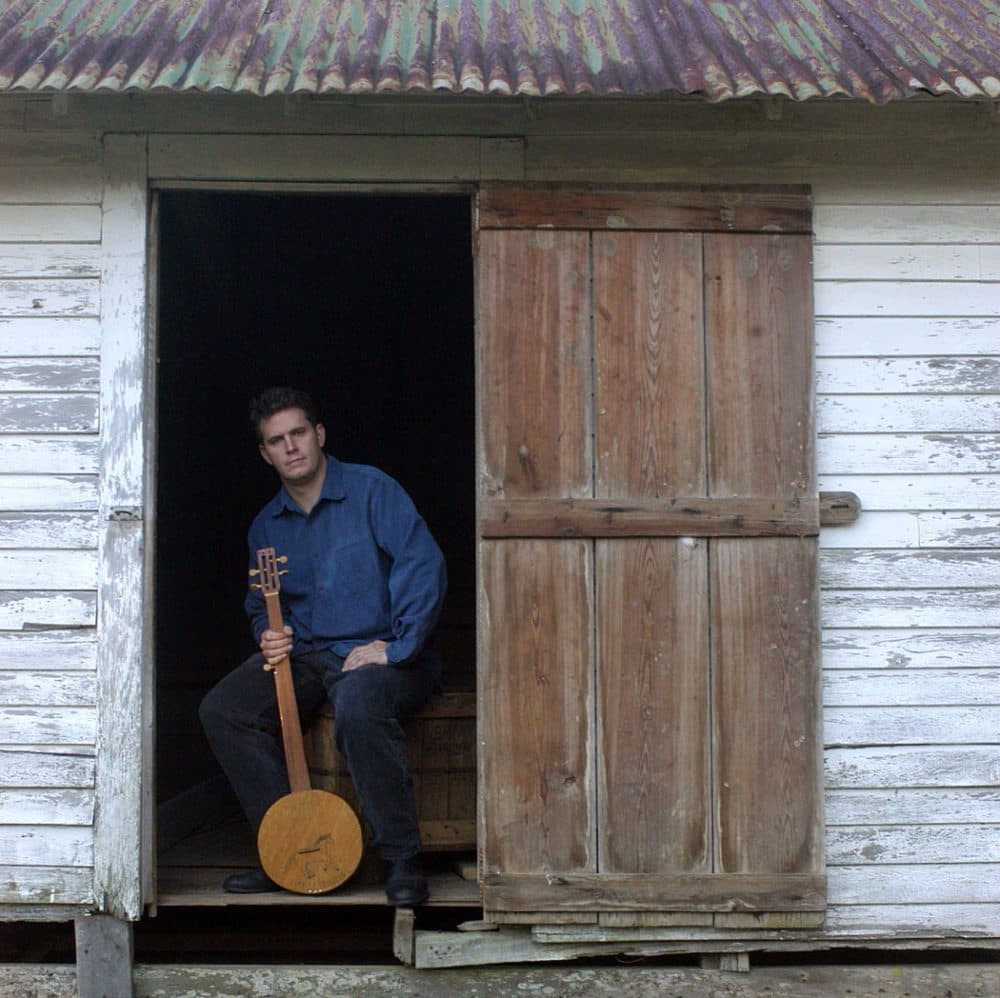 This article is more than 7 years old.
The first track off of Dirk Powell's new album, "Walking Through Clay," was written for his great-great-grandmother, who, the story goes, walked all the way from Virginia to Kentucky to escape the violence of the Civil War and start a new life.
The lyrics focus less on this journey as they do on its destination: "A lonely farm on a quiet trail/ A split log fence and a fresh cut bale/ Where you might succeed or you might fail/ But none but God's above you," sings Powell over an emphatic drumbeat and sizzling guitar.
This particularly Southern notion of freedom, in which a farm symbolizes both escape and self-determination, is central to "Walking Through Clay."
Schooled in the mountain music of Kentucky by his grandfather, Powell is widely regarded as a premier old-time fiddler and banjo player, and admired for his Cajun-style accordion playing. Most of his past recordings have been explorations of traditional material of one kind or another. So even when he embarks on a more modern project, he is sure to connect it with his family's Southern legacy.
Even if you have never heard of Powell, you have almost certainly heard him play. His fingerprints are all over the products of mainstream Americana. He contributed to the score for the film "Cold Mountain," appeared on the soundtrack to Spike Lee's "Bamboozled," plays in Joan Baez's touring band, and has collaborated with such luminaries as Loretta Lynn, Jack White, and the producer T-Bone Burnett. When he plays Club Passim in Cambridge on Feb. 6 with multi-instrumentalist Riley Bauguss, the audience will likely be Appalachian old-time music enthusiasts and devotees of Powell's now-defunct Cajun band Balfa Toujours.
Powell, who grew up in Ohio, describes a fascination with the world that his family worked so hard to escape: "For me, being raised on the other side of that exodus from the mountains, I longed for what had been left behind in terms of the music and culture, in many ways, and returned to spend a lot of time with my grandfather there, who had remained immersed in the tradition."
"Walking Through Clay" is a collection of mostly original songs with a blues-rock bent, fiddle and banjo deployed generously among stompy drumbeats and trashy guitar. The title track is a dirty swamp rock anthem that would not be out of place on the pop country stations if it weren't for the roughness of Powell's drawl-slurred vocals or the fills provided by accordion and Irish flute. New Orleans horns and a tipsy rhythm awaken the hymn "Abide With Me" with a jolt. Fiddle takes the lead on the souped-up original "As I Went Out A'Walkin."
"My own personal story, my musical journey from childhood on, incorporates so many different kinds of music," Powell, who resides in Louisiana, wrote in an email. "I felt it was time to take down the walls I had put up around certain musical things in my life. It's not meant to be a fusion of things or something progressive, at all ... it's more just expressing the range of music that I've always responded to and always loved."
"Walking Through Clay" includes a dedication to the late Levon Helm, who supplied drums on "Abide With Me." Though he only appeared on one track, Helm's influences are felt throughout the album, where modern attitudes comingle with rootsy tastes.
"I loved playing with Levon. ... To me, it affirmed, instantly, the very best of what you would want music to be in your life," says Powell. "He was so deeply tied to rural Arkansas and Southern music of the 1950s, from that part of the world that he grew up in, while also being a creative force tied to the openness of the 1960s and everything else."
The central figure in "Walking Through Clay," however, is Powell's great-great-grandmother. In a long dedication printed in the liner notes, he writes that she grew up poor in Virginia and that "when she was 13, soldiers raided her cabin … and took her entire family." Powell goes on to describe how she survived by hiding under the bed and then found work at a plantation, where she was impregnated by her employer. She later gave birth to Powell's great-grandfather and settled in Clay County, Kentucky. The generations that followed continued on the path out of poverty: his grandmother worked her way through college, and his father received a Ph.D. in geology from MIT and went on to have a successful academic career.
"Decades later, when she was in her 90s, she began to have lucid visions of the traumatic experiences she had endured during the war," writes Powell in the liner notes. "Her strongest memory was of sneaking food up to an African-American family hiding in the attic."
"Was her family singled out for punishment because of their choice to help and protect those who were even more likely to be victims of violence than themselves? What was the nature of the connection for which they might have paid the ultimate price?" he muses. "It's not clear; war was, and is, something we talk about on a grand scale when really it is a series of intimately devastating and murderous crimes waged in the same small spaces in which we live our lives."
For Powell, the details of the story are not as important (for example, he's unsure whether it was Union or Confederate soldiers who attacked the family) as the thrust of the narrative: that his great-great-grandmother was both a victim and a survivor of the Civil War, a woman of incredible grit and determination.
"I mean, in the 1700s it was all about class. You weren't 'white,' you were still Irish or English or German or whatever you were, and you were an indentured servant, or a merchant, or a slave-owner," Powell points out. "To me, the myth of the 'white race' was started to get poor whites, who had no slaves at all for the most part, to die for rich men. The poor whites who died had more in common with slaves than with plantation owners. So, I know who my brothers are and I know who my ancestors' brothers were."
In Powell's telling, his great-great-grandmother's story, however murky, is nevertheless redemptive. It also provides him with a meaningful link to the sort of music he makes his living playing. For Powell, it's what we make of such a legacy—the stories that we identify with, and the way we choose to tell them—that defines who we are.
"I believe that if you get all the way into the center of something, like a specific musical tradition, you will find everything, you know? I've always felt that if you try to tell all stories at once you end up saying nothing, but if you tell one fully and deeply, you can say everything," says Powell. "I think we, as humans, are wired for that kind of experience—the completely immersive story, or myth, that reveals the whole range of human life. That's the way I felt about traditions, like Appalachian and Creole/Cajun music—I wanted to immerse myself in them. But, at the same time, there comes a point in your life when you realize that there is also one story— yours—that only you can tell."
Amelia Mason is a writer, musician, and bartender living in Somerville. She is a regular contributor to The ARTery. You can follow her on Twitter @shmabelia and Tumblr: http://thebestalbumofalltime.tumblr.com/
This article was originally published on February 05, 2014.