Sullinger Carries Celtics To 99-89 Win Over Kings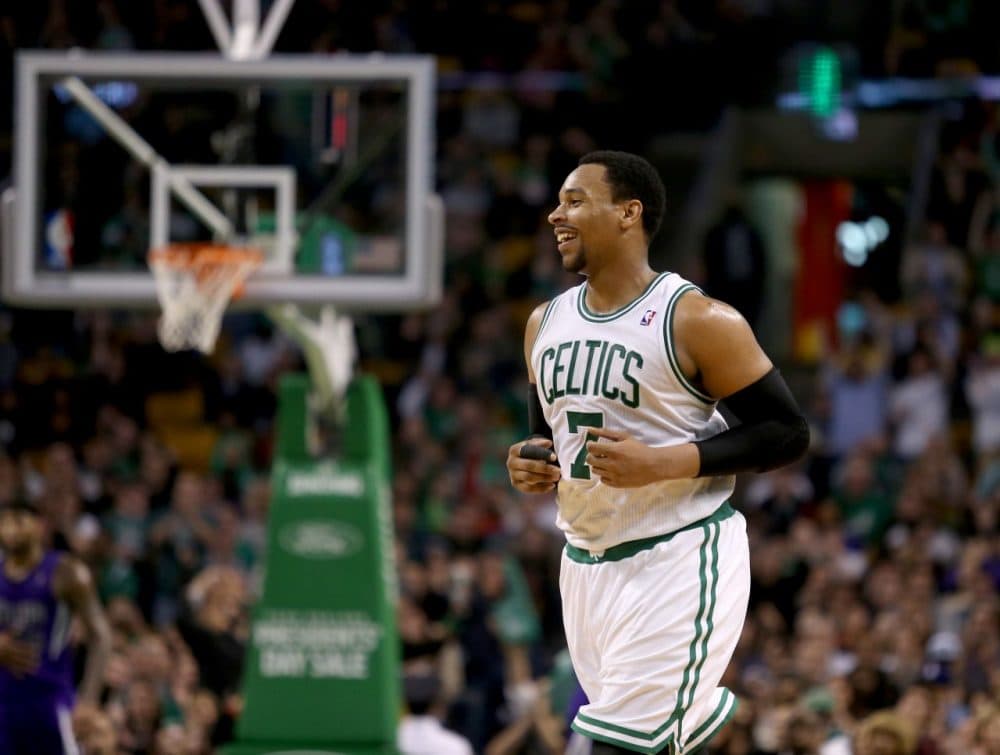 This article is more than 6 years old.
Nothing could stop Boston's Jared Sullinger on Friday night.
Not a bruised left hand. Not the dislocated index finger on his right. And certainly not the Sacramento Kings.
Sullinger scored 14 of his career-high 31 points in the fourth quarter, igniting a 15-0 surge that sent the Celtics to a 99-89 victory over the Kings and their longest winning streak in more than two months.
Sullinger, who also pulled down 16 rebounds, hit just four of his first 10 shots from the field, but the second-year center drained 10 of his final 14 as Boston closed the game on a 25-15 run.
"I think he feels better every day," Boston coach Brad Stevens said. "Fair or unfair, that's who we need him to be. And so that's the opportunity in front of him.
"I'm not saying that you have to get a double-double every day, but he's darn near capable of that."
Jerryd Bayless added 19 points and Jeff Green had 17 for the Celtics, who won their third straight game for the first time since Dec. 3-8.
And they did it without their starting backcourt.
Rajon Rondo (soreness) and Avery Bradley (ankle) both sat out, allowing Bayless and rookie Phil Pressey to run the offense.
But it was Sullinger who helped overcome their absence.
The 6-foot-9, 280-pound inside force scored in nearly every way imaginable during his remarkable run in the fourth.
He scored on layups, a dunk, a foul shot, a 3-pointer and capped his memorable performance with a nifty turnaround fadeaway on the baseline that kept Boston on top by 14 with 3 minutes to play.
"I just went out and played my game," said Sullinger, who had season-ending back surgery last year. "I have been doing it for the last couple of games and just have been letting it go."
DeMarcus Cousins led the Kings with 31 points and 16 rebounds, but was on the sideline for much of Boston's final push. He went to the bench late in the third with the Celtics up by three, and by the time he returned 4:10 into the fourth, Boston's lead had ballooned to 11.
"I don't think I came in focused tonight," Cousins said. "There were some outside things that strike me tonight, so I blame myself for tonight's loss."
Isaiah Thomas had 24 points and Derrick Williams had 11 points and 12 boards for the Kings, who had won two straight.
Sullinger actually heated up in the third, stringing together six straight points during a 10-0 run that handed the Celtics a 59-52 lead midway through the quarter.
Boston came out firing in the fourth, opening an early 11-point lead on the heels of two 3-pointers from Bayless, who also displayed his defensive skills when he hustled back on a break to block a wide-open layup by Ben McLemore with 7:45 to play.
"Just try and make plays. When you play well together, things work out," Bayless said. "It takes time for people to jell and right now you can see we are starting to jell a bit."
Bayless' block only sparked the Celtics - Sullinger in particular - further.
He followed the swat with a rebound and putback, delivered a three-point play, hit a 3 and added the fadeaway to help preserve the lead.
"Tip your hat to Jared Sullinger," Sacramento coach Michael Malone said. "He came out and dominated us tonight."
Rondo had played in eight games since missing nearly a year with a torn ACL, and the four-time All Star has been rounding into form, averaging 13.5 points, 10.5 assists, 7.5 rebounds and 2.5 steals in Boston's last two games.
Sacramento was missing one of its top threats as well. Rudy Gay, averaging 20.3 points and 6.2 rebounds per game, sat out with an illness.