From Cambridge To Sochi, Harvard Women's Hockey Scores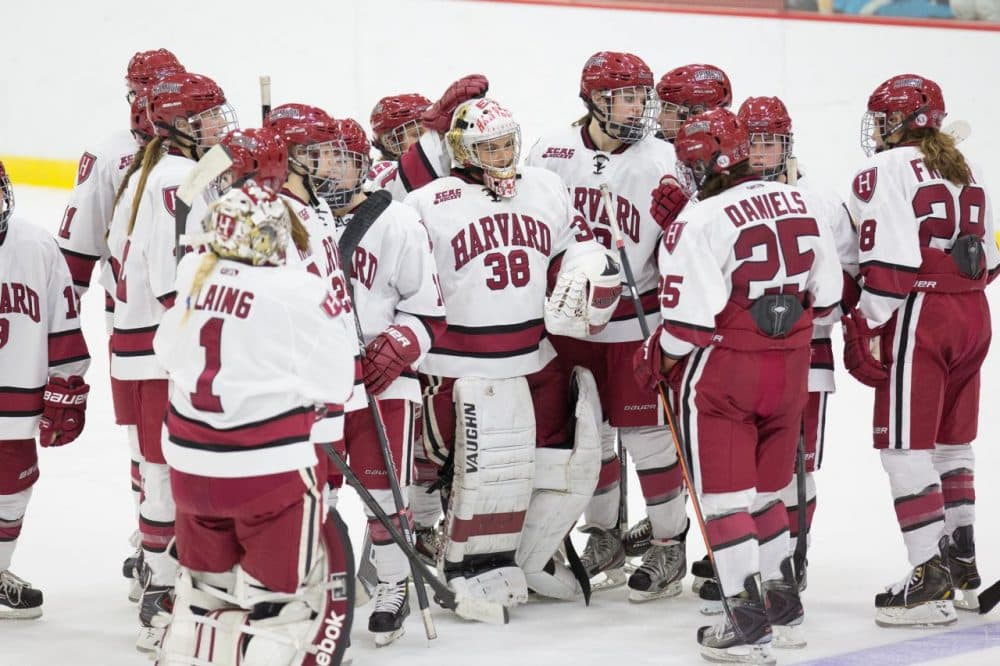 This article is more than 6 years old.
Despite losing to Northeastern and failing to reach Tuesday's Beanpot final, Harvard's women's ice hockey team is ranked No. 4 in the country — and that's without three of its top players and its coach, who are competing in another tournament thousands of miles away in Sochi, Russia.
Unexpected Success
It's unusual for Harvard's women's hockey team to lose. Twenty-four games into this season, the Crimson has lost just three times. One of those losses was to Northeastern last week. The Huskies led the whole game, but when Harvard rallied to pull within one goal in the third period, Northeastern coach Dave Flint was nervous.
"They never go away," Flint said. "When you think you got 'em, they just come back with goals, and I was getting worried."
In the end Harvard did not net a tying goal. But the Crimson remains the favorite to win its conference, the ECAC, even with three of the team's stars missing. Forward Lyndsey Fry and defenders Michelle Picard and Josephine Pucci are competing on the U.S. women's national team at the Sochi Olympics Games.
And Harvard head coach Katey Stone, the winningest coach in the history of women's college hockey, is also taking time off to coach the Olympic squad. But Northeastern's Flint praises Harvard's interim head coach, Maura Crowell, who was the team's assistant coach for three season before stepping up to fill in for Stone.
"Maura's been doing an unbelievable job with the team," Flint said. "I think that the job she's done has exceeded a lot of people's expectations."
Younger Players Stepping Up
Inexperience is a theme for this Harvard team. More than half of its goals this season have been scored by freshmen or sophomores — players Crowell says might not have had the opportunity to prove themselves if the Olympians were still on the roster.
"These guys are in all sorts of situations that maybe they wouldn't have been if other kids were there, you know? Power play, penalty kill, 6-on-5, 5-on-6, all of those things," she said. "So they're getting a lot of experience and with that comes a lot of confidence."
"We knew what we had, and we knew what we could accomplish with what we had."

Mary Parker, sophomore forward
Harvard isn't just shorthanded when opponents are on the power play. The Olympics as well as injuries have left the Crimson with 18 players, three short of the 21 carried by most teams. But Mary Parker, a sophomore and the team's third leading scorer, welcomes the challenge.
"We knew what our team was coming into the season, so we knew what we had, and we knew what we could accomplish with what we had," she said.
Getting less rest and having to play in unfamiliar lineups haven't stopped these skaters from winning. Ahead of Tuesday's Beanpot game, Harvard holds a one-point lead in its conference standings.
"It's a puzzle putting pieces together, but they're really great to work with, and they don't use [the circumstances] as a crutch ever," Crowell said. "They come to work, and they come to play, and they come to win."
This segment aired on February 11, 2014. The audio for this segment is not available.