Dave Holland Brews A New Blend Of Jazz At The Regattabar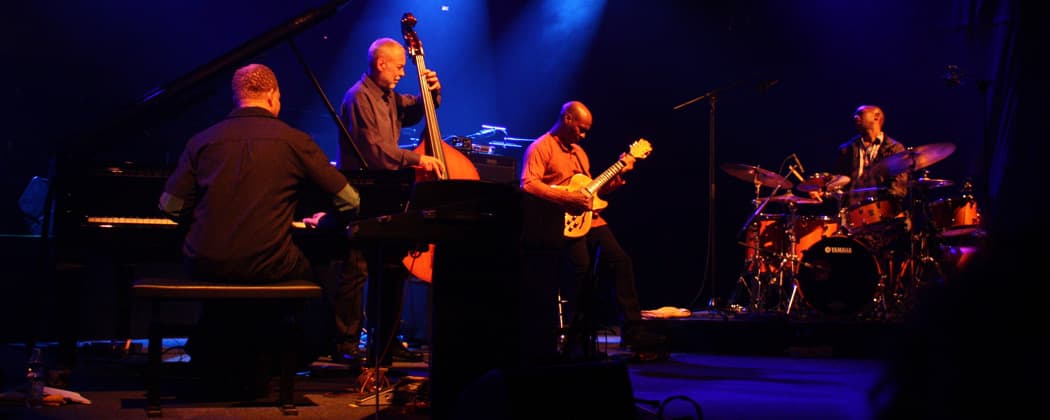 This article is more than 7 years old.
Polyrhythmic vamps, haunting melodies on electric guitar and explosive solos. These are just a few of the recurring themes in bassist Dave Holland's most recent project "Prism." Holland, with his quartet, featuring guitarist Kevin Eubanks, Craig Taborn on piano and keyboard, and drummer Eric Harland, will perform selections from their album at the Regattabar in Cambridge Feb. 13 and 14.
In his nearly five-decade career, Holland hasn't ceased distinguishing himself from the norm and "Prism," released last September, is still no exception. Holland's long career has explored diverse styles and brought him in contact with acknowledged greats as well as lesser-known monsters of the genre. He worked with Betty Carter in the last years of her career, played with Miles Davis's funk fusion band, and more recently recorded with his own Flamenco-inspired group.
Beginning the project with the three other members of "Prism" was natural for Holland. "They're all musicians that I've enjoyed playing with individually in the past and wanted to work with again," he says. "I thought that bringing them together would produce some interesting music."
"Interesting" doesn't cover the range of adjectives that could describe the new album, but it does apply. Take the track "The True Meaning Of Determination." Like most of the pieces on the album, it was collaboratively composed and arranged by all members.
It starts with a dynamic bass introduction by Holland. He takes a two-note motif, develops it into more complex musical ideas, then returns to the motif and the rest of the band joins him. Harland plays a rock sounding groove and Taborn doubles Eubanks' electric guitar on the melody, but you can still hear the jazz influence in the angular phrases and extended improvisations. As the solos progress, time becomes more fluid and the synergy between the musicians allows them to peak at a high energy.
"I like the range of music that we can cover and the type of compositions that each musician writes," says Holland. "There's a great collective spirit in the band, which for me is a very important part of playing music."
To explain the electric sound in the traditionally jazz bassist's group, Holland has a practical answer, rather than a heady one. "It was just about the musicians and their concepts on the instruments."
In between touring and recording with "Prism," Holland shares his knowledge and experience with the next generation of jazz musicians at Boston's New England Conservatory. "Judging from what I hear, the future is in the hands of some really talented, dedicated and inspired young players," says Holland. "I try to teach respect for the traditions of the music, but encourage original thinking, which is what assures the continuing development and relevance to the times that we're living in."
Holland synergizes a respect for tradition with a contemporary vision. Take a listen to "Prism" and stop by the Regattabar to hear more of Holland's original creations.
Claire Dickson Contributor, The ARTery
Claire Dickson is a jazz vocalist and writer studying at Harvard College.