Irrational Games, Whose Games Are So Good People Call Them Art, Plans To Close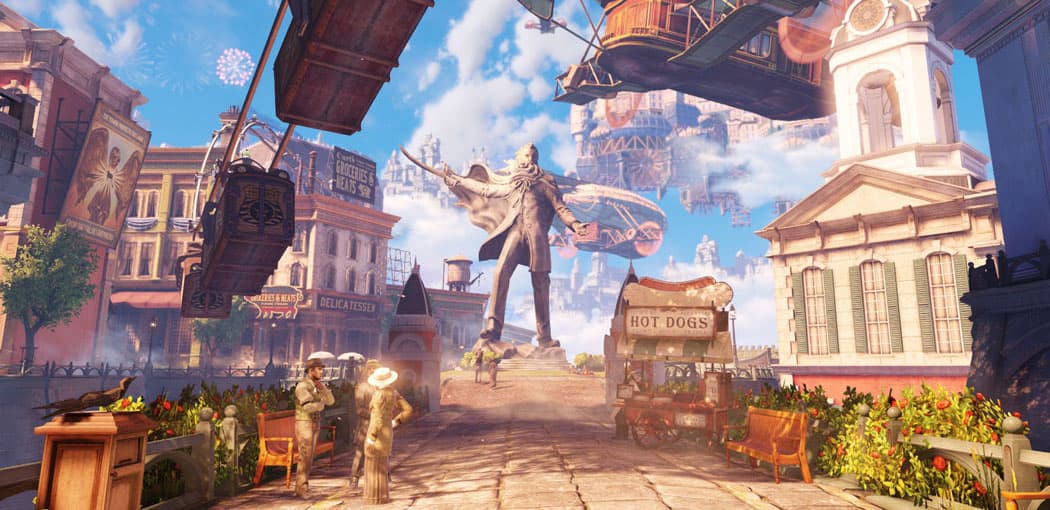 This article is more than 7 years old.
Irrational Games, whose video games were so good people called them art, is "winding down," according to a message from famed game developer and Irrational co-founder Ken Levine on the studio's website.
Irrational Games had employed as many as 200 people during the height of development on "BioShock Infinite" (pictured above), the blockbuster title the studio released last year, according to reports. While the current number may be less, Levine's message states that only 15 members of Irrational's current workforce will be following him to a "smaller, more entrepreneurial endeavor" at Take-Two Interactive, the publisher of the game.
The studio has been at the heart of Boston's big budget video game industry and its closing will leave a gaping hole. In the debate as to whether or not video games are a legitimate art form, "BioShock," released by Irrational in 2007, was frequently pointed to as the game that justified the argument. "BioShock" cemented the reputations of both the studio and Levine, its creative director. Irrational's studio in Quincy became a hotspot for visits by the enthusiast video game press during the run-up to the release of last year's "BioShock Infinite."
Irrational's games were groundbreaking for the way they told stories. Most narrative-heavy video games rely on cutscenes, which are more akin to watching footage from a movie than the participatory action we understand as the heart of a video game. Levine focused on telling his stories within the context of the gameplay itself.
And his team created game environments so detailed that they demanded attention. That they enticed players to pause and marvel at the world in the middle of first-person shooters, a genre in which the environment is often nothing more than a backdrop for the skill challenge of gunplay, is the testament to the skill of Levine and Irrational Games.
Boston's blockbuster video game development industry continues to be a potent and important one with the remaining trio of triple-A studios in the Boston area, namely Turbine, Inc. in Needham; Harmonix Music Systems in Cambridge; and Rockstar New England in Andover. But the loss of Irrational, in a city like Boston that is so concerned with maintaining ties to our past, is a historical loss as well as an economic one.
Irrational Games is the spiritual child of Looking Glass Studios, which was founded in Cambridge in 1990. Looking Glass put itself on the map with "System Shock" in 1994, a first-person perspective, role-playing game about escaping a space satellite controlled by an evil artificial intelligence named Shodan. "System Shock" was labyrinthine in design, but extremely immersive compared to many games of its day.
Looking Glass solidified its reputation as a creative force to be reckoned with in 1998 with the release of "Thief: The Dark Project," which revolutionized the way players employed stealth in a video game by using shadows and noise discipline to their advantage. "Thief" was one of the first video game projects that Ken Levine worked on after a stint in screenwriting, and he would become a key figure in its development.
"System Shock 2" was co-developed by Looking Glass Studios and Irrational Games, which had been founded in 1997 by Robert Fermier, Jonathan Chey and Ken Levine, all former employees at Looking Glass. Levine was the lead designer of "System Shock 2," which again pitted players against the malevolent AI named Shodan. The dialogue Levine wrote for Shodan elevated her from a mere antagonist to a beloved character in video game history, and the first "BioShock" game was considered a spiritual successor to "System Shock 2," thus forming the vital link in the historical chain of Boston-area game development between Looking Glass Studios and Irrational Games.
"I am winding down Irrational Games as you know it. I'll be starting a smaller, more entrepreneurial endeavor at Take-Two. That is going to mean parting ways with all but about fifteen members of the Irrational team," wrote Levine in his statement. "There's no great way to lay people off, and our first concern is to make sure that the people who are leaving have as much support as we can give them during this transition.
"Besides financial support, the staff will have access to the studio for a period of time to say their goodbyes and put together their portfolios. Other Take-Two studios will be on hand to discuss opportunities within the company, and we'll be hosting a recruiting day where we'll be giving 3rd party studios and publishers a chance to hold interviews with departing Irrational staff."
Access to this web of relationships between developers and publisher is an advantage of continuing to work within the traditional game development structure, but one of the overarching narratives in today's game development world is the plethora of mainstream developers who choose to move into independent video game development, or to "go indie," either by choice or when they are let go by a triple-A studio. Jon Chey, one of Irrational's co-founders, recently went indie with his new studio, Blue Manchu and garnered success and acclaim with last year's "Card Hunter."
Boston's independent game development community is extremely organized and very business-centric, versus the loose relationships and artistic temperaments which set the tone for indie game development communities elsewhere. This is not to suggest that anyone leaving Irrational is going to have an easy time of it, or face fewer challenges than anyone whose position is being eliminated in this economy, but the nature of Boston's indie game community may make the news of Irrational's closing less onerous than it would have been a decade ago.
With organizations like Boston Post Mortem and Boston Indies providing fertile networking ground, local events like the Boston Festival of Indie Games taken root, co-working spaces like the Indie Game Collective at Intrepid Labs in Cambridge, and the burgeoning indie development seed fund that Fire Hose Games, also in Cambridge is currently raising capital for, there are many routes of entry into indie game development for the soon-to-be-former employees of Irrational Games.
Where Boston is losing a historical treasure in Irrational Games, it may gain dozens of new entrepreneurial ventures that make their own marks in the annals of video game history. Boston's game development community could wind up richer for what was set in motion today, if the cards fall right.
If Levine chooses to remain in the Boston area for his new venture, he could provide the first seed for this new growth, himself. "Seventeen years is a long time to do any job, even the best one. And working with the incredible team at Irrational Games is indeed the best job I've ever had. While I'm deeply proud of what we've accomplished together, my passion has turned to making a different kind of game than we've done before," wrote Levine in his statement. "To meet the challenge ahead, I need to refocus my energy on a smaller team with a flatter structure and a more direct relationship with gamers.  In many ways, it will be a return to how we started: a small team making games for the core gaming audience."
Dennis Scimeca is a Boston-based freelance writer. He is usually on the video game beat, and has been published on Salon, Polygon, Ars Technica, and Kotaku. Follow him on Twitter @DennisScimeca.
Related: Ken Levine spoke with WBUR's On Point in April 2013.
This article was originally published on February 18, 2014.