Faster TSA Screening Available To Pre-Checked Mass. Travelers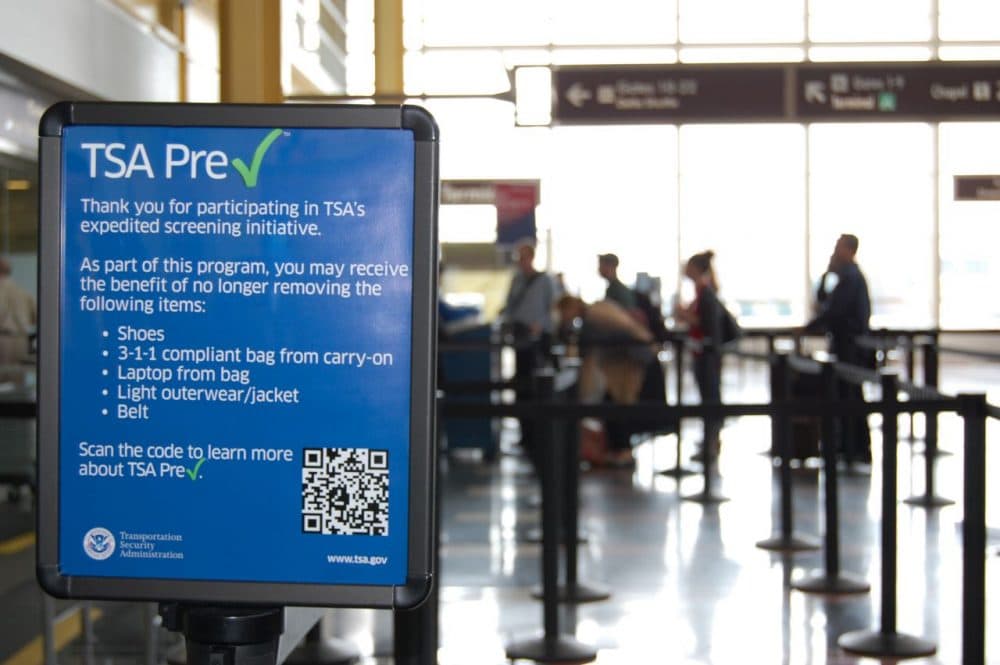 This article is more than 6 years old.
Massachusetts travelers heading on domestic flights may now seek partial security clearance from the Transportation Security Administration ahead of their trips — and without having to shimmy laptops out of cases or slide in socks across airport floors.
Fliers can apply for TSA PreCheck, a program that allows passengers to move through designated airport security lines more quickly.
For PreCheck, travelers must schedule an appointment at a TSA-designated site. In Massachusetts, four such sites are now open: in Dorchester, Waltham, Bourne and Springfield. (The agency is currently aiming to expand to 300 sites across the country.)
During the session, travelers must provide proof of citizenship or immigration status, as well as the ID they plan to use on their trip, and give fingerprints for a background check.
Approved travelers will receive — for an $85 fee — a personal code and may then enter designated security lanes that do not require them to remove their shoes, coats or belts, or pull out laptops and liquids from carry-on bags.
Although the express clearance is not guaranteed and random checks may occur, approved travelers are eligible for the program for up to five years.
"The expansion of TSA Pre✓™ to the nation's busiest airports — along with these new application centers — will increase our security capabilities and expedite the screening process for travelers we consider to be our trusted partners," Secretary of Homeland Security Jeh Johnson said in a statement.
Logan International Airport began participating in the expedited security program in August 2013.
According to the statement, security express lanes are available at over 100 airports and on the following nine major U.S. airlines: Alaska Airlines, American Airlines, Delta Air Lines, Hawaiian Airlines, JetBlue Airways, Southwest Airlines, United Airlines, US Airways and Virgin America.
---
Mass. Enrollment Locations And Hours
Bourne UES Enrollment Center50 Portside Drive, Unit FSuite 2Hours: Tuesday - Friday: 8 a.m. - noon; 1 p.m. - 5 p.m.
Boston - DorchesterUES Enrollment Center11 Bay StreetHours: Monday - Friday: 9 a.m. - noon; 1 p.m. - 4:30 p.m.
SpringfieldUES Enrollment Center255 Liberty StreetHours: Thursday: 9 a.m. - noon; 1 p.m. - 3 p.m.
WalthamUES Enrollment Center Occupational Drug Testing260B Bear Hill RoadSuite 106Hours: Monday - Friday: 9 a.m. - 1 p.m.; 2 p.m. - 4:30 p.m.