The Wizards Of Oz-tralia's Circus Rock And Roll Into Boston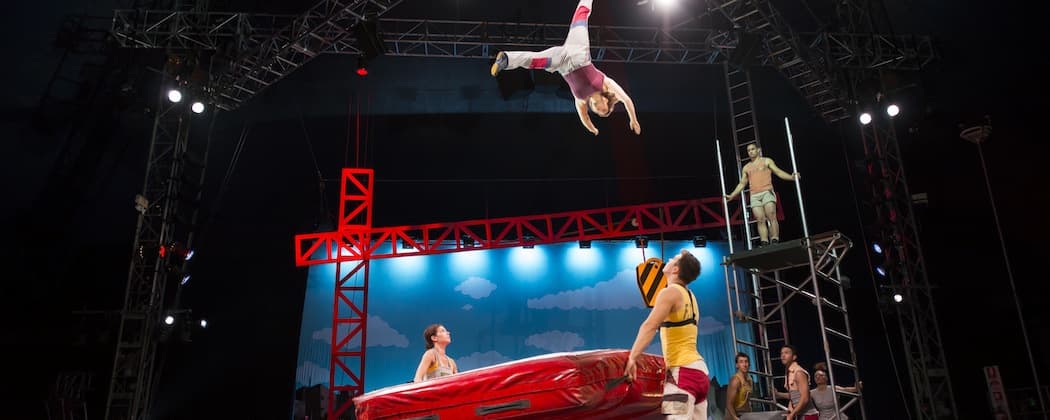 This article is more than 7 years old.
Now that the kids have been home from school for days, and you can't stand the cabin fever or the sight of one more snowflake, you might want to bundle everyone up and head over to the Citi Shubert Theatre (through Sunday). There you'll find, courtesy of the Celebrity Series of Boston, Australia's Circus Oz, a rock-n-roll, all-human circus for all ages.
"From the Ground Up," inspired by Charles C. Ebbets' black and white photographs of construction workers high atop skyscrapers, features jugglers, musicians and acrobats, creatively cavorting around a giant swinging steel beam. Costumes reflect the bright colors of propaganda and art from the 1920s, '30s and '40s. Circus Oz has performed from New York City to South American rainforests and the Australian Outback, for a wild variety of audiences. Artistic associate Ed Boyle says that the audience is intrinsic to each performance, though they don't set out to change anything for one group or another. As Boyle says, "Kids laugh at their folks laughing, un-self-consciously."
But just as a lot is going on onstage, there's also a lot of heart offstage. The company is driven by a strong belief in tolerance, diversity and human kindness. According to its website, the company has a history of engaging in issues associated with "social justice and a good time for all, including work each year with many charities, indigenous communities, and fundraising to support refugees and asylum seekers." Boyle laughs, "We don't have the answer by juggling seven pins, but comedy, hope, and joy bring people together."
As with every circus, the audience holds its collective breath watching the performers defy death on the trapeze, or avoid serious falls on the stage, but there seems to be an extra element of joy and delight at work here, as if the performers are making a statement about connectivity helping everyone avoid life's challenges and maybe even make a change or two in the world.
"From the Ground Up" was born out of the chaos that exists while constructing a new home. Circus Oz has been in the process of building a new center in Melbourne, a center that many of the company members on this show have never seen. Boyle also sees this piece as a metaphor for Australian culture. There is so much history in its aboriginal cultures, but the rest of Australia's story is relatively recent — Captain James Cook claimed the east coast for Britain in 1770, and it was only in 1901 that the six states became a nation. This show is about showing that together we can build a better future where everyone is involved and has a voice.
It's definitely not your grandmother's circus.
Robin Allen LaPlante is a local arts administrator who is skilled in the mystical arts of social media, ballet, and arts marketing. When not writing, she is baking delicious goodies, camping with her family, or playing with the crazy theater-makers at New Exhibition Room.