New Home Birth Data: Numbers Rise A Bit, Controversy Remains Unchanged
A new CDC analysis of trends in out-of-hospital births from 1990-2012 found that home births are on the rise — but only a tiny bit.
The federal agency reports that 1.36 percent of U.S. births occurred outside a hospital in 2012, up
from 1.26 percent in 2011. Those new numbers mark the highest level of non-hospital births since 1975, according to the CDC.
In terms of actual births, that means 53,635 births in the U.S. took place out of a hospital in 2012, including 35,184 home births and 15,577 birthing center births, the CDC says.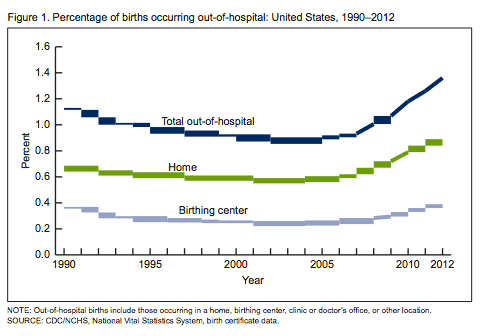 Here are some more findings from the CDC news release:
• In 2012, 1 in 49 births to non-Hispanic white women were out-of-hospital births;

•The percentage of out-of-hospital births was generally higher in the northwestern United States and lower in the southeastern United States;

•Out-of-hospital births generally had a lower risk profile than hospital births.
Time Healthland< reports that even with the slight uptick in home births — and the CDC's assessment of a lower risk profile among non-hospital births — the controversy surrounding the practice remains as potent as ever:
Last month, researchers from New York-Presbyterian/Weill Cornell Medical Center reported that babies born via midwives at home have a four-time greater risk of neonatal death compared with babies born to midwives at hospitals. The American College of Nurse-Midwives (ACNM) responded to TIME when the study came out, questioning the accuracy of the data the study used. They argue that the birth certificates the researchers use are not always the most accurate, and do not specify whether the mother intended to have her child at home or in the hospital.

One the problems in the debate is that data on both sides don't always tell the full story. For instance, women who plan to have a home birth but end up transferring to a hospital aren't always accounted for. On the other hand, data often don't include women who have an unplanned home birth, which could influence mortality rates for home births, the Daily Beast reports.

Although very few women are having home births, the small rise has some medical experts in a tizzy. But other medical groups like the American Academy of Pediatrics and the American College of Obstetricians and Gynecologists say that while they firmly believe the safest place for a child to be born is in a hospital, they respect the "right of women to make a medically informed decision about delivery."