MIT Director Jay Scheib Takes Theater To The Tech Age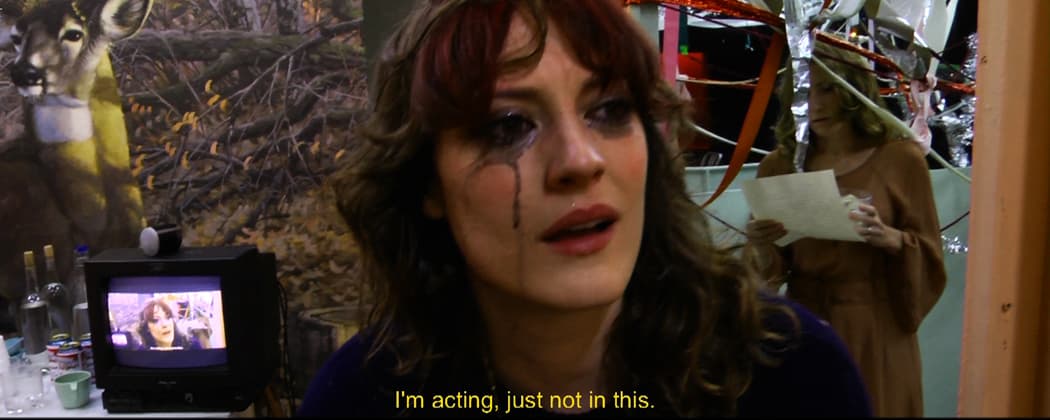 This article is more than 7 years old.
For the conventional theater aficionado, a Jay Scheib production could be a tough sell. His modernized version of Chekhov's "Platonov" just finished a run in New York City.
Scheib, both a Massachusetts Institute of Technology professor and a Guggenheim Fellow, has developed a trademark style by capturing the acting on stage with an HD camera for a simulcast film presentation — for this performance it was titled "The Disinherited."
The talented actors in "Platonov," which was unpublished until 1923, proved their skill both on the stage and on the big screen. At the start of the performance, the maid, Jacob, played passionately by Laine Rettmer, recounts the plight of intractable debt and a graphic suicide attempt through a riveting monologue. During the climatic moments of her speech, Scheib films a close-up of her face, displaying trickles of tears. "The camera opens the space — it provides me more real estate to work with," explains Scheib during a coffee shop interview near the theater. "It changes the architecture of the play, which is crucial to the psychology behind it."
Scheib's integration of the camera may be in part inspired by the technologically driven atmosphere at MIT, where he is the director of theater arts. For someone with Scheib's background, which includes a Master of Fine Arts degree from Columbia's theater program and experiences as a drama professor at the highly competitive Mozarteum in Salzburg, Austria, the tech institute might seem like a strange landing point. But ask Scheib and he'll point to his students' diverse backgrounds and elite knowledge base as invaluable traits for the theater.
"Bruce Lee refused to take students who were masters of martial arts," argues Scheib. "He would only accept those who had mastered another discipline. It wasn't until I arrived at MIT that I understood why he did this. And now I couldn't agree with him more."
Scheib's students pursue a range of degrees from astrophysics to comparative literature and choose theater as a creative outlet. For Susan Wilson, a former student of Scheib's and currently the stage manager for "Platonov," her interest in drama came after years of studying computer science. "There was a sense of limitlessness, and that was really exciting to be a part of" she says. She is among a cohort of actors and production staff that Scheib continues to tap for his performances. "Jay has a true focus on the ensemble. He builds individuals so they can find their roles and then he builds the networks so they can grow together."
In an era when directors often cherry-pick actors to build their cast, Scheib prefers to design shows that match his actors' strengths. "After you work with the same group of people for long enough, you create idiosyncratic relationships," reflects the director. "With these relationships come a language where we understand one another and, in some senses, we have become a family."
Scheib plans to reuse many from his staff of "Plantonov" for his upcoming productions, including Frank Wedekind's "Lulu" in Florence, Italy. Similar to the Chekhov play, "Lulu" has an expansive and complex script, which will be malleable to the director's creative vision. Simultaneously, he will be producing a classic opera in China entitled "Farewell My Concubine." He is talking with producers about filming the performance live and it is expected to broadcast on China's CCTV, which reaches more than a billion homes. Does Scheib envision his multimedia approach becoming a staple in theater practices?
"This couldn't have happened two years ago. People said I was crazy to try it and we simply didn't have the technology. Now that it's available and its success is documented, we will see hundreds of people attempting this structure. People simply don't get bored with the cinema."