The Sadness At The Heart Of Wes Anderson's Screwball 'Grand Budapest Hotel'
This article is more than 9 years old.
Director Wes Anderson's rollicking new film comedy, "The Grand Budapest Hotel," which opens around Boston Friday, begins with teenage Zero Moustafa (Tony Revolori) just having been hired as the new lobby boy at the magnificent pink confection of an inn.
The hotel, perched atop a mountain in a fictional Eastern European country (think late 1930s Hungary or Czechoslovakia), is a projection of the will of its the illustrious concierge Monsieur Gustave H. (a brilliant Ralph Fiennes, pictured above), who takes Zero under his wing. Gustave is a dandy who struts through the sumptuous corridors like a general. He gives his staff stern lectures before dinner and then reads them flowery poetry. He is irresistible to wealthy, elderly, blonde female guests—to whom he happily provides aid and comfort ("I go to bed with all my friends"). He is a stickler with panache. Now and again, he peppers his speech with salty cusses. But ultimately he's a steadfast believer that impeccable manners can smooth over all the unpleasantness of life.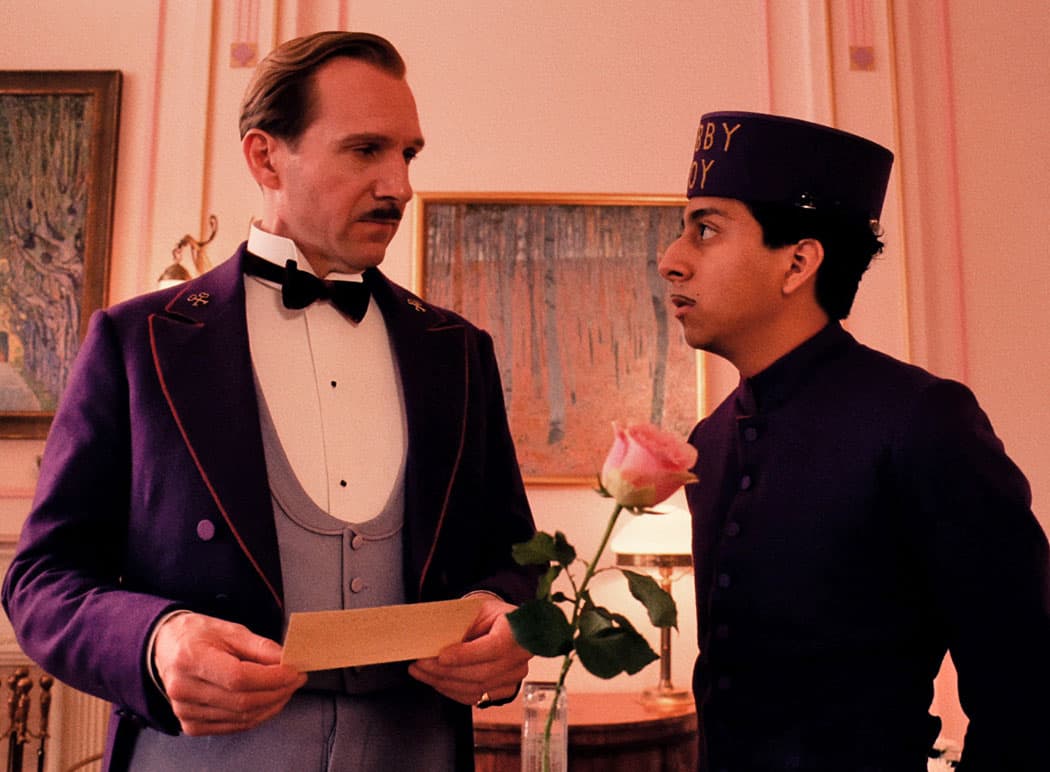 This faith, however, is put to the test when one of his guests-with-benefits, an 84-year-old countess by the name of Madame Céline Villeneuve Desgoffe und Taxis (Tilda Swinton under a pile of makeup), is murdered at her estate.
On the train to the funeral, Gustave and Zero—who has immediately become the concierge's trusted assistant and constant companion—are stopped by fascist military police (think Nazis). The film's jaunty romp is jolted by the scuffle that ensues as soldiers attempt to arrest Zero for lacking proper identification papers and the honorable Gustave defends him. But the gentlemen are given a reprieve by a lieutenant (Edward Norton, good, but odd as a perky fascist), who fondly remembers Gustave from boyhood stays at the hotel.
"You see," a disheveled Gustave says, "there are still faint glimmers of civilization left."
Fiennes's Gustave is part of a line of sparkling fast-talkers at the center of Anderson's eight feature films—from Jason Schwartzman's high school impresario Max Fischer in 1998's "Rushmore" and Gene Hackman's glorious bad dad in 2001's "The Royal Tenenbaums" to Bill Murray's hangdog ocean explorer Steve Zissou in 2004's "The Life Aquatic" and George Clooney as the title critter of 2009's "Fantastic Mr. Fox."
They live by the credo, attributed to Jacques Cousteau, that Max Fischer finds scribbled in a library book in the film "Rushmore": "When one man, for whatever reason, has the opportunity to lead an extraordinary life, he has no right to keep it to himself."
With these charismatic, driven, but wildly selfish guys Anderson seems to mull how to be a good man—particularly, a good father—in today's world.

Anderson's characters angle to control their universes, to make the world more glamorous and wondrous, certainly. But they're also marshaling everything they've got just to keep it from going to pieces—again. It's hard not to suspect that the filigreed, exquisitely controlled world-building that is the signature of Anderson's directing is likewise a way to reckon with and escape from troubles.
Because a deep sadness courses through the heart of Anderson's screwball comedies. It's akin to the funk in one of his touchstones, the 1965 television special "A Charlie Brown Christmas."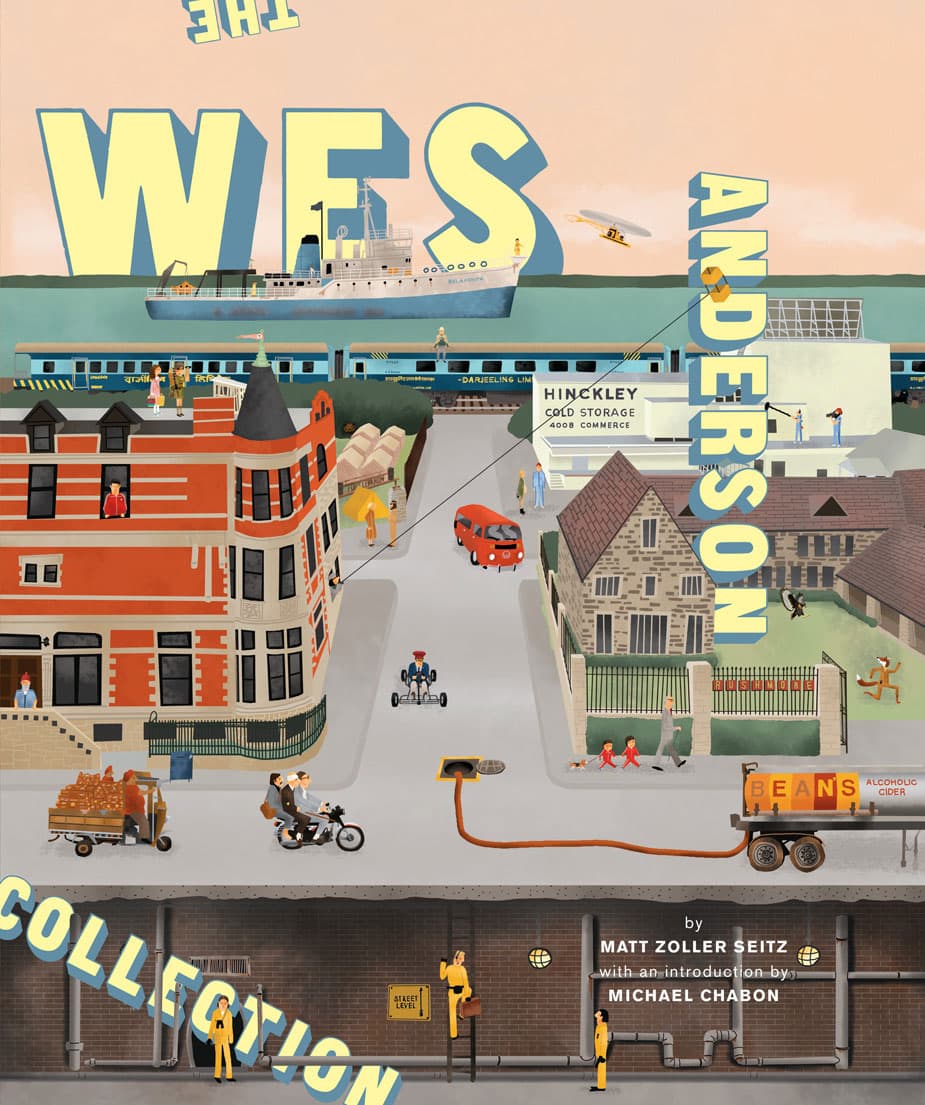 "The main guy is depressed," Anderson said of Charlie Brown in film critic Matt Zoller Seitz's fascinating 2013 book-length interview "The Wes Anderson Collection," "and that's really what his defining characteristic is."
This marriage of humor and sadness is one of the reasons Anderson has repeatedly cast Bill Murray. "He has this melancholy side to his screen personality," Anderson told Seitz. "There's a lot of sadness that just emanates from him, even though he's funny."
The father Murray plays in 2012's "Moonrise Kingdom" says at a personal low point, "I hope the roof flies off and I get sucked up into space." Good grief.
Anderson himself was born in Houston in 1969, the middle of three brothers. His dad was a writer and advertising man. His mom was an archeologist (like the mom played by Anjelica Huston in "The Royal Tenenbaums") and later a real-estate agent. They divorced when he was 8.
Broken families, bad dads, cheating spouses, and death appear over and over in Anderson's oeuvre. In "Rushmore," Max Fisher, whose mom died from cancer, has a crush on a widowed teacher who has a fling with a dad in a crumbling marriage. "The Darjeeling Limited" from 2007 is about three depressed brothers adrift after their father was hit by a car and died. The AWOL boy scout seeking love in "Moonrise Kingdom" is an orphan taken in by a lonely bachelor police officer who had been having an affair with the boy's girlfriend's mom.
Now in "Grand Budapest Hotel," Zero adopts Gustave as a surrogate dad and gets into trouble with the authorities on that train because he's a refugee who's lost his real family in a war. "On one occasion," he recounts when police come looking for the concierge, "I was arrested and tortured by the rebel militia." Anderson plays the line for laughs.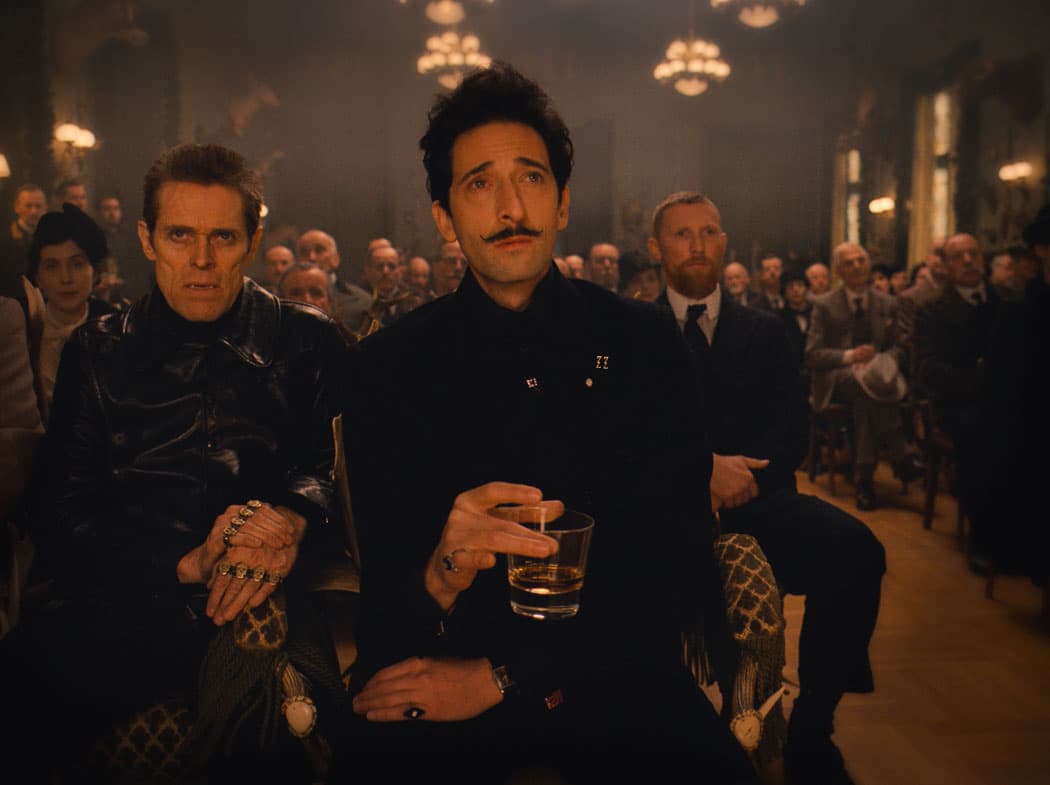 "Con artist," the dead countess' son (Adrien Brody) spits at Gustave when he turns up at the funeral. The son wants his mom's entire fortune for himself and orders his henchman (William Dafoe as an amalgam of James Bond villains from Ernst Blofeld to Jaws rolled into one haunting assassin) to make it so by any means necessary. Standing in the way is Gustave, to whom the countess ("She was dynamite in the sack, by the way") has willed her Renaissance masterpiece "Boy With Apple." The concierge decides to swipe it with Zero's help, rather than tarrying for the inheritance details to be worked out, and off they go.
A weak spot in the film is Zero, a cipher flatly rendered by Revolori's performance, which leaves a void in the middle of the incredible cast, which includes Jeff Goldblum, F. Murray Abraham, Harvey Keitel, Jude Law and Bill Murray. Also war seems to less personally move Anderson than family drama.
The ensuing caper comedy has Gustave framed for the countess' murder, a prison escape, young love, madcap chases, cockamamie schemes, shootouts, fisticuffs, close shaves, ludicrous disguises, and various daring dos. Basically, everything you'd want in a film. All this slapstick is suffused with a melancholy that tempers and deepens the delicious silliness.
Because it's a comedy about the end of an era. The suave manners of Gustave—embodied by Fiennes with charisma, deft officiousness and crackling humor—endear him to prisoners and a secret society of fellow concierges who aid his escape. But how can taste and style stand up to Nazis? "You're the first of the official death squads to which we've been introduced," Gustave politely greets some soldiers. The Grand Budapest, as he made it, won't survive the coming war. Nor will a number of the movie's characters.
Death is often part of the backstory of Anderson films, but more losses rack up in "Grand Budapest Hotel" than in perhaps any other of the director's productions—family, friends, colleagues, a lover, a sister, a wife, a baby, a whole way of life.
Greg Cook is co-founder of WBUR's ARTery. Follow him on Twitter @AestheticResear. Friend him on Facebook.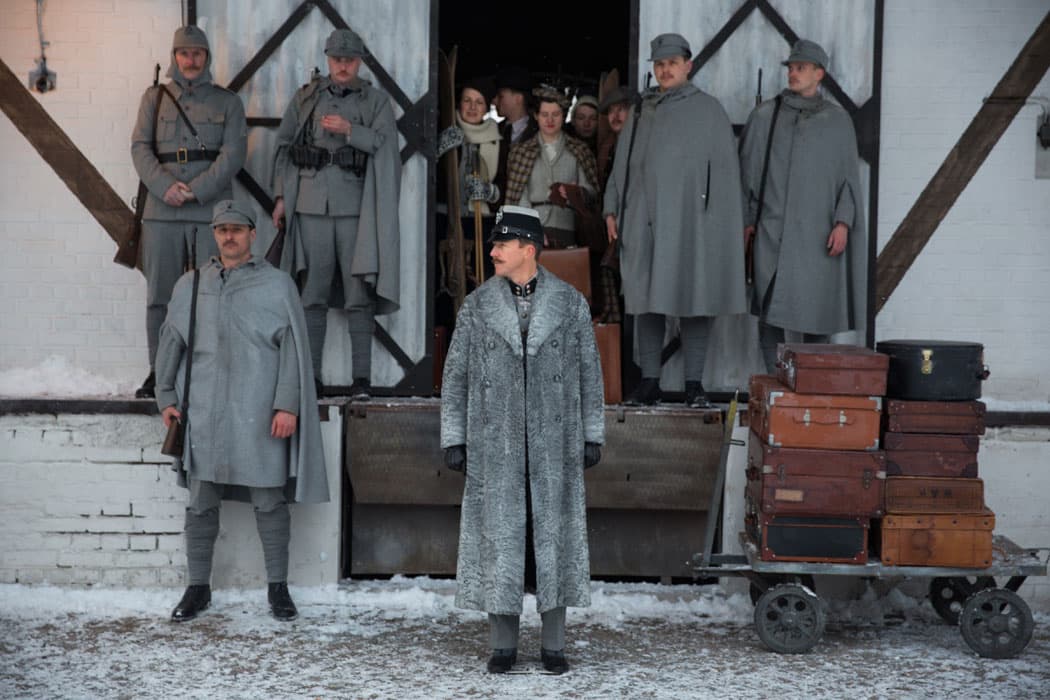 This article was originally published on March 14, 2014.