Getting Real And Rocking Out With Sarah Borges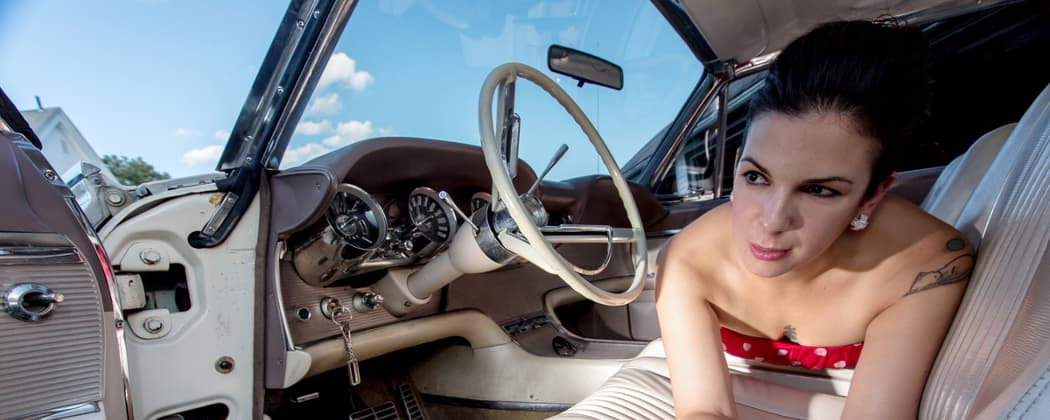 This article is more than 7 years old.
A phone interview with Sarah Borges is different these days. Interspersing the singer-songwriter's usual repartee are long pauses as she steps away to quiet a child in the other room.
"I'm going to have to let the TV babysit him for a few minutes," Borges said, finally surrendering to one of the inevitabilities of child rearing.
Life has changed for the Taunton-born rocker, who spent most of the past decade releasing three critically acclaimed studio albums and touring assiduously with her band, the Broken Singles. However, these days, the 35-year-old mom spends more time arranging play dates than set lists.
The Singles disbanded in 2010, the same year she married the band's guitarist, Lyle Brewer. The couple's son, Elliott, was born the following summer. Yet, evidenced by her new solo record, "Radio Sweetheart," and the raucous performances she and her new tour mates, Boston's country-rock avatars Girls, Guns and Glory, have been laying down as of late, Borges is a long way from kicking back. She has a long lineup of performances including one in Cambridge and one in Fall River at the end of the month.
"It's really good because I've been away for a couple of years and had some time to vegetate," she said. "And these guys have been constantly beating the heck out of it on the road. We tour in a van, and I get to pretend I'm 25 again."
Borges first lit into the scene with 2005's "Silver City," a CD of Americana-meets-Memphis-infused rock, spiced with a handful of contemplative gems named for the gritty city that sprung her. Her songs and stage persona were sassy and smart, as she tossed off hard-won truths with a melodic flair that won fans and accolades from here to Austin.
The new record retains much of this. Several of the songs on "Radio Sweetheart" were older tracks that didn't fit the style of the Singles. They sit well next to the newer tracks, which were written not in truck stops and hotel rooms as in the old days, but at home in Arlington, where Borges leads the life of a wife and mother. Produced by Los Lobos' Steve Berlin and recorded in Waltham's Wooly Mammoth Sound Studio, the new record reflects where Borges is at these days.
"The record is more about what I'm like, warts and all," she said.
"Radio Sweetheart" opens with the radio-ready "Girl with a Bow." With its easy groove, gently churning electric guitar and an easy-to-remember hook, it's reminiscent of the tunes that gave heavies like Bonnie Raitt and Lucinda Williams a mid-career boost up the charts. Meanwhile, "The Waiting and the Worry" has a lilting country bounce and winning chorus, and the blues makes an expected appearance with "Mind on Me." For listeners looking for a little more edge, the closing track, "Record on Repeat," leans more toward Borge's affinity for punk, with the singer declaring the "soul-shaking feeling" that's overtaken her.
Older fans will recognize "Think of What You've Done," which was included on "Silver City." The torchy breakup ballad is reprised on the new CD, and serves as a yardstick, of sorts.
"The first time I did it, I didn't know what I was doing," she said. "Now I've been playing it for a decade, and it's really a benchmark as to how I've grown. It's more me now. It's nice to have some kind of testament to what you've been doing with your life."
If Borges' world has changed since that first record, so has the musical world. Shifts in the industry meant her best bet for putting out new material was to crowd-fund the project. The DIY approach demonstrates how far Borges has come from the days when raves from Rolling Stone, The New York Times and NPR were par for the course. And that's OK, she says. These days there are more important things in her life.
"I've been doing this since I was 23, and at first it seems the whole world is open to you," she said. "I've gone from wanting to be on the cover of Rolling Stone to being happy just to tour and make a living.
"One of the things I want to teach my son is that you should measure success not by whether you're noticed by everyone, but whether you did your best," Borges added. "My level of appreciation for everything has gone up so much entering this part of my life. It's not an opportunity everyone gets."
Sarah Borges will perform with the band featured on "Radio Sweetheart" at Atwood's Tavern in Cambridge on March 22; and with Girls, Guns and Glory at the Narrows in Fall River on March 28.
More from John Winters at johnjwinters.com.