Gun Laws: A New Litmus Test For Surgeon General?
Play
This article is more than 9 years old.
Abortion has been a litmus test for U.S. Supreme Court nominees since the hearings for Robert Bork 27 years ago. Now, some doctors are worried that anything a physician says about guns may prove perilous for nominees to be U.S. surgeon general. Will Dr. Vivek Murthy, an internist at Boston's Brigham and Women's Hospital, set the precedent?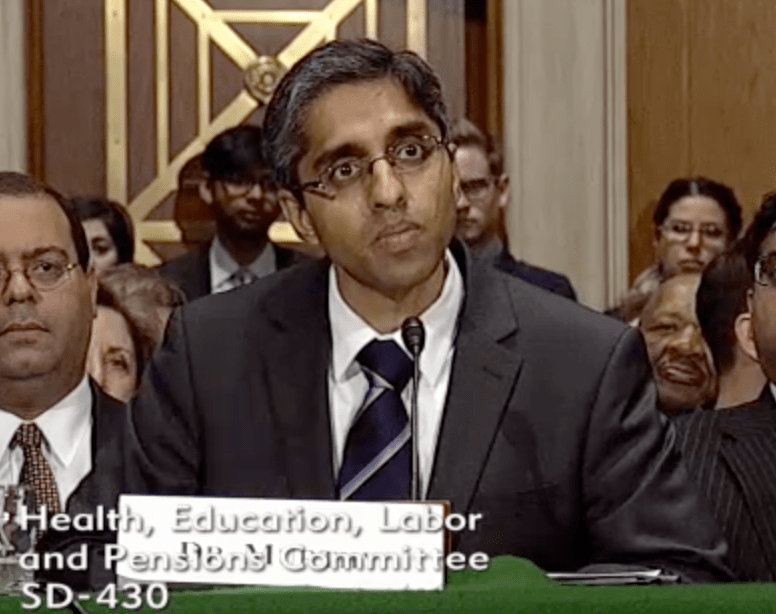 President Obama tapped Murthy to become the nation's next top doctor in November. Early last month, the 36-year-old was on Capitol Hill for a confirmation hearing, where most of the questions were about the Affordable Care Act.
Murthy is a strong supporter of the federal law and founded a national organization originally called Doctors for Obama, now Doctors for America. His group also urged Congress to pass stricter gun laws after the Sandy Hook Elementary shootings. That was a point of concern during the hearing for Sen. Lamar Alexander, a Republican from Tennessee.
"You said, in your advocacy for passage of gun control, last year, that you're 'tired of politicians playing politics with guns, putting lives at risk because they're scared of the NRA,' " Alexander said and then continued with a question: "To what extent do you intend to use the surgeon general's office as a bully pulpit for gun control?"
"Thank you, Sen. Alexander," Murthy said, adjusting his microphone. "To start, I do not intend to use the surgeon general's office as a bully pulpit for gun control. That is not going to be my priority. As we spoke about, my priority and focus is going to be on obesity prevention."
Murthy cleared the Senate Health, Education, Labor and Pensions Committee with a vote of 13 to 9. Then, in late February, Chris Cox, director of the NRA's Institute for Legislative Action, delivered a letter to Senate leaders opposing Murthy's nomination.
Cox told Fox News that "Mr. Murthy's not just a gun control supporter, he's a gun control activist. And it's clear that his agenda is to treat a constitutional freedom like a disease."
Members of the National Rifle Association began calling their senators and the group said a vote for Murthy would be considered a vote against the NRA.
Some Democratic senators who are up for election have said, or signaled, that they won't support Murthy's nomination. The NRA's opposition has stunned many in the public health and medical community, perhaps especially in Boston.
"It's a ridiculous attack to claim that any doctor is an anti-gun radical for holding mainstream views and could risk disqualifying entire swaths of physicians," said Dr. Atul Gawande, who works with Murthy at Brigham and Women's Hospital.
The American Medical Association and 50 statewide or medical specialty groups wrote to President Obama after the Newtown shootings, urging him to help end what they called "an epidemic of gun violence."
"It's completely inappropriate for it to be a litmus test," said Dr. Robert Sege, a pediatrician at Boston Medical Center who is a point person on gun safety for the American Academy of Pediatrics.
Sege listed some of the reasons he says a physician would want to reduce gun violence in the U.S.: over 7,300 adolescents and children were hospitalized in the U.S. in 2009 due to injuries from firearms and almost 1,100 of these victims were less than 15 years of age.
"The surgeon general should not have to be an outlier, someone who doesn't follow the current recommendations and current science," Sege said. "That would be very dangerous for the country."
But now, as NRA opposition grows, concerns that about Murthy's qualifications and political ties to the president are also getting more attention. Dr. Richard Carmona, surgeon general during the administration of President George W. Bush, told Obama Murthy is not ready for the job.
"In the case of the young nominee who is being considered, I think he has great potential," Carmona said, "and this is not a criticism of him directly, but it's a criticism of the process. This shouldn't be a patronage position."
Murthy's colleagues and supporters call him a doctor's doctor with a record of mobilizing health care workers to fight major public health problems including obesity, AIDS, diabetes and mental illness. A spokesman says Obama expects Murthy will be confirmed but adds that the White House is "recalibrating its strategy." That might mean shoring up support for a vote or waiting until after the mid-term elections, or it may be a signal that the nomination will be withdrawn.
Update at 10 a.m.: U.S. Sen. Elizabeth Warren didn't respond to request for comment Tuesday. U.S. Sen. Edward Markey said, in a statement Tuesday night:
After blocking common sense gun safety legislation last year, the NRA seems willing to stop at nothing in their efforts to quash any voice calling for sensible gun safety measures. Gun violence is a public health crisis devastating families and neighborhoods in Massachusetts and across the country. It is time to end the NRA's stranglehold on American politics and allow this nomination to move forward without interference.
This article was originally published on March 19, 2014.