Photos: Trolls, Princesses, Lolitas And A Unicorn At 'Anime Boston'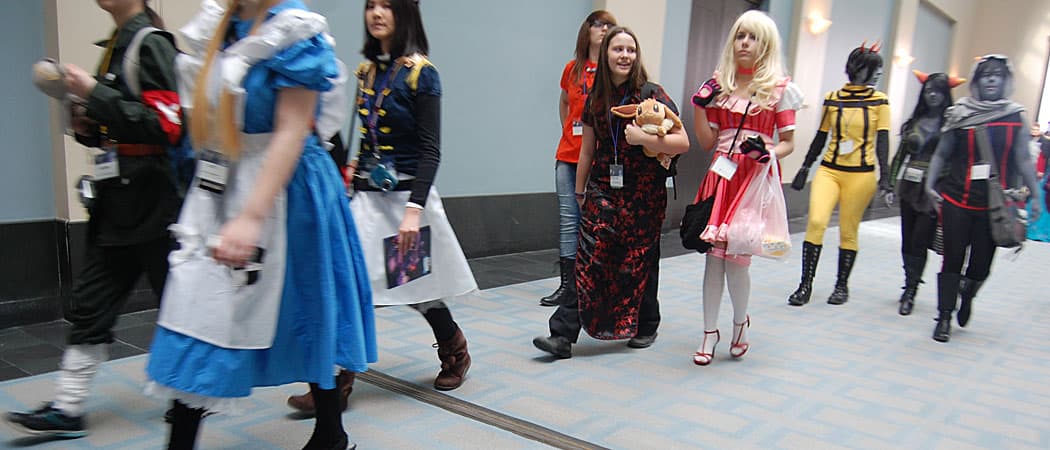 This article is more than 7 years old.
"I feel at home here," said Samantha Pringle-Johnson of Boston's Dorchester neighborhood.
"Being an outsider all the time," said her friend Glorya Stanford of Dorchester, "it's nice to be with people like you who are all just weird."
They'd both come costumed as the Batman character Harley Quinn to "Anime Boston," the annual convention celebrating Japanese animation, comics, video games and pop culture—and all sorts of Western pop culture too—that takes over the Hynes Convention Center and Sheraton Boston Hotel this weekend.
Thousands visit the art displays, cartoon screenings, karaoke, costume contests, charity ball, table-top and video games, blood drive, appearances by cartoon and video game voice actors, and panel talks on topics like "the worst the animation industry has to offer," "politics and philosophy in the films of Studio Ghibli," "transforming animals of Japan," and "Can monsters taller than skyscrapers send a serious message?"
But the highlight is the cosplay (short for "costume play") of the attendees themselves. They arrive sporting fabulous costumes—from superhero spandex to Lolita fashion (Victorian-style concoctions of ruffles, frills and bows) to furry masks from sci-fi and fantasy. (Cosplayers are identified by the characters they're dressed as in the photos below.)
Abby Plante, who came in from Blackstone for the convention dressed as Stitch from the Disney animated feature "Lilo & Stitch," said, "I'm probably going to do this until I'm like 80."
Greg Cook is co-founder of WBUR's ARTery. Follow him on Twitter @AestheticResear. Friend him on Facebook.
This article was originally published on March 22, 2014.