From A House In Wisconsin, PHOX Makes Playful, Escapist Music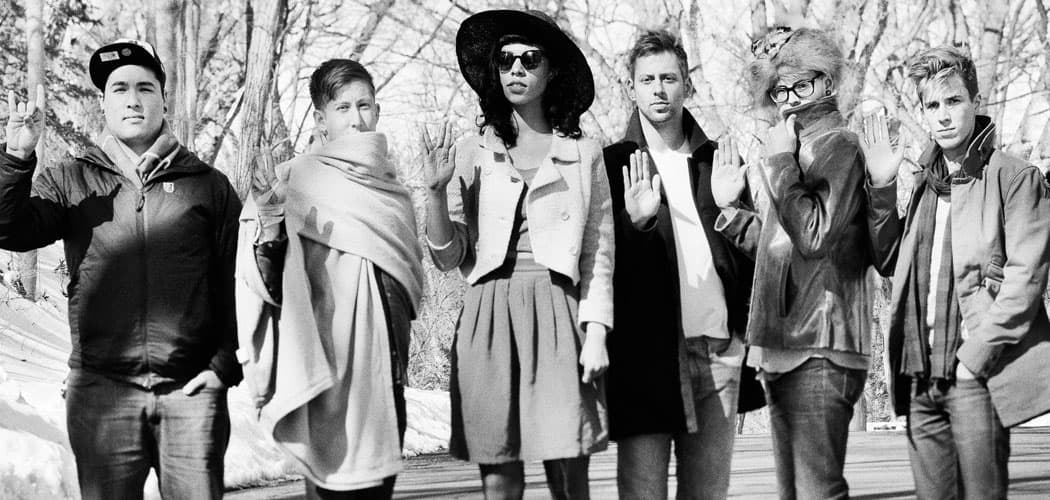 This article is more than 7 years old.
PHOX, a six-piece chamber-pop group from Baraboo, Wis., thrives on multiplicity. The band's intricate, texturally rich sound is not so much by design as it is the result of a simple rule: try every idea once.
"You're not allowed to say no," said guitarist and trumpet player Matt Holmen in a recent Skype interview from the band's communal house in Madison. They will be opening for Laura Mvula at a sold-out show at the Sinclair in Cambridge on April 7. "You have to try it and then see you how you feel about it. A lot of times you'll be surprised by the results."
PHOX excels at the slow, elegant build: songs often start with a simple motif, then introduce interlocking parts that drop out, reappear and gradually amass towards a euphoric crescendo—a duplicating, unfurling fractal of sound. In concert, the band manages the daring and impressive feat of executing complex arrangements with energy and seeming effortlessness, like a juggler on a high wire.
"I can barely play a little small guitar-ukulele type thing out of a paper bag, so it's very much a codependency," explains lead vocalist Monica Martin, who writes melody and lyrics. "After there's a melody that's pretty solid, I'll show it to everyone and everyone takes it and runs with it in different ways. And we kind of come back together."
Not surprisingly, the music that emerges from this crowd-sourced process involves a lot of instruments. Martin might pick up the trombone, accordion or kazoo; Holmen, a flugelhorn player, shares banjo and guitar duties with Zach Johnston, who contributes backing vocals along with drummer Dave Roberts, keyboardist Matteo Roberts (brother of Dave) and bass player Jason Krunnfusz. (Got that?) Flute, clarinet and strings make occasional appearances. For the most part, PHOX hews close to a concise, hook-based pop song structure, but its imaginative arrangements feel infinitely expansive.
Martin, who is effectively the face of the band, has a relaxed, yet distinctive, vocal style. She is relatively new to the craft, having no formal training, and seems to have subconsciously alchemized an array of influences that sit comfortably with her voice's natural warmth. At times, one detects the seductive purr of a jazz vocalist; at others, a country singer's emotional croon. Martin is fond of the vocal "break" so often employed in country music, that gentle hiccup that marks the transition from the resonant chest voice to the breathier head voice. Someone once compared her singing to yodeling, which exploits the vocal break to virtuosic effect. "Then there were a few months time where I would just not stop yodeling," Martin remembers, laughing.
Martin's lyrics are dagger-like and poetic, though you might miss them amidst the gorgeous accompaniment. The song "Evil," for example, excoriates a cheating lover with blunt language set to a cheery rhythm: "Face deep/ In between my best friend's knees/ Telling me that you don't want to hurt me." In the final chorus, the instruments drop out and voices surge, buoying Martin's disenchanted parting lines: "And I, I know that/ Evil will find its own demise."
PHOX has been gaining national traction, with a buzzed-about SXSW appearance and mentions on NPR, in the run-up to the release of their debut album on June 24. The self-titled record was produced by Brian Joseph, who engineered albums for Bon Iver and The Fray.
"It was primarily a live album," says Holmen. That's not surprising; given its sonic breadth and precision, PHOX's music translates naturally to the recorded medium. The band's live set at the 2013 iTunes Festival in London practically sounds like a studio product.
There is a certain irony to this music that feels, at its core, escapist. All six members of PHOX grew up in Baraboo and, upon graduation, left as quickly as they could—only to find themselves sucked back into its orbit in their 20s.
Martin went to cosmetology school in Madison. Dave Roberts ended up working an entry-level position at Homeland Security. Holmen pursued a music career in Nashville for two years, but his band broke up right after he convinced Roberts to join. They moved back to Baraboo—best known as the original home of the Ringling Brothers Circus—and whether by accident or fate, Matteo Roberts and Krunnfusz both found themselves there, too.
Though the return to one's hometown can exude an aura of drab defeat, it was there that the members of PHOX discovered an antidote to post-college driftlessness. A few months after their first gig, they moved into a house in Madison, which is about an hour from Baraboo. Their video EP "Confetti," which they released on YouTube in 2013, shows them tracking the songs, along with all the other things that happen during an in-home recording experience: sleeping, reading, making art. The Madison house is depicted as a creative utopia that is part studio, part playhouse and part home. Where music is life, and life is music.
The lease in Madison is up soon, and since the band will be on tour most of the summer, they have decided in the meantime to crash in Baraboo, thus completing the cycle.
Holmen and Martin view their return to their hometown with a mixture of amusement and pride.
"For some reason—I don't know if it's through the Ringling Brothers mystique, or through good teachers at the high school—[there is] a line of successful or inspiring artists [from Baraboo]," says Holmen, pointing to bands like The Profits and Sonntag.
Martin disagrees. "We maybe have a skewed sense of what is coming out of Baraboo."
Whatever the case, they are happy to wave the hometown flag. Home, once an encumbrance, became a refuge, while music provided a release. Or perhaps it was the act of communal music-making that offered refuge, and home was just a place to live.
Now, with one foot firmly planted in Baraboo, PHOX is preparing to be launched back out into the world.
"This the farthest along any of us have been with a band, and it's really exciting, and we're happy with everything that's going on. But we'll also be living where we all kind of started playing," says Holmen. "You know, I'm going be living in the basement room that I grew up in, and where this band started. In between trips to Europe."
There is a satisfying symmetry to the story. It was in those basement bedrooms, engulfed in clove cigarette smoke and the blare of a boom box, that creativity first blossomed. Back then, as now, an actual circus was never necessary—just the faint, elusive memory of possibility, of escape.
Correction: An earlier version of this essay confused the order of the places the band members resided.
This article was originally published on April 04, 2014.