As Thousands Flock To PAX East This Weekend, An Intro To Its World Of Games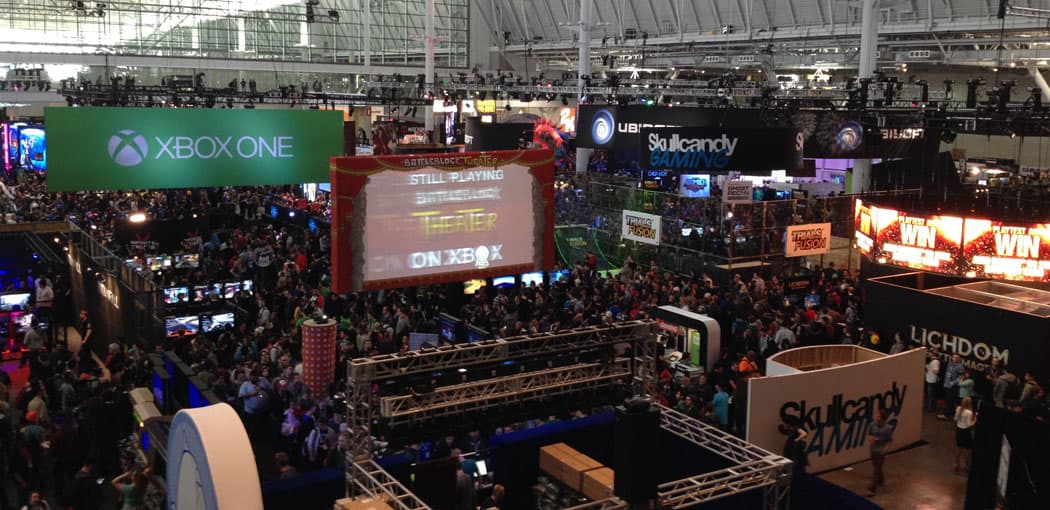 This article is more than 7 years old.
The origins of the Penny Arcade Expo—the annual game culture festival that attracts upwards of 70,000 video game players, board game and card game aficionados, and a smattering of ornately costumed fans to the Boston Convention and Exhibition Center each spring—lie in the webcomic "Penny Arcade," which began publication in the late 1990s.
"Penny Arcade"'s humor is predicated on insider knowledge of the gaming world and it spoke deeply to an audience that generally felt overlooked, undervalued, underserved.
Penny Arcade connected to that audience so successfully that it grew large enough to attract the attention in 2002 of a businessman named Robert Khoo, who proposed turning "Penny Arcade" into a brand. One of the fruits of that labor was the Penny Arcade Expo, a fan convention that's intended to be a celebration of game culture, which was held for the first time in Seattle in August of 2004.
 PAX has since grown into an annual show that has taken place in Boston each spring since 2010, in the original location in Seattle every fall, and for the first time in Melbourne, Australia, in the summer of 2013. Three-day passes for the show regularly sell out in a matter of hours, leaving everyone else to scramble together a collection of one-day passes to gain entrance to the entirety of the Expo.
The first thing to understand about the Penny Arcade Expo East is that it intrinsically has absolutely nothing to do with Boston. You could take PAX East, plop it down in New York City, and I think the only substantive change one would see is a lesser number of Boston's game developers and a greater number of New York's on the show floor owing to convenient proximity.
I think Boston got the nod because it's more easily traversed by attendees than New York, and of course I may be biased but it's also a damned sight prettier. I'm sure exhibition space costs worked their way into the equation as well.
The second thing to understand about PAX East is that it's a schizophrenic event that splits nicely into four quarters.
In the first corner, we have the fandom for Penny Arcade the webcomic, who flock to PAX for question and answer panels with Mike Krahulik and Jerry Holkins, artist and writer respectively of "Penny Arcade," to have their "Penny Arcade" comic strip books signed by the duo, and to watch the Omegathon game competition Krahulik and Holkins host.
I'm only going to wave a hand here at all the problems Krahulik and Holkins have caused since the fall of 2010 with their reactions to complaints about their rape jokes and transphobic remarks, then loosing internet harassment mobs upon their enemies. I don't mean in the slightest to dismiss the importance of that, but I'd like to focus on helping you understand what this event is, as the mainstream media usually doesn't do a very good job of it.
While the event obviously wouldn't exist without "Penny Arcade," if we strip away the logistical role of the "Penny Arcade" business and focus solely on the content of the show, I think the webcomic is its least important aspect. Every year I have the sense that there aren't many people who attend PAX primarily out of allegiance to "Penny Arcade."
In the second corner, we have the show floor, which is the heart of the event. The Electronic Entertainment Expo or E3 is an annual event in Los Angeles at which video game publishers hock their wares to buyers deciding which games to stock on shelves, to the professional video game press, and to legions of bloggers who earn entrance by having websites that meet traffic guidelines.
E3 is a circus with cacophonous display spaces for upcoming video games and new hardware, an event that hardcore video game fans concerned primarily with getting new stuff would step over their own grandmothers to attend if they could afford the travel and lodging expenses, and if someone would let them in the door.
PAX was birthed in part as "the people's E3," an opportunity for everyday fans without blogs or media credentials to pay premium prices to stand in lines on the Expo floor for several hours to play a fifteen minute preview of a video game instead of watching similar preview footage online for free. Members of the enthusiast press attend those previews to write the games up for their outlets (disclosure: so will I this year).
The show floor plays host to a bona fide local angle, the Indie Megabooth, an endeavor proposed several years ago by Eitan Glinert, president and founder of Fire Hose Games in Cambridge, and as far as I know the Megabooth Empire is still run out of Boston by MIT graduate Kelly Wallick. The Megabooth is a collection of indie game developers who pool their limited resources together to buy a network of contiguous show floor spaces to stitch together into one huge booth that rivals the booth spaces purchased this year by big time game publishers like Bethesda, Ubisoft, 2K Games, and Square Enix.
In the third corner, we have the board game, card game, and miniatures war game players. At PAX East, they take up a space as large as the show floor. A sizeable lending library is stocked with board games, which are divvied out among the hundred or so tables of dice- or card-wielding players. The "tabletop area" feels like any one of a cavalcade of gaming conventions that take place around the country.
In the final corner of the room that is PAX, we have the panels, some of which feel like what one might find at the San Diego Comic Con, staffed by video game journalists or humorists (disclosure: I have organized and moderated these in the past), or video game developers providing fan service. Other than the few panels hosted by the "Penny Arcade creators," the panel lineup has very little to do with "Penny Arcade" the webcomic.
The thread that ties together these four very distinct parts is a sense of community, which is why the aforementioned problems of Holkins and Krahulik's insensitivity to rape victims have been such an issue. PAX would like to sell itself as an inclusive space where those who have been socially ostracized for their love of games, which outside society deems immature, may gather in peace. But PAX for years has felt anything but inclusive to a growing movement of women and members of the LGBTQ community who have been shunning the show since these problems began in late 2010.
Entrance passes for PAX regularly sell out in days every year regardless, and the attendees feed evening concert performances by chiptune bands, roughly defined as bands that use synthesized 8-bit (read: relatively primitive) sound chips as instruments, or hip-hop artists like Brooklyn-based MC Frontalot, who works gaming and tech lyrics into his rhymes and stands as a symbol of the "nerdcore" movement. And not to give him short shrift, Frontalot also dishes up a healthy dose of social commentary.
The other, primary evening activities at PAX revolve around spaces set aside with PC towers that anyone can sign up to play a wide assortment of games on, or a similar lending-library-inspired space for console gaming, which always includes legacy hardware like the original Nintendo Entertainment System, just to cite a system you might recognize, and thus provides three days' worth of trips down memory lane for anyone who either never owned but has read about or sold those systems from their collections.
I'm attending the show over the weekend and will have tales to tell here on The Artery in the near future, but thought you might appreciate a quick guide to understanding what this huge event called PAX East is that rolls into the Boston Convention and Exhibition Center once a year.
Dennis Scimeca is a Boston-based freelance writer. He is usually on the video game beat, and has been published on Salon, Polygon, Ars Technica, and Kotaku. Follow him on Twitter @DennisScimeca.
This article was originally published on April 12, 2014.