Are 4 Paintings At MFA Really By Caravaggio, The Sensitive Baroque Scoundrel?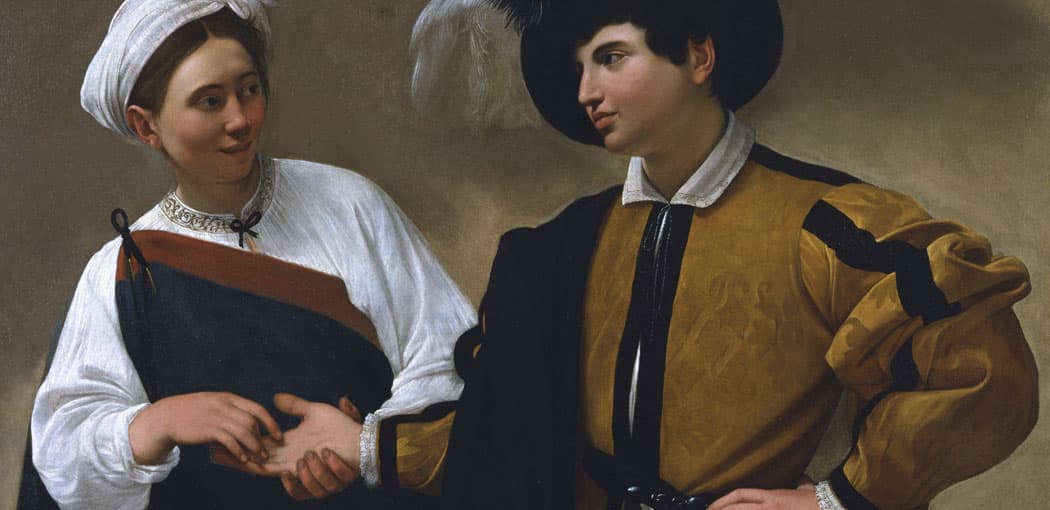 This article is more than 7 years old.
"He's really difficult," Boston Museum of Fine Arts curator Frederick Ilchman says of the painter Caravaggio. "He's so admired, but he gets into fights, a kind of a brawler."
And yet this ruffian—born Michelangelo Merisi in the Italian city of Milan in 1571 (his nickname comes from family ties to the nearby town of Caravaggio), who lost his father to bubonic plague at age six, who would become "Rome's most famous painter" (according to the MFA), who got into trouble for carrying a sword without a permit, for slashing a man's cape, for hurling a dish in a waiter's face, for throwing stones at police, before fatally stabbing a rival in 1606, and going on the run to Naples, Malta and Sicily—was one of the most sensitive of painters.
By the time he died at age 38 on his way back to, he hoped, claim a pardon in Rome in 1610, he had wowed his peers and patrons with his flair for the dramatic, his vivid earthy realism, and his sympathy for the humble.
"He's one of a handful of the most influential painters in European history," says Ilchman, who was named chair of the museum's art of Europe department in February. "When you think of the Baroque—strong diagonals, heightened emotion, deeply felt piety, almost photographic crispness—these are all things that, if he doesn't pioneer, he crystallizes into an unmistakable style."
Four oil paintings—two considered to be by Caravaggio, two sometimes attributed to the master but whose authorship remains disputed—are on view in "Visiting Masterpieces: Caravaggio and Connoisseurship" at the MFA through June 15. "As you look at the paintings," the MFA asks, "decide for yourself: could they be true Caravaggios?"
The exhibit was organized by the MFA in collaboration with Muscarelle Museum of Art in Virginia and Italy's MetaMorfosi associazione Culturale. It's a rare U.S. appearance for Caravaggio. Ilchman estimates that there are, perhaps, just a dozen by the master in the United States.
So let's consider whether these four canvases are really from Caravaggio's brush…
The "Fortune Teller," from about 1594 or '95, is a genre scene (moralizing visual fable) depicting a woman "wearing the traditional clothes and turban of a gypsy," as a museum sign says, reading the palm of a man as she surreptitiously slips his ring off his finger.
"It's a scene of a lowlife character taking advantage of a naïve fop," Ilchman says. "When people talk about how Caravaggio made his name in Rome, it was paintings like this."
Authorship of the painting had been in doubt for decades, in part because old varnish and poor retouching obscured the painting's beauty. But cleaning in 1985 and 2010 and scholarship that traced its ownership back to Cardinal Francesco Maria del Monte, Caravaggio's earliest collector in Rome, have since convinced many experts.
"Though doubted by some scholars up until the 1980s," Ilchman says, "I think we can now call it a classic Caravaggio."
The portrait of "Maffeo Barberini," from about 1596 of the man who would become Pope Urban VIII in 1623, was attributed to Caravaggio in 1912. But its authorship was questioned again at the time of a major Caravaggio survey exhibition in Milan in the 1950s, and the painting receded from the spotlight. But Keith Christiansen, chairman of the European painting department at New York's Metropolitan Museum of Art (which owns two Caravaggios and has another on loan), has "argued strongly in favor of Caravaggio's authorship," the MFA says.
"I think we can admit that the face isn't as convincingly modeled in three dimensions as one might as with associate with Caravaggio," Ilchman says. "But there are so many telling details that are plausibly by Caravaggio's hand." Particularly the play of light on the left hand and the rendering of vase of flowers on table including "the detail of rose leaves floating in slightly dirty water," Ilchman points out. "It's something you would not imagine a lesser painter having the courage to do."
"Now we're in a classic Caravaggio setting," Ilchman says of the painting "Saint Francis in Meditation," from about 1595, "dramatically spot-lit figure, humble costume, his brown Franciscan habit is torn and patched."
But the attribution to Caravaggio of this scene of the humble saint in a rocky grotto praying over a skull has been doubted because it was thought to be a copy of a better known version in the collection of a Rome church.
"We're talking about things that happened 500 years ago. These are judgment calls. Consensus hasn't settled yet. … This one the jury's out," Ilchman says. "I find the painting pretty convincing and very beautiful."
"Fra Antonio Martelli, Knight Grand Cross of the Order of Malta," from about 1608, is believed to depict one of the knights who successfully defended the Mediterranean island of Malta from a much larger Ottoman army in 1565.
For centuries the canvas was attributed to other artists. When the painting was first attributed to Caravaggio in the 1970s, it was thought to portray another member of the order, based on that man's portrait in the collection of Paris's Louvre. The attribution to the master was strengthened when scholarship in the 1980s found a 1666 Medici inventory record describing a painting of this size and description of Fra Antonio and from the brush of Caravaggio.
Ilchman leans toward Caravaggio: "This is just a portrait of huge power and reserves of confidence."
Greg Cook is co-founder of WBUR's ARTery. Follow him on Twitter @AestheticResear. Friend him on Facebook.