Where's The Best Place To Watch The Boston Marathon?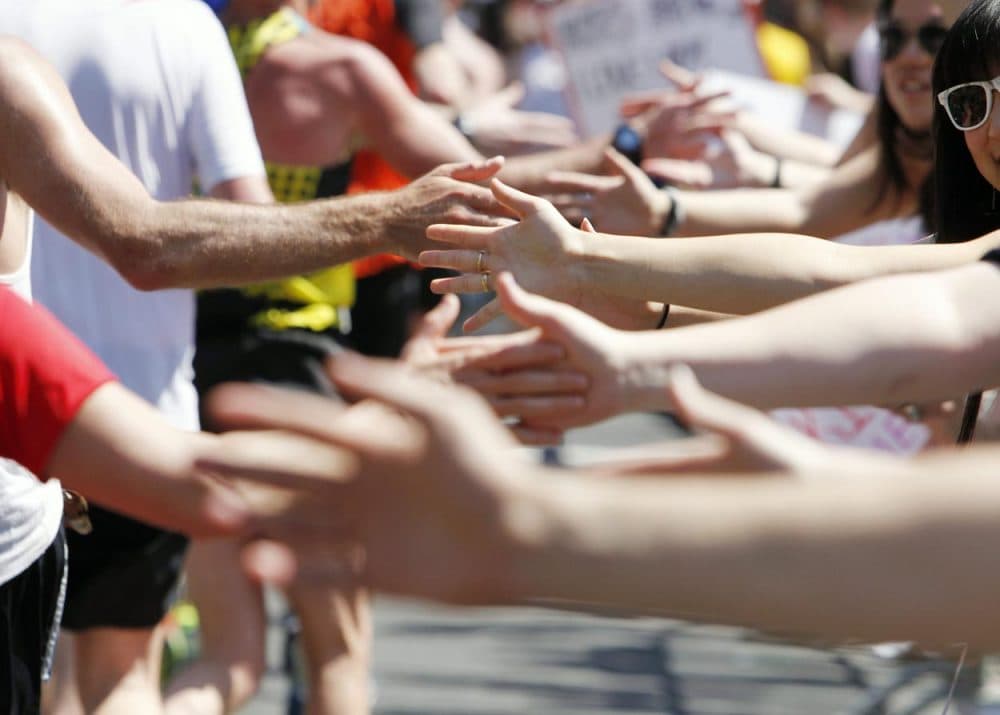 This article is more than 6 years old.
Update: It's that time of the year again: thousands of spectators are expected to line the Boston Marathon course on Monday to cheer on some 30,000 runners. We first published this post in 2014 but think it still stands and so we're sharing it again. 
Original post continues:
BOSTON — The Boston Marathon is almost as much about the spectators as it is the runners. And this year, 1 million people are expected to crowd the 26.2-mile course from Hopkinton to Boston. That got me wondering: Where's the best place to watch?
I posed that (seemingly) simple question in a recent meeting without realizing it would spark a fierce debate. There are the usual spots — Heartbreak Hill, Kenmore Square, the finish line — and they have their merits. But I also learned there are the small treasures and longstanding traditions — like a highway overpass or a local sandwich shop that shall remain unnamed.
So here is how some of my WBUR colleagues and members of our Facebook community answered the question. Don't forget to leave your favorite spectator spot in the comments.
These responses have been lightly edited.

Highway Overpass
"I try to catch my Mystic Runner teammates at the Framingham Train Depot and the Route 128 overpass. The nice people at the rest area let you safely park your car and you can walk up the closed exit ramp to Washington Street." --Anna-Ace Carroll Foulds, via Facebook
Cheering The Medical Team
"In front of Newton-Wellesley Hospital — the runners need extra cheers there as they head to Heartbreak Hill, plus it's nice to cheer on the medical team too." --Leah Goldman Lesser, via Facebook
30K Water Stop
"I love to watch from Commonwealth Ave in Newton. Near the Newton Fire Station is always fun, but I have friends who stop off at the Somerville Road Runners' water stop at the 30K mark. I usually set up there. The crowds are thinner, it's easy to find a front row spot, and I think the runners really appreciate a burst of energy before tackling Heartbreak Hill." --Karen Given, Only A Game

A Family Secret
"My parents' favorite place is a sandwich shop in one of the suburbs the marathon runs through — I won't say which one because the reason they love it is no one knows about it! They always get the stools at the window, where they can watch the runners go by." --Rachel Rohr, Here & Now
The Hardest Part
"Heartbreak Hill in Newton, so you can encourage the runners at the most difficult part and see how they are holding up. Plus you won't be as crowded as at the finish line. It's along Comm. Ave. from Walnut St. to Hammond St." --Wendy Schwartz, on-air promotions/fundraising producer
Not Quite The Homestretch
"My favorite spot is Washington Square, Brookline.

From a spectator standpoint, it's easy to manage. Good vantage points, the crowds aren't as crazy as other places, and the neighborhood restaurants are welcome hosts. Washington Street gives you good access when you're ready to leave. It's close to the B, C and D lines.

But it's also a great place to see the runners. In Brookline they're still in the thick of the race. They've run the lion's share of the route, but still have a few miles still to go. They're just about there, but still very far away. Not quite in the homestretch, but getting close. Seeing the runners in varying condition — but all still going — is truly inspiring." --Peter Duggan, underwriting account executive

The Worst Is Over
"Mile 23 in Washington Square. There's music, food, and a downhill slope for great viewing. The worst is over so there tends to be a good vibe among both the runners and spectators." --Elizabeth Wenger via Facebook
Encouragement Needed
"Beacon Street! I am biased cause I grew up in Brookline, but it just feels so exciting to see the race there. They are so close to the finish, but you are not mobbed by crowds downtown. And being so close but still a couple miles away, it is probably where runners need the most encouragement!" --Jessica Coughlin, community engagement and marketing specialist
Doubleheader
"I call it the Patriots Day doubleheader. You watch from Kenmore Square (the Citgo sign side of the street) after seeing the Red Sox win at Fenway. They start the Sox game at 11:05 a.m. on Patriots Day so it all lines up." --Jonathan Peck, syndication manager

Almost There...
"I like Hereford Street because it's the point where people seem to go from being exhausted to really, really excited that they're almost at the finish line." --Rachel Paiste, newscast writer
Above The Finish Line
"The roof of the Lenox Hotel... if you can wrangle an invitation! But if you can't watch from above the finish line, it's also really fun to bring a picnic and hang out between Coolidge Corner and Kenmore Square on Beacon Street. At that point, the runners have pretty much realized that they're going to make it and you can see their resolve kick in. It's really nice." --Clint Cavanaugh, leadership gifts officer

A Sea Of Joy
"Most people will probably say the top of Heartbreak Hill, but I still like being at the finish line. There's something amazing about seeing the top runners turn that corner from Hereford Street onto Boylston for the sprint to the finish. From then on the flow of runners increases until there are hundreds crossing the finish line at the same time. It becomes a sea of joy and this year that sea will be overwhelming." --Alex Ashlock, Here & Now
A Different Perspective
"On the course, as a runner." --Gregory Galizio via Facebook

This article was originally published on April 18, 2014.