Rat Pack, Afronauts, Imaginary Friends—Best Of The Independent Film Fest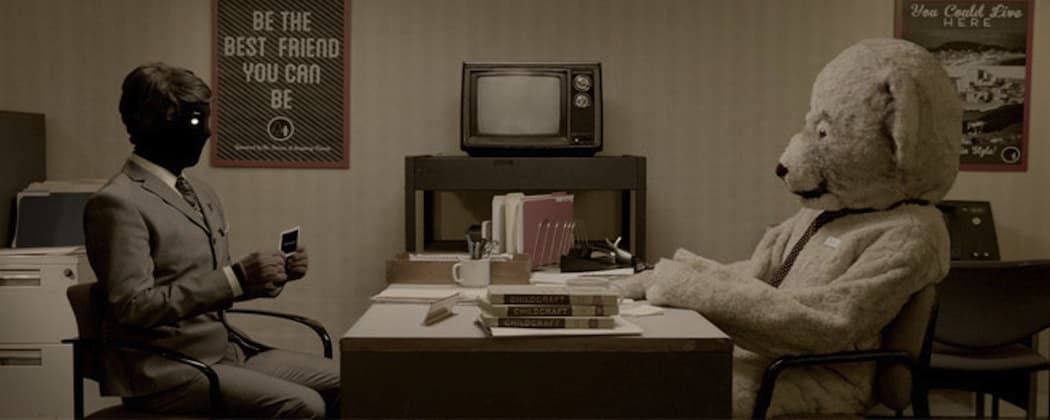 This article is more than 7 years old.
Children and parents in peril, impersonators and imaginary friends, and lots of costumed humans (think owls or coats of cotton balls, not "The Wolf of Wall Street") connect one film to the next in this year's short film programs at the 12th annual Independent Film Festival Boston, which runs from April 23 to 30.
Of the 38 shorts (up from last year's 37, which was the largest number to date), there's also an increase in films shot locally. A handful of characters face or overcome unique medical conditions and three of those stories have local ties:
Veteran Boston Globe reporter David Abel takes his coverage of dwarf Boston Marathon runner Juli Windsor from print to screen in his documentary debut of "25.7." It's a solid effort for a first-time filmmaker and Windsor's indomitable optimism, even as she approaches the looming 2013 finish line, could catch the breath of any viewer.
Heavy hitter Steve James ("Hoop Dreams," "The Interrupters") offers an intimate look at a Cape Cod family's struggle with Alzheimer's in "A Place Called Pluto." Greg O'Brien, also a seasoned newsman, is someone who has "always been about brains," making the growing distance from that self ever more poignant.
The third begins my selection of short film festival picks. There are six:
Robin Berghaus's "Stumped" gives an unpitying look at what happens when filmmaker Will Lautzenheiser loses all four limbs to a voracious, life-threatening infection. The camera brings us face-to-face with the world-class care at Spaulding Rehabilitation Hospital and into Lautzenheiser's forthright and funny response to his trauma. For people who've been especially apprehensive during the bombing anniversary, this story of perseverance may be a gentler way to revisit heightened emotions and find hope in this man's healing.
In the dregs of deep cable there are likely American stories as disturbing as "What I Hate About Myself." ("The Swan" did have two seasons, no?) Documentarians Ben Mullinkosson and Bobby Moser moved to Chengdu, China, and lived there for eight months before befriending the perfectly gorgeous Christine, who thinks her flat, "too Eastern" nose is all that stands between her and her dream of acting. She enters, and to their surprise, wins a televised beauty contest and the increasingly coveted prize of plastic surgery.
As part of the reality show's format, Christine asks passersby what's wrong with her face. They tell her, and she cries. Her looks-like-her-sister mom also cries and cries as her teenage daughter decides exactly which features should permanently go. The mom declines to pinpoint her grief, but the documentary, as it echoes the brutal tropes of the television makeover arc, makes clear that the hero's goal is to look Western at any cost.
"Choreography" is a brilliantly-structured documentary by the local-at-times filmmaking couple, Ashley Sabin and David Redmon. The subjects, ostensibly, are donkeys and only donkeys, grazing, running, staring right into the camera. Only human-made structures appear, yet the human presence is constantly in question. Is this the real-time sound? Did the filmmakers use some kind of flag to attract the animals' gaze? Why am I starting to project my own human-human relationships and psychology onto these creatures? Like any boundary-pushing film, this one poses deep questions anew, and gratefully, no animals are harmed.
On the narrative front, Kate Tsang's "So You've Grown Attached" (pictured at top), about an adolescent who outgrows her imaginary friend, stands out for its quirky but slick production design and innovative story. It's far more innocent than the bewildering "Rat Pack Rat," which started stirring the festival pot at Sundance, where it picked up a Special Jury Award for Unique Vision.
"Rat Pack Rat" is the kind of unforgettable short a programmer builds a whole program around. Eddie Rouse takes the lead as a Sammy Davis, Jr. impersonator called to a decrepit home to help a bed-ridden man celebrate his birthday. Rouse carries the film's provocative plot twists and emotional nuance from scene-to-scene with a mere downcast glance or curl of his lip. If IFFBoston had a best actor award, he'd be a contender. Not everyone will stomach writer/director Todd Rohal's storyline well. Regardless, he leaves you wondering what he could possibly concoct next.
For its part, the Shorts Program F: Narrative, which includes "Rat Pack Rat," is the overall strongest grouping. The sexism-on-its-head aspect of "Nailed It" (about a young man's audition) makes up for the miss, "Housekeeping" (Do today's moms really need fear mongering stories about work trips that propel their husbands and children into the arms of another woman?), while "Lomax" re-creates how folklorist Alan Lomax compiled his early 20th century record of American blues for the Library of Congress in gorgeous, black and white Super 16mm. If for no other reason, see it for the footage of Lomax pressing a fresh record with a 500-lb device powered by his car battery.
And finally, during "Afronauts" most viewers will decide it's either a dream sequence or spoofy documentary. It's neither. And they certainly won't realize it was shot on a New Jersey beach. "Afronauts" re-imagines the efforts a Zambian science teacher made in 1969 to send 17-year-old Matha and her two cats to the moon. History tells us that Armstrong and Aldrin landed, and Matha did not, but this stunningly crafted film by Frances Bodomo is nevertheless transporting. Bodomo's 2012 short "Boneshaker" starred Oscar nominee Quvenzhané Wallis and "Afronauts" earned Bodomo a spot in the 2014 New Directors/New Films. She's one to keep an eye on.
There are many more short gems not singled out here. Multidisciplinary artist Evan Mann has a duo of Andy Goldsworthy-meets-Nick Cave knock-outs ("Ethereal Real" and "Otherworldy") in Shorts H: Narrative & Experimental. Also in Shorts H, local writer/director Jeff Stern cinematizes a long-form poem about fatherhood in "The Morning of Everything." And Riley Hooper's "Elvis Loses His Excess" had me at the rest of the film's title, "and Other Tales from the World's Longest Yard Sale." Its touching collage of personalities along Highway 127 is worth every penny.
Independent Film Festival Boston runs from April 23-30. The easiest way to find times and locations for Shorts Programs A-F is to click on the main page's Tickets by Schedule and search the category "Shorts Program."
Erin Trahan edits The Independent and is moderating the winter series of The DocYard.
THE SHORTS PROGRAM, Somerville Theatre
SHORTS A: Documentary
Sat., 4/26, 12:45 p.m.
Mon., 4/26, 7:15 p.m.
TOKEN EXCHANGE (4 min)
OVERPASS LIGHT BRIGADE (7 min)
THE APOTHECARY (18 min)
ELVIS LOSES HIS EXCESS AND OTHER TALES OF THE WORLD'S LONGEST YARD SALE (18 min)
A PLACE CALLED PLUTO (10 min)
SHORTS B: Documentary
Fri., 4/25, 7:00 p.m.
Mon., 4/28, 9:15 p.m.
WHAT I HATE ABOUT MYSELF (28 min)
BHIWANI JUNCTION (18 min)
25.7 (20 min)
SHORTS C: Documentary
Sat., 4/26, 9:15 p.m.
Mon., 4/28, 9:45 p.m.
THE EXHIBITOR (8 min)
SHE LOOK GOOD (16 min)
CHOREOGRAPHY (9 min)
FOR THE LOVE OF DOGS (25 min)
SHORTS D: Documentary
Fri., 4/25, 9:45 p.m.
Sat., 4/26, 6:45 p.m.
MARQUEE (5 min)
TRASHCANLAND (20 min)
FONT MEN (6 min)
SILLY BASTARD NEXT TO THE BED (9 min)
PAUL THE DOWSER (11 min)
STUMPED (10 min)
SHORTS E: Narrative
Thu., 4/24, 9:15 p.m.
Sun., 4/27, 5:45 p.m.
SEASICK SAILOR (23 min)
DISCONNECTED (7 min)
WALLACE (19 min)
SO YOU'VE GROWN ATTACHED (15 min)
FIRST PRIZE (10 min)
SHORTS F: Narrative
Sat., 4/26, 3:30 p.m.
Sun., 4/27, 8:15 p.m.
BEAUTIFUL DREAMER (13 min)
LOMAX (12 min)
HOUSEKEEPING (15 min)
RAT PACK RAT (19 min)
NAILED IT (8 min)
THE BRAVEST, THE BOLDEST (17 min)
SHORTS G: Narrative
Thu., 4/24, 9:45 p.m.
Sun., 4/27, 12:15 p.m.
HOW TO STAND UP FOR YOURSELF (7 min)
LAMBING SEASON (15 min)
THE HERO POSE (12 min)
SAMNANG (22 min)
DISTANCE (24 min)
SHORTS H: Narrative & Experimental
Thu., 4/24, 7:15 p.m.
Sat., 4/26, 9:45 p.m.
REAL ETHEREAL (10min)
AFRONAUTS (13 min)
SPACEMAN (12 min)
THE MORNING OF EVERYTHING (12 min)
THE OTHERWORLDLY (8 min)