How To Respond To A Bad Review? AS220's Bert Crenca Remade Providence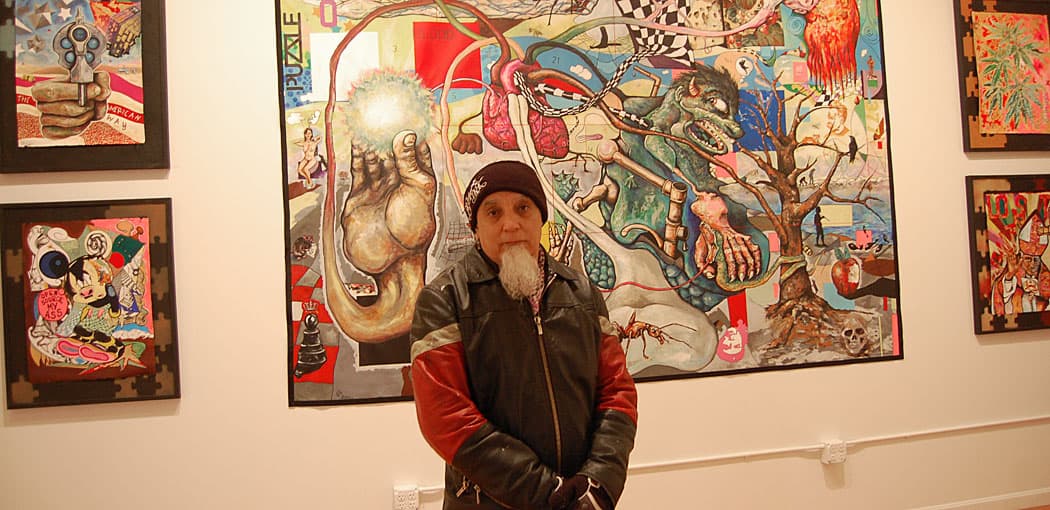 This article is more than 7 years old.
"Using art as a vehicle for social commentary is a risky proposition at best," Channing Gray's review of Umberto Crenca's exhibition began.
"Crenca is someone who appears to be deeply concerned about the injustices of the world. In fact, there is hardly an issue or event that has escaped his attention," the 1982 essay in the Providence Journal newspaper in Rhode Island continued. "Unfortunately, his work—flat, poster-like canvases, and abstract concoctions of urethane, dead leaves and bones—offers very little insight into these often tragic situations; nor, for that matter, does it unlock any of the emotions associated with them."
The review—which the artist says "crushed" him—is enlarged and plastered on the wall of Bert (as he's known) Crenca's exhibition "Puzzled: Ode Owed to Channing" at Machines with Magnets, 400 Main St., Pawtucket, Rhode Island, through tomorrow, April 27.
It serves as an introduction to a room of new passionate, trippy paintings full of social criticism. Crenca paints President Obama, God and Satan, a giant drop of oil wearing a crown ("Oil Rules"), wolves and a pig surrounding a capital building ("Occupy Everything").
Gray, who still writes for the Providence Journal, has some compliments for the new work, but in a new article ultimately gives this show a thumbs down too: "Some of these paintings have the feel of heavy-handed propaganda, which was one of my complaints more than 30 years ago."
It might be easy to say—assuming you share Gray's taste—that Crenca didn't learn his lesson. But the pictures on view here are just the tip of the iceberg.
Three decades ago, Crenca and his friends responded with a manifesto, and a big group exhibition, and ultimately in 1985 by launching their own cooperative gallery and performance space above the Providence Performing Arts Center at 220 Weybosset Street. They called their alternative space AS220.
In other words, they responded to that initial thumbs-down review by transforming Providence. AS220 is now headquartered in a building the organization bought and renovated at 115 Empire Street in 1992, while also operating two more downtown Providence outposts in the Dreyfus building at 95 Mathewson Street and the Mercantile Block next door on Washington Street. It offers galleries and performance spaces, a café and bar, a print shop, a photo lab, a tech lab, youth workshops, studios and apartments.
"Who knew a few caustic words about a painting show," Gray wrote recently, "would lead to the creation of a beloved arts institution?"
Bert Crenca grew up in Providence, attending Catholic schools. His father and grandmother were born in Italy. "My understanding of class and ideas of equity and injustice were inspired by my father," he says. His mom, the granddaughter of Portuguese immigrants, struggled with schizophrenia.
"Really traumatic and dramatic scenes," he recalls. "As a little kid that was very painful." When times got tough, he'd go down and look at the river. "There was something there, that watching the river flow."
In his family's ethnicities and faith, you can find the roots of the passion in his own art. He says the first artworks to influence him were church scenes of Jesus on the way to crucifixion and then resurrection.
"It was a dramatic religion," he says. "There was a lot of gore. There were saints, St. Sebastian with all sorts of arrows sticking out of his body. St. Laurence—of the church I went to—was burned to death."
The symbolism and mysticism of the faith rhymed with later experiences he had taking LSD (referenced by name in a large painting here) and other drugs. "I'm a '60s child. I did everything everybody else did in '68 plus," he says. "And my work is completely inspired by that experience."
But at Catholic school, he says, "I struggled. I got a lot of discipline." Teachers "locked me in closets. They beat me, literally, physically," he adds. "I don't know that I was doing anything really bad even, but I wasn't conforming."
"One brutal nun did turn me onto art and music," he recalls.
At the dawn of his 20s, he says he quit school because he was on the verge of flunking out. He stumbled upon Marathon House. "It was a place I was looking for and didn't know it," he says.
"The behavior that I was involved in eventually left me lonely, scared, at risk of hurting myself and potentially others," he adds. "At the same time I was painfully curious. All this led to a sense of desperation because I didn't know how to connect. I didn't know what a life could be that would satisfy all this intensity that I was feeling."
Marathon House was a coffeehouse in a second-floor room above Providence's Thayer Street that served as an outreach program for a therapeutic community for drug users. "I was actually high when I went in there," Crenca says. "Black, white, Latino were all calling each other brother and sister. … And they reached out to me. … And suggested I may want to come back and help out."
This mix of the arts, community building and healing could also be seen in AS220 when he helped found it a decade later—when he returned home to Providence after a few months in Europe in the aftermath of the divorce of his first marriage and put up that art show.
These days Crenca resembles a cross between a biker and a swaggering pirate. He's not that tall, but he's brawny. He wears a leather jacket and his bald head is decorated with earrings and a long gray goatee. "But I'm also wearing nail polish," he points out.
"I was a far more aggressive human being in the past than I am now," he says.
"I have consciously not so much tried to temper my image—because my image has worked—but to temper my behavior," he says. His change is a result of decisions "to embrace the softer side of me. I don't mean soft as weakness. I mean soft as compassionate, as strength."
The paintings (the old ones and the new ones) and AS220, where Crenca continues to serve as artistic director, are two sides of one project that the 63-year-old has remained dedicated to this whole time: To make life better through art.
"The work that I'm involved with both as an artist and through AS220 … what all of this is about is equity," Crenca says. "How do we model something different? How do we inspire?"
AS220 grew from a few friends pooling their resources to cover the rent on a shared studio, performance and exhibition space into a multi-million dollar arts establishment.
Crenca sees himself as something of the trickster of folklore, someone with a foot in multiple worlds, from art and punk to his seat on the Providence Downtown Improvement District Board. AS220 operates three buildings right downtown, it's partnered with all the major civic players, he notes, "and yet our ideas are so foreign."
By being situated in Providence's center, AS220 has maintained a rascally, renegade brand of art right in the heart of city as the commercial district, depressed and derelict in many areas when they began, has become ever more polished and boutique-ified.
That said, AS220's influence can often feel difficult to trace because unlike the majority of art institutions it's not oriented around taste and style, but around a philosophy.
That thumbs-down review Crenca received in 1982 unified around him a community that felt excluded by the tastes and politics of the then establishment. Instead their core ideals were—are—freedom, inclusion and shared opportunity. As a recent bumper sticker says: "AS220: Unjuried. Uncensored. Always All Ages."
AS220 is a physical manifestation of Crenca's optimistic utopian side, his faith that he can actually help make the world a more rich and fulfilling, a more just and equitable place. His paintings—of a gun, the previous pope, marijuana, a fetus, a prisoner strapped to an electric chair, Fidel Castro and Che Guevara, deposed Libyan dictator Muammar Gaddafi—are more cynical, more pessimistic.
Discussing a painting asserting the corrupting influence of oil on our society, he says, "That's obvious. We all know this. And then I say, 'What now?' Because it's almost too late. What can we do now?"
He's troubled that people "aren't people fighting back because of the disparity of wealth is as great as it's ever been. … There seems to be little movement to equity."
Soon he says, "I don't know. Maybe the species is on its way out. Maybe that's the natural course of things. Maybe we're not so precious. Maybe we're not so special. But I have to hope. I have to get up in the morning."
"This is how I feel and AS220 is the need to actually make a difference in the world," he explains. "But I also feel that the artwork is liberating for me. A lot of what I express in my artwork is not something that has a place in my role at AS220."
"I don't ever expect to discontinue this body of work," Crenca says of his paintings. "It just kind of dawned on me a while back that I wanted to express myself on issues. I feel like time is running short."
Greg Cook is co-founder of WBUR's ARTery. Follow him on Twitter @AestheticResear. Friend him on Facebook.
This article was originally published on April 26, 2014.