Bruins Beat Red Wings 4-2, Advance In NHL Playoffs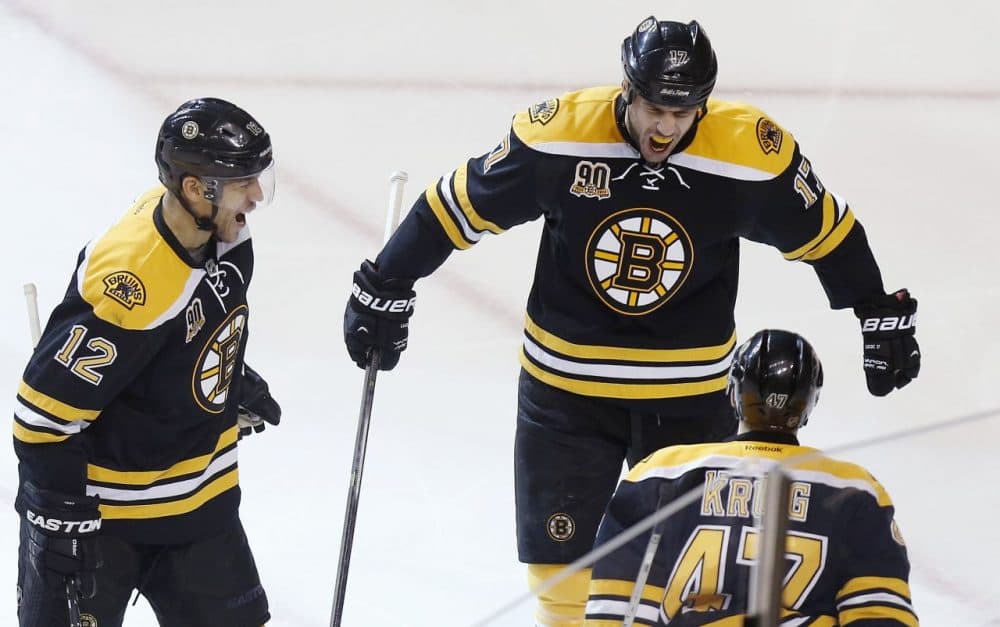 This article is more than 5 years old.
Tuukka Rask made 31 saves to help the defending Eastern Conference champion Boston Bruins beat the Red Wings 4-2 in Game 5 of their first-round playoff series on Saturday and eliminate Detroit from the postseason.
The Bruins, who finished the regular season with the best record in the NHL, advanced to the conference semifinals against the Montreal Canadiens.
Loui Eriksson opened the scoring for Boston, and Zdeno Chara snapped a second-period tie to give the Bruins the lead for good. Milan Lucic also scored, and Jarome Iginla added an empty-netter.
Pavel Datsyuk and Henrik Zetterberg scored and Jonas Gustavsson stopped 29 shots for Detroit.
Chara made it 2-1 in the second, then Lucic's goal with 4:27 gone in the third made it a two-goal game. Detroit made it 3-2 with 3:52 left after Rask made two acrobatic saves but left the puck to the side of the net for Zetterberg, the Red Wings captain who missed two months with back surgery and did not return until Game 4.
Less than a minute later, though the Wings were called for too many men on the ice, leaving them a man down while trying to finish the comeback. With 2 minutes left in the game, the Boston fans began chanting "We want the cup!"
The Bruins won it all in 2011 and returned to the Stanley Cup finals last year before they were eliminated when the Chicago Blackhawks scored two goals in 17 seconds in the final 76 seconds of Game 6. Boston seems on its way for another long playoff run this year, finishing the regular season with the best record in the NHL.
The Bruins scored a power play goal 3:27 into the first period when Dougie Hamilton's pass bounced off a defender's skate to Eriksson in the slot. Rask earned an assist on the play---his second career playoff point.
It stayed that way until Datsyuk came in and scooped up a rebound 12 seconds into a second-period power play against Lucic for high-sticking.
The Bruins went to a 4-on-3 in the final minute of the second when Johan Franzen was sent off for holding 22 seconds before Brendan Smith was called for cross-checking. On a faceoff in the Detroit zone, two of the three Red Wings defenders chased the puck and Patrice Bergeron passed it across the ice to Chara, who one-timed it past Gustavsson with just 4 seconds left in the period.
The Bruins had a good scoring chance with a 3-on-2, but Gustavsson stopped David Krejci. But Torey Krug helped keep the puck in the zone, then passed it to Lucic on the doorstep for the goal that made it 3-1.