Robots Fighting To The Death. Because It's Educational.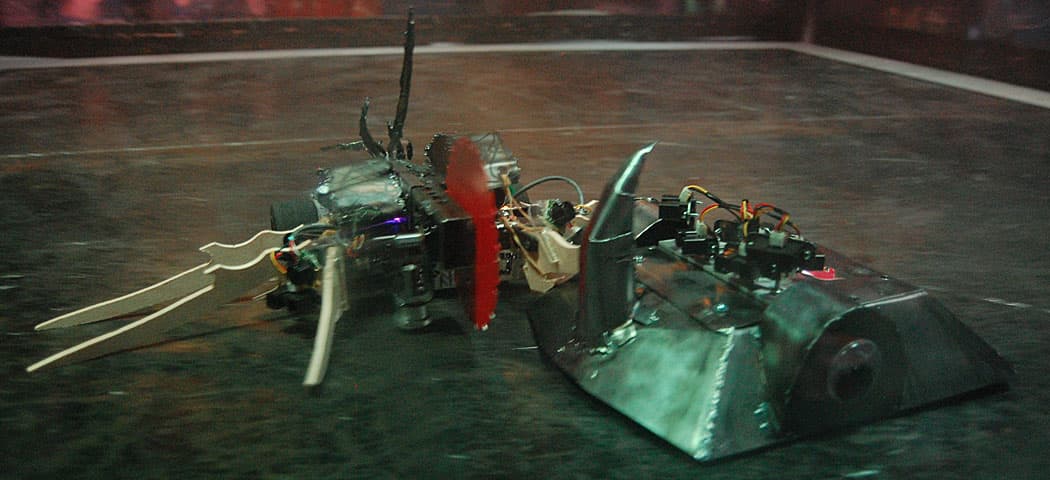 This article is more than 7 years old.
"This year basically is a fight to the death," says Paul Kassebaum, one of the organizers of the "Autonomous Fighting Robot Challenge," which was held Sunday afternoon at The Middle East nightclub (downstairs) in Cambridge.
This is the robot rumble's second year. "Last year, the robots were completely autonomous sumo fighters," Kassebaum tells me. Meaning that the challenge was to push the opposing robot out of the 12-foot-wide ring.
But this year, in just two weeks, eight teams attempted to design, fabricate and build autonomous robots that would kill their opponents. Each team began with a basic kit of parts—a micro-controller, some motors and sensors, most supplied by SparkFun. They designed their bots using software by Mathworks and Autodesk, and then fabricated and assembled them using the 3D printer, laser cutter, plasma cutter and other fabrication tools at Artisan's Asylum, the Somerville maker space. (All the firms named above are event sponsors.)
"To boil this down to two weeks is quite exciting and challenging," says Kassebaum, who's employed by MathWorks.
Then this afternoon, robot gladiator death-matches took place in a box made of steel and bulletproof glass ("It has a ceiling because we anticipate robots trying to launch each other," Kassebaum says) amidst a crowd of hundreds.
"All the armor and the weapons are completely custom," Kassebaum says. "One of the robots is surrounded by a lazy Susan of death. It's got teeth on it like a buzz-saw blade that's spinning around the robot at high speed."
"Another team has a sort of catapult, sort of a pancake flipper in front of it," he says. One robot was outfitted with a reverse steamroller "to launch anything it touches up into the sky." Another machine "has a spinning circular blade that's on the end of an arm and the arm gets cocked back sort of like a catapult and then the arm gets swung sort of like a hammer to smash into the opposing robot. So that one looks ferocious to me."
What sets the competition apart is that these killer robots are autonomous—controlled by sensors and software, not people. Basically they're little rudimentary Terminators.
That said, the matches were often mild as some of the bots barely moved and others spent most of their time carefully avoiding each other. So when the robots actually clashed it sent a charge through the crowd. In the end, a robot with a rhino horn, googly eyes and a penchant for circling around the ring defeated all challengers. It was built by the Somervillians team: Jason Chrisos, James Cascarano, Cris Cervantes, Aron Levy and Sean Murray.
"The competition for me is a celebration of the great complexity of systems that people can build today with such ease and speed," Kassebaum says. "The idea that these things can be built in two weeks would have been unheard of just a few years ago."
While this robot rumble is fun and games, it echoes the militarization of real robots. Last October, iRobot of Bedford, Massachusetts, was one of four robot-manufacturers to participate in a demonstration for the U.S. Army of robot prototypes armed with machine guns.
I asked Kassebaum: Aren't you just building Terminators? We've all seen the movie, and it doesn't end well. Does John Connor need to come back in time to put a stop to this to save humanity from robot annihilation?
"We just wanted to have something that was compelling for the audience," Kassebaum replies. "And the lessons learned in these killer robots still have lessons for people. It really brings out the competition."
After the fights, he says, they aim to convert some of the machines into robot janitors to "sweep up the floors" at Artisan's Asylum.
He says, "We're actually peaceful people."
Greg Cook is co-founder of WBUR's ARTery. Follow him on Twitter @AestheticResear. Friend him on Facebook.
This article was originally published on April 27, 2014.