Lost In The Mountains? N.H. Considers Hiker Fee To Cover Rescue Costs
05:04
Play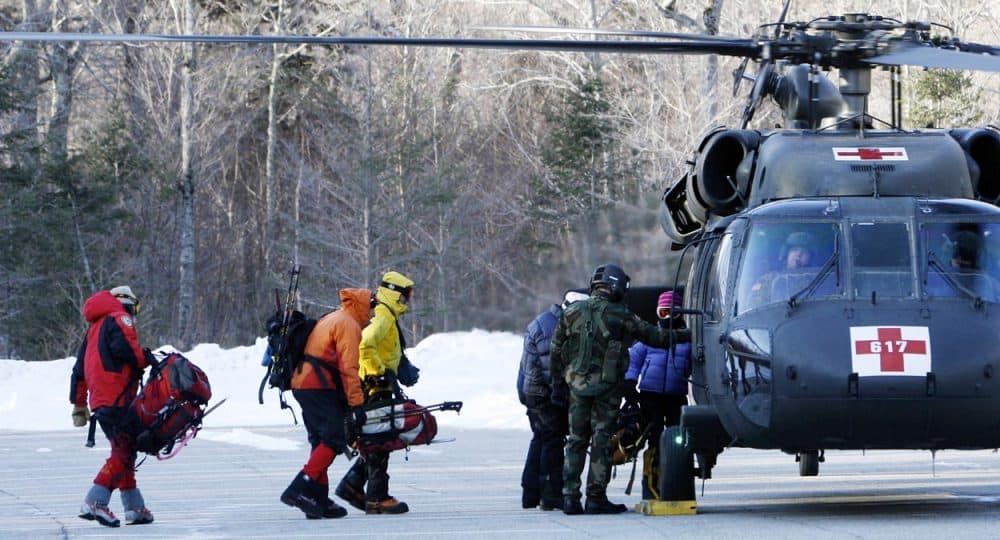 This article is more than 7 years old.
Every year in the mountains of New Hampshire, some hikers end up getting lost or injured and need to be rescued. The cost and risk of those search-and-rescue missions are considerable. So the state is considering legislation that would charge hikers an upfront fee to help cover search-and-rescue costs.
WBUR's All Things Considered host Sacha Pfeiffer spoke with one of the bill's co-sponsors, New Hampshire state Sen. Jeb Bradley, an experienced and frequent hiker himself.
---
Sacha Pfeiffer: For some context, would you give us a sense of how much New Hampshire spends each year on rescuing lost hikers or injured hikers, and who picks up that tab?
Sen. Jeb Bradley: It's about $200,000 over and above the money that's allocated in hunting licenses, fishing licenses and boating licenses, and so anglers and hunters and boaters are not very happy that their money that should be going to protecting wildlife, etcetera, is being used to rescue hikers. And so there's been this constant battle to try to find a way for hikers that get injured or get lost to share in the cost of their rescue.
Tell us about this proposed fee. How would it work?
Well, first of all, it's voluntary. That is the thing that people should know when they're coming to the White Mountains to hike: that if they pay this $25 fee, if they needed a rescue it would help pay for that rescue and they'd be indemnified from our negligence statute.
When you say indemnified, meaning if they did get lost and needed to be rescued and were found negligent, they wouldn't have to foot the full bill — like an insurance policy?
Yes, exactly. But it's voluntary, and I hope that fellow hikers like myself will see it as a way to contribute to what should be happening in the woods, which is when the brave men and women of the Fish and Game Department, or volunteers, go out looking for people that are lost or hurt, there's a way to compensate them a little better than we've had.
The fees, I believe — which, as you said, are voluntary — would be $25 annually per individual and $35 per family?
That's correct.
It seems like that would barely make a dent in the cost of a typical search-and-rescue mission. But is the idea that most hikers probably won't need to be rescued, and if many of them are paying the fee you'll have a nice pool of money for rescue missions for the handful of people who do need to be rescued?
That is the point, and I think it remains to be seen how many people will buy this voluntary card. But I actually think there will be a number of hikers that realize they need to step up and show some responsibility.
You mentioned that New Hampshire already has this "negligent hiker law" that lets the state bill lost hikers the cost of the rescue mission. So rather than charge a fee to all hikers, why not just make any hikers who get lost or need to be rescued foot the bill?
Well, that's a great point. It's very hard in a court of law to prove negligence. I mean, I've heard some stories and seen some people in my travels in the White Mountains that I think just the fact that they're there with so little equipment is negligence. Or I heard a story of a rescue — I believe it was last summer — a family on the Franconia Range, Mount Lafayette, didn't have a flashlight and were using the LED light of their cellphone to try to get down the mountain, and before their battery ran out they had to call for a search and rescue. To me, those things are negligent. But proving that in a court of law and then recovering the money, even if it can be proven, has been difficult.
Regarding the aspect of the law you mentioned that would protect people from having to foot the full rescue bill as long as they've paid that small fee: there's concern that that kind of protection guarantee might make people hike irresponsibly because there would be no financial consequences of needing to be rescued. What's your view on that?
Yeah, I don't think that will be the case because, for the most part, people are safe hikers and, I think, want to be safe. And we still have on the books, if this law passes, something that says [the state can recoup rescue expenses] if somebody is reckless, a higher standard than negligence. So I think we should try the voluntary card, see how it works, and I think it will go a long ways, hopefully, in solving some of the funding issues on searching for lost or injured hikers.
New Hampshire has tried several times before to pass similar legislation with no success. What do you think are the prospects for this bill?
Oh, I think these prospects are pretty good. I mean, the fact that it's voluntarily. People want to, I think, try it. It's gone through the House. It has to go through the House Finance Committee. But I suspect it will be well-received.
Sen. Bradley, thanks very much.
Thank you for having me, and I certainly encourage all your listeners to come on up here this summer and try the White Mountains!
This segment aired on May 6, 2014.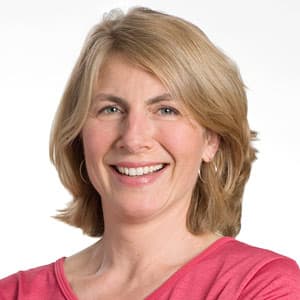 Sacha Pfeiffer Host, All Things Considered
Sacha Pfeiffer was formerly the host of WBUR's All Things Considered.