Boston Ballet's 'Pricked' — A Tense Longing, An Intimate Beauty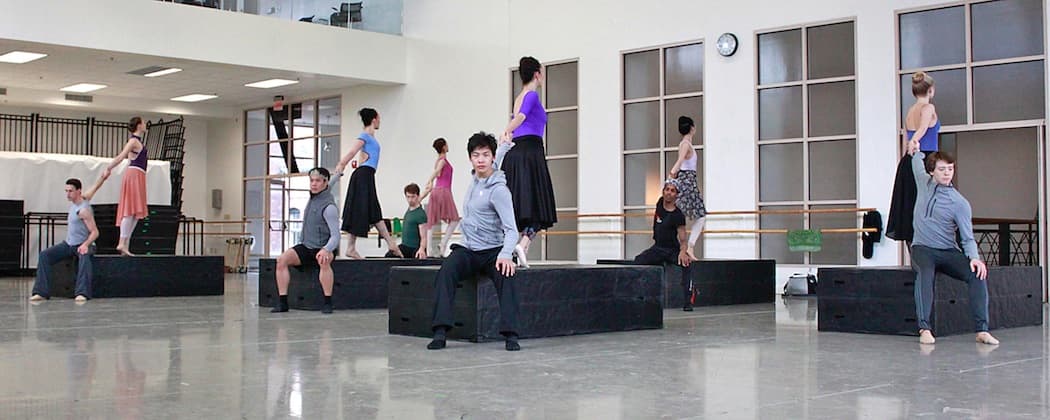 This article is more than 7 years old.
Cemeteries contain the histories of their inhabitants. With each gravestone, each name, there is a story of life — some cut too short. Loss is a universal sorrow, one that connects humanity, but is nonetheless incomprehensible. There are no words to describe loss, which is perhaps why dance expresses the emotions of love and despair so well.
Petr Zuska's "D.M.J. 1953-1977" does just that, and Thursday, it will make its American debut in Boston Ballet's "Pricked" program (through May 18 at the Boston Opera House). "Zuska's movement is very human," says Boston Ballet soloist Bradley Schlagheck, "somewhat like [Jiří] Kylián's, which we've had the chance to dance a lot of in Boston" — most recently, "Bella Figura" in "Close to Chuck."
In fact, Zuska performed many of Kylián's works throughout his dance career. Now, Zuska, artistic director of The National Theatre in Prague, has choreographed over 40 ballets. "D.M.J. 1953-1977" is set to the moving music of three Czech composers, Antonín Dvořák, Bohuslav Martinů and Leos Janáček, whose initials are represented in the title. The dates that follow symbolize part of the inspiration behind the piece.
In a video interview with Boston Ballet's artistic director Mikko Nissinen, Zuska recalls a time walking through a graveyard in Montreal. He says he fell, only to look up at a stone of a girl who had died at 24, living from 1953 to 1977.
The past week, Zuska has worked with the company, fine-tuning the details of his choreography. "Sometimes after learning a piece, you've done it so many times that things get lost, and you can focus on tiny, technical things a bit too much," Schlagheck says. Zuska is "putting the artistry back into it, getting back to his intention of the movement."
Originally from Orlando, Fla., Schlagheck moved to Boston in 2004 at 17 in order to train with the Boston Ballet School. He has moved through the ranks and this season was promoted to soloist. Schlagheck finds Boston Ballet's repertoire to be one of the company's main strengths. "Of course, we have to do our classics," he says, "but we have the most versatile and wide range of neoclassical and contemporary you can find in America."
The triple bill will also feature Alexander Ekman's ingenious "Cacti," another American debut, and Harald Lander's very classical "Études." A definite contrast in the styles of each work is evident, but the program is connected by a sense of bareness, an exposure of truth.
"D.M.J. 1953-1977" expresses this truth through raw emotion, while "Cacti" bursts with humorous energy as the dancers stomp, clap and laugh through the piece. On the other hand, "Études" is pure technique. Schlagheck describes the ballet as "tutus, tights and the human form, with no fluff to embellish it." Whether emotionally or physically driven, the dancers move with veracity, bare and honest.
Six male dancers sit along the front edge of tomb-like structures, gazing at nothing in particular and leaning against the pull of six women. Each woman stands on the rectangular box behind her man. The couples face opposite ways, and the women walk toward the back of the stage, but go nowhere. They simply move in place, restricted by the grasp of their partner. The scene is tense and strained, but a feeling of longing remains — an intimacy that aches with beauty.
Lawrence Elizabeth Knox is a journalism major in Boston University's College of Communication. Prior to attending college, she was a professional ballet dancer with Tulsa Ballet. She may be contacted at knoxlawrence@gmail.com.