Fatal Milford Crash Remains A Lightning Rod For Immigration Policy
07:16
Play
This article is more than 7 years old.
Everyone has a slightly different version of what happened on that late-summer evening in Milford in 2011, but the gruesome details are consistent.
Police say Nicolas Guaman, an undocumented immigrant from Ecuador, was driving drunk with his son in the car when, near the corner of Fayette and Congress, he hit and killed 23-year-old Matthew Denice, a recent college graduate who was riding his motorcycle home.
It was the kind of summer evening when folks were out barbecuing on the lawn, and there were plenty of witnesses.
It's unclear how many times Denice was struck, but it's clear Guaman never bothered to stop and check. He drove off from the scene.
Now, nearly three years after the accident, Guaman goes on trial Wednesday morning in Worcester Superior Court. He faces seven charges: murder, manslaughter by motor vehicle, motor vehicle homicide while under the influence of alcohol and negligent operation, reckless endangerment of a child, leaving the scene of an accident causing death, failure to stop for a police officer and unlicensed operation of a motor vehicle.
His lawyer has asked for a bench trial, meaning the verdict is in the hands of the judge. There will be no jury.
A Rallying Cry Against Immigrants 
The accident's aftershocks still reverberate in Milford, a small MetroWest town with a population just under 28,000. It's also overwhelmingly white, according to the latest census data. Slowly though, Latinos have been chipping away at that majority.
"Anybody in this town is getting undercut by illegal aliens so bad it's hard to make a living anymore," Jack Strapponi said at a tattoo parlor on the main strip in town, getting a blue flower fixed on his arm.
Most of the other businesses on the street are Latino restaurants, storefront churches or hair salons.
Strapponi says illegal immigrants are changing the flavor of the city. They wear their soccer cleats in the park and mess up the lawn.
"I'm 53 years old and I lived in this town pretty much my whole entire life," Strapponi explained. "I'm Italian and my great grandparents were immigrants, but they came over here legally. They learned how to speak English."
Strapponi says the town started to change as soon as all the Ecuadorians moved in — though it's not clear when that shift began and how many Ecuadorians call Milford home these days.
"I know that sounds racist, but it's not," Strapponi said. "It's like they just took up all the jobs."
He says the accident that killed Matthew Denice struck a raw nerve.
"There's been such an influx of illegal aliens in this town, you know, people are finally just fed up," he said.
But there also seems to be a generational difference. Around town, younger folks who went to high school with Denice seem to adopt a more nuanced attitude.
Kane Rogers is the tattoo artist who was working on Strapponi's arm.
"If that guy hit him, and hit him on the bike, it's one thing that he had no license and was driving drunk, that was the main thing," Rogers said. "The fact that he came from somewhere, it sucks that that has to be grouped in."
Rogers says he doesn't understand why the hit-and-run has become a rallying cry against immigrants. These days, it's such a part of the town folklore that even new immigrants, like Lorana Hernandez, who moved to Milford last year, know all about the accident.
She says she's sometimes scared when she walks around with her daughter because a couple months ago a white woman yelled at her for simply talking on her phone outside her house.
Jonathan Leon has lived in Milford for nine years. He's originally from Ecuador and says in the early days after the accident people were nervous to leave their homes. There were reports of immigration agents on street corners and bottles being thrown at immigrants.
These days, he says the relationship between Ecuadorians and white people is not totally normal, but it's better.
He says white people remember this accident, and point to all of his people, which isn't fair. He says there are accidents involving white people who are drunk driving and hit someone, but nobody blames all the white people.
A Preventable Tragedy
But, for Maureen Maloney, Matthew Denice's mother, her son's death is a consequence of lax immigration enforcement.
Guaman was an undocumented immigrant who had previously been arrested for breaking and entering. And if he had been deported when he was arrested the first time back in 2008, her son might still be alive.
"Nothing is going to bring Matthew back. We are just hoping to get Gauman the longest sentence we can get for him and then after he serves his jail time here that he be deported," she said.
But for Maloney, justice means more than punishment for Guaman.
"I think if we just get back to the basics and enforce the laws that we currently have here and secure our borders, that would do a lot to solve the problem," she said.
Maloney has become an outspoken critic of illegal immigration and strongly opposes a bill in the State House that would give undocumented immigrants the right to apply for a driver's licenses.
"I don't want anyone else to ever have to go through this. I just want to raise public awareness, that's the most important thing for me right now, is preventing another tragedy like this from happening," Maloney said.
Jessica Vaughan, with the Center for Immigration Studies, says Denice's death was a "preventable tragedy."
"There has been a tendency sometimes for groups that are opposed to immigration enforcement to whitewash what can happen when people who are here illegally and causing problems in the community are allowed to slip between the cracks," Vaughan said.
The accident has become fodder for policy debates around illegal immigration, which worries Frank Soults, the spokesman for the Massachusetts Immigrant and Refugee Advocacy Coalition.
"I think it's very unfortunate that this trial is happening at the time that it's happening because I think it can inflame some irrational sentiment," Soults said.
His group has been pushing for a bill that would allow undocumented immigrants to obtain driver's licenses, and the bill needs to get out of committee by May 15.
"We can't look at what ifs, we have to deal with the reality, and the reality is these immigrants are here and we have to be trying to deal with the problem of how to make life safer for everybody, and that's what driver's licenses would unquestionably do," Soults said.
Matthew Denice's mother disagrees. Her son's trial, which is expected to last five days, has become a rallying cry for a bigger crusade against driver's licenses for the undocumented.
Earlier:
This segment aired on May 7, 2014.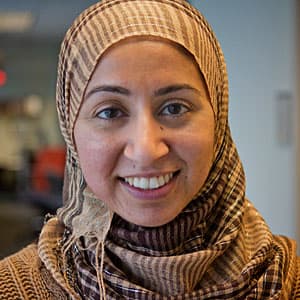 Asma Khalid Reporter
Asma Khalid formerly led WBUR's BostonomiX, a biz/tech team covering the innovation economy.