Designing A Goalie Mask Fierce Enough For The Bruins' Tuukka Rask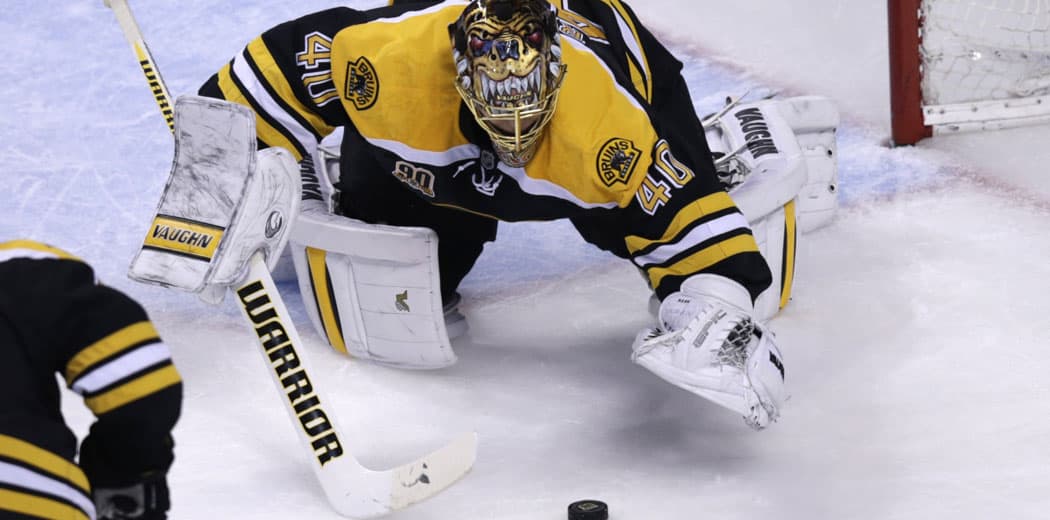 This article is more than 7 years old.
Bruins' goalie Tuukka Rask is an imposing 6-foot-2, 185-pound, black and gold presence in the Boston team's second-round Stanley Cup playoff series against the Montreal Canadiens. Then there's his mask—the head of a frenzied bear, red burning eyes, its mouth all fangs, claws gripping the B logo over the goalie's ear.
"Make it mean and scary," is the usual assignment of the artist responsible, Ron Slater. "I'm always going for crazy eyes and teeth. That's where you want to get your intimidation from."
In Rask's case, the goalie didn't give a lot of input. Slater recalls the assignment, when he first designed the shield about seven seasons back, was "mean bear, Bruins logo, and make it look good."
The 35-year-old Tewksbury artist painted Rask's name across the chin, gold-plated the cage to match the Bruins' team colors, and gold-leafed the monster bear. Last year, BuzzFeed ranked it the third best goalie mask in the NHL and Maxim magazine called it the best in the league.
Slater painted the current version last summer. It's been the same design year after year—and it's matched Rask's dominating play. Last month, he was named one of three finalists for this year's Vezina Trophy, awarded each June to pro hockey's best goalie, after recording the most shutouts among goalies in the National Hockey League during the regular season and the second best save percentage.
But Slater is itching to redesign Rask's look. "I always thought something like a whole head bear. Do it with gold. Make it more realistic and fierce."
Slater grew up in a house on a dead end street just off Route 95 in Woburn, and still keeps his studio in a room and the cellar there. As a teenager, he played street hockey with neighborhood kids in the cul-de-sac at the end of the road, always guarding the net, feeling that "I'm only going to do it if I can be goalie."
"My love of art started in, like, second grade," Slater says. "I was always drawing. And then I fell in love with hockey. All the action going on, I'd be trying to find what paint job each goalie had."
He noted masks Andy Moog wore while playing goalie for the Bruins in the late 1980s and early '90s—which The Hockey News named the scariest hockey mask ever (or something) in 2008. "He made his mask look like a bear head. It had the teeth opening up above and below," Slater recalls. There was Ed Belfour of the Chicago Blackhawks. "His nickname was Eddie the Eagle, so he had eagles on his mask." And Curtis Joseph, who's initials lead to his nickname CuJo. "I actually got to do his mask a couple times when he played in Detroit."
Slater's father, a mechanic, helped him paint his first hockey masks when he was 12 or 13. After high school, he studied commercial sign painting—airbrush, pinstriping, sign making, vehicle lettering—at Butera School of Art, the now-closed Beacon Street school in Boston. "It wasn't always about lettering," Slater says. "It was about making something cool."
In his first year at Butera, Slater was introduced to Dominick Malerba, who has been making pro goalie masks since 1986 with his firm Pro's Choice, then in Woburn and now in Middleton. "He custom fits you," Slater says. "He'll take a mold of your face and he builds the mask. … It fits you and it's the most comfortable."
Slater adds, "Mine's the looking pretty part."
At first, Slater's painting business was word of mouth reaching folks within a few surrounding towns. Then the Internet brought customers from Europe and Japan. Many of his clients remain kids, but Malerba started sending college and minor league players his way. The first mask Slater painted for a pro was for Olaf Kölzig of the Washington Capitals in 1998. "He was a really big guy. He was 6'3" or 6'4". He dominated the net." Which earned him the nickname Zilla. Slater painted Godzilla with claws protecting the Washington Monument and U.S. Capitol.
It was Malerba who, after constructing a custom mask for Tuukka Rask, first referred the goalie to Slater for the paint job.
The masks that arrive at Slater's studio range from plastic to fiberglass reinforced with Kevlar. Many begin as off-the-store-shelf models, though some are custom made like Malerba's armor. Slater begins by disassembling the cage and other mask parts, then sanding, priming and sealing the shell so that his design will stick to the material.
He customizes them with team logos and players' names, negotiating with clients via email about ideas and pencil and marker sketches for a monster jack-o-lantern, a screaming eagle, a snarling polar bear.
The paint job is 90 percent airbrushed, with only some final details and outlines hand-painted with a small brush. "You really can't beat the airbrush for giving that real 3D look," Slater says. His usual turn around time is two to three weeks. He aims to paint a couple masks a week, but if he's doing a major job for a pro player it can take twice as long.
There's something uncanny about masks. They're an ancient form of magic—transforming us into other, more powerful creatures.
"When you go from this at the start," Slater says, holding up one of the plain black off-the-shelf store models. "It's a mask. It's protecting you. Once they're painted, they're obviously not alive, but they have life in them."
"The other guys you're playing with and against, they're not going to see a wolf and turn away," Slater says. "But it gives the goalie a boost of confidence."
Greg Cook is co-founder of WBUR's ARTery. Follow him on Twitter @AestheticResear. Friend him on Facebook.
Related: "Hockey's Safest Invention Was Born Of Painful Necessity."
This article was originally published on May 10, 2014.