His Arm Reattached By MGH Surgeons, 17-Year-Old Waits For Feeling To Return
03:40
Play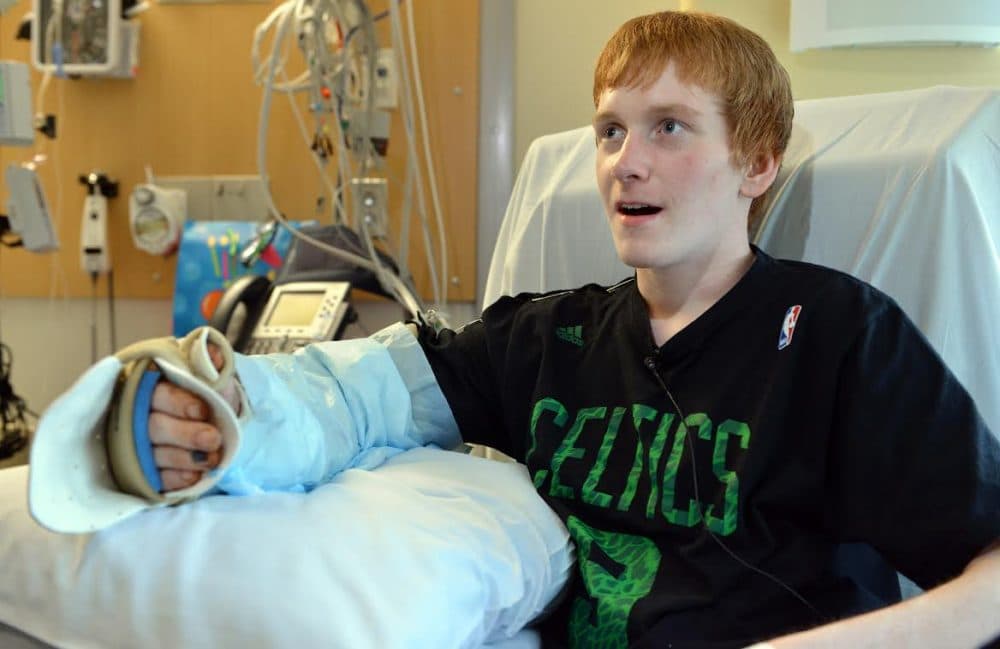 This article is more than 7 years old.
Four weeks ago today, a medical helicopter carrying a 17-year-old boy and his arm landed at Massachusetts General Hospital. It was just after midnight. A hastily assembled team of surgeons, nurses and anesthetists waited to assess the damage done roughly five hours earlier, 300 miles away.
Brett Bouchard's tragedy started in the basement of Violi's, an Italian restaurant in Massena, New York. He was cleaning an industrial pasta maker when it appears the machine turned on.
"My arm got caught in it and obviously got severed," Bouchard said from his hospital room in the flat voice of a teenager who isn't used to getting a lot of attention.
Somehow, in the midst of chaos and a lot of blood, Bouchard acted quickly and decisively.
"I went upstairs, put a tourniquet on and went to the hospital," he said.
"It wasn't a sharp cut," said Dr. Kyle Eberlin, a surgeon who took the call from Bouchard's local hospital and said yes, fly him to Boston. "His arm had actually been sort of pulled off, which makes it a more difficult injury to treat."
Eberlin and Dr. Curt Cetrulo knew that most patients in Bouchard's condition would lose their arm. Surgery to reattach the arm would be long and complicated, which left the doctors with a difficult decision they had to make almost immediately after Bouchard arrived.
"Do we put this kid's life at risk to save his dominant right hand?" Cetrulo remembered asking. "At the same time, he's a young 17-year-old kid and we think we have the tools to do it safely and successfully. That's why we elected to proceed."
Cetrulo, Eberlin and about a dozen other doctors and nurses spent nine to 10 hours that Friday morning in the operating room with Bouchard. While some focused on connecting bone fragments with pins and plates, others found veins and arteries to replace ones that had been torn away.
"It's essentially a plumbing situation," Eberlin said, "where you have arteries that are coming down the arm, that allow blood flow into the hand. And you're missing a huge segment of those arteries and veins, so we have to do a bypass procedure to take veins from another part of the body, in this case his legs, to connect the arteries higher up in his arm to the arteries lower in his arm, similarly with the veins."
That was the first of four surgeries over the last month. Bouchard will likely need two more to replace muscle too damaged to heal, and to reconnect nerves. He does not have any feeling in his arm below the elbow yet and cannot move his forearm, hand or fingers.
If all goes according to plan, his nerves will grow back down his arm, restoring the use of his right hand. Dr. Cetrula says Bouchard's attitude is helping to speed his recovery.
"Other than being a Canadiens fan, he's been incredible. He's a really nice kid and he's working hard to get better," Cetrulo said, joking about the Bruins playoff loss this week to the Montreal Canadiens, the team Bouchard cheered for.
"I did," Bouchard said, breaking into a smile. "But I mean, this is life changing, now I might have to switch to Boston."
Bouchard says he's confident he'll get back to hunting, fishing and snowboarding — the things he loves to do most. He sees no reason to change his plans for a career in renewable energy.
And how has he managed to stay so positive? Bouchard looks at his mom and the cards and pictures that fill the walls of his hospital room. He says he never thought much about God before, but "after this event, it really has shown me that God is there and God is real, because if it wasn't for God, I don't know if I would have been able to get through this."
Bouchard says he looks forward to beginning rehab next week, to feeling the breeze on his face again, and to seeing a little bit of the city outside Mass General, where doctors put him back together.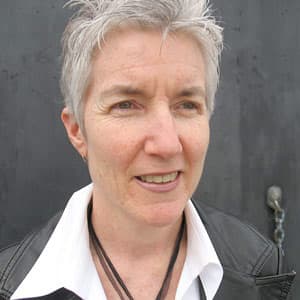 Martha Bebinger Reporter
Martha Bebinger covers health care and other general assignments for WBUR.