Forget Roger Sterling. John Slattery Has A Different Take On Life In 'God's Pocket'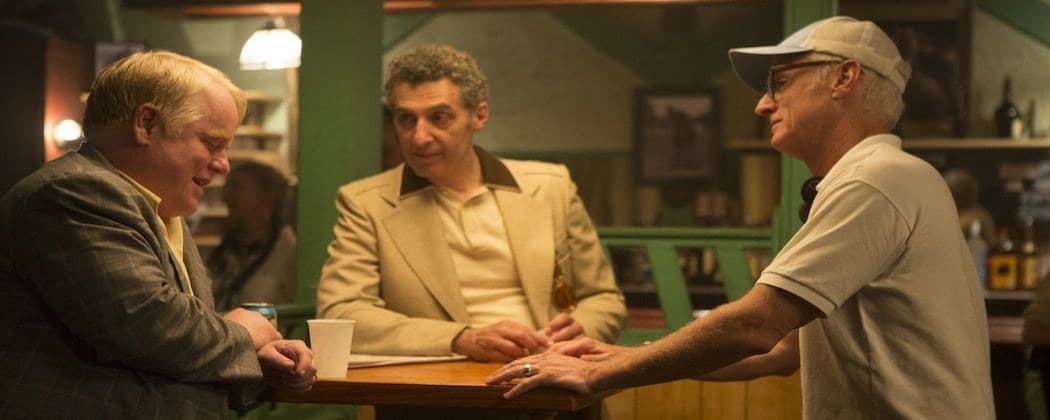 This article is more than 7 years old.
As an actor, Boston-area native John Slattery plays highbrow men, the kind who would be members at the Woodland Golf Club in Auburndale where he caddied as a boy. They are men from bygone eras of pressed suits, several Manhattans and the darkness that comes from watching it all disappear. Even his turn as a cursed suburban mayor in "Desperate Housewives" is cut from cloth similar to "Mad Men," the series that has made John Slattery a name and a persona.
"Mad Men" is currently shooting the last episodes of its seventh and final season and the now beloved cast is faced with the looming question of what next? As the wisecracking, scene-stealing Roger Sterling, Slattery has every bit the behemoth to slay that Jon Hamm has with Don Draper. Hamm has answered with magazine covers and talk shows on behalf of the feel-good baseball drama, "Million Dollar Arm." Slattery has taken a different route, getting his hands dirty behind the camera with a feature film directorial debut.
"God's Pocket" opens at Embassy Cinema in Waltham this Friday, not far from where Slattery grew up in Newton and Wellesley. Yet "God's Pocket" has the texture of "The Fighter" or one of many Dennis Lehane adaptations — it could have been shot on a few corners in Winter Hill or East Boston.
Eclipsing Sterling is a tall order and to make matters more serious, "God's Pocket" happens to feature the late Philip Seymour Hoffman in one of his final roles. He was also a producer. Hoffman plays Mickey Scarpato, a half-hearted gangster in a tight knit and failing inner Philadelphia neighborhood. It's the kind of place where the corner bar, butcher shop and mortuary trade places as the center of an insular universe and Hoffman's character marries its unofficial queen, Jeanie ("Mad Men's" Christina Hendricks).
Because the trailer says it all, here's a clip:
Jeanie's louse of a son is accidentally murdered and the witnesses cover it up with little regard for the meager threats by Mickey's inept henchmen. Sensing that something's not right, and with Mickey preoccupied with losing bets and getting rid of secondhand meat to pay for the funeral, Jeanie turns to the local newspaperman for answers (Rhode Island's own, the always excellent Richard Jenkins). The bad choices only get worse.
Impeccably set in the late 1970s, one of the film's true strengths and an obvious nod to Matthew Weiner's painstaking accuracy on "Mad Men," the idea, here, is dark comedy and the cast for it runs deep. John Turturro finds the balance as Mickey's buddy. Peter Gerety (also from Rhode Island) plays a barkeep who reigns as if priest of a precinct. Eddie Marsan ("Ray Donovan"), whose calling card probably says "grit," isn't given enough back story to explain his role as an indignant funeral director.
The characters don't shine so much as simmer but there are occasional pearls of dialogue. "He'll shoot you just to show you he knows what he's doing," quips Turturro's character. Or Jenkins': "I could write the same story everyday and get away with it." Slattery happened upon the 1983 novel by Philly newsman Pete Dexter and adapted it for the screen with Alex Metcalf.
It's a good story. The problem is the stakes for the bumbling characters in "God's Pocket" are low. How far can the fallen fall? In this case, flat is flat. But the stakes for its director are high, perhaps too much so. Maybe that's why "God's Pocket" garnered such poor reviews after its Sundance Film Festival premiere in January. Simplistically and almost unanimously compared to the Coen brothers' legacy, "God's Pocket" was said to have not gone "dark enough" and to have wasted Hendricks' magnetism and other cast members' talent. (The secondary round of reviews with the theatrical release has been an iota friendlier.)
Like the man at its helm, "God's Pocket" is almost plucked from an earlier time. It's more a low-boil, unraveling crime folly than one that gathers each breath over a loudening soundtrack until an eye pops out (though in fact, one does). Mickey has a terrible few days but the story's tension lets out like a slow leak.
Hoffman leads the film like there's an anchor around his waist. One cannot go to "God's Pocket" looking for the last takes to crystallize his brilliant career. But for those with a taste for the genre, there are enough elements in place to give it a go. Whatever comes next for this director merits consideration. There may be no more Roger Sterling before too long, but there ought to be more John Slattery.
Erin Trahan edits The Independent, an online magazine about independent film.