Kerry Tells BC Grads To Embrace Spirit Of Service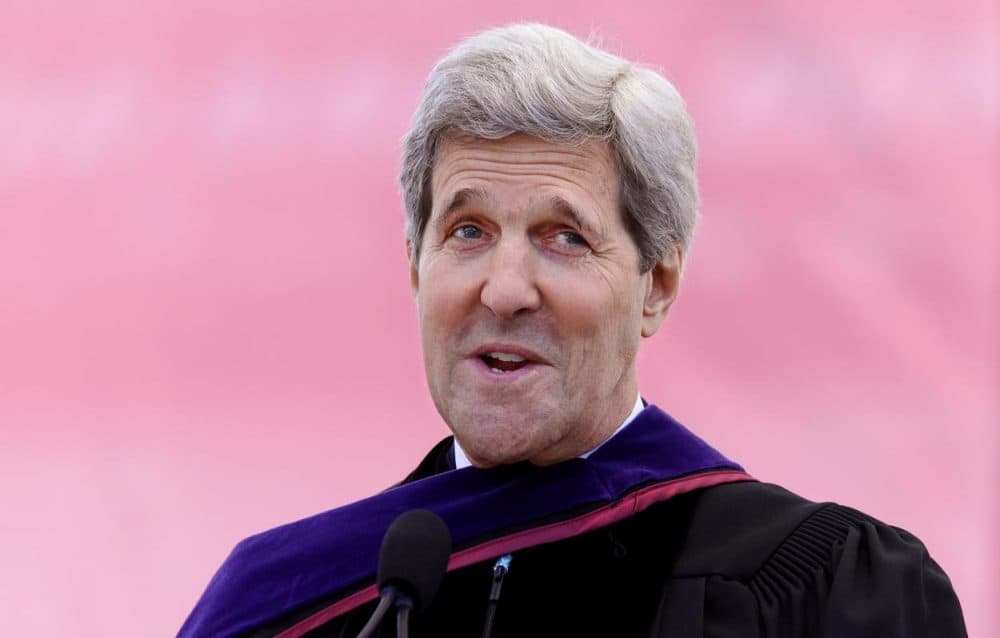 This article is more than 7 years old.
U.S. Secretary of State John Kerry on Monday challenged Boston College graduates to turn the Jesuit institution's words of "men and women for others" into actions.
Kerry, who graduated from college's law school in 1976, told the packed stadium to embrace the "spirit of service" and help preserve the dignity of all races, ethnicities and sexual orientations.
"The diploma you will receive today isn't just a certificate of accomplishment, it's a charge to keep," America's top diplomat said. "You have already been blessed with a world-class education and with it comes responsibility. And part of that responsibility comes with taking to heart the values that you learned here and sharing them with the world beyond B.C."
The Vietnam veteran spoke of America's role as a global leader and how the nation has lived up to the ideals of equality and democracy. He encouraged recent graduates to live up to the same ideals, echoing advice he delivered to Yale University graduates on Sunday.
Under President Barack Obama, Kerry has been part of efforts to remove chemical weapons from Syria, resolve the longstanding Israeli and Palestinian conflict and settle unrest throughout the Middle East and Ukraine.
He also urged B.C.'s approximately 4,000 undergraduate and graduate students to take part in the struggle against global warming.
"If we do nothing and it turns out the critics and the naysayers and the members of the Flat Earth Society, if it turns out that they're wrong, it turns out we are risking nothing less than the future of our entire planet," said Kerry, who spent a significant part of his 28 years as a U.S. Senator of Massachusetts fighting for clean energy.
He added that global warming could lead to food insecurity through longer droughts and more powerful storms, which hurt the poorest of the world's population the most, something he witnessed firsthand while visiting the Philippines after last year's typhoon.
"The solution," he said, "is staring us in the face: the right energy policy," he said.
This article was originally published on May 19, 2014.