Loving Boston Calling, Fearing The Music Fest Will Break My Heart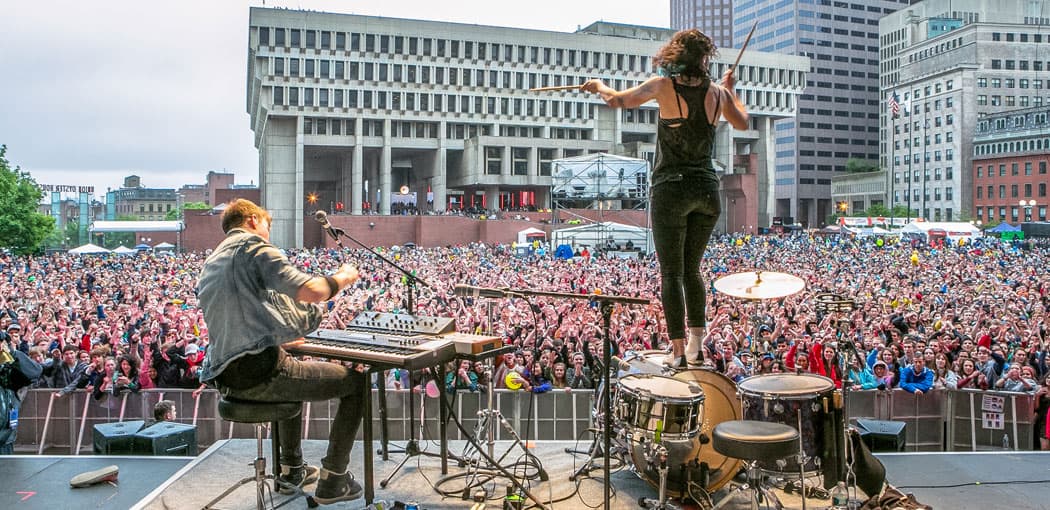 This article is more than 7 years old.
I'll admit it: I swooned a bit when I saw Boston Calling Music Festival's first lineup last May. Sure, it was headlined by Fun and The National, but I was more excited for experimental pop weirdos Dirty Projectors, the emotional intricacy of singing violinist Andrew Bird, and Boston's rising neo-funk outfit Bad Rabbits. To my eyes, it looked like a pop/rock festival with lovably eccentric tastes. And I wasn't the only one to crush on the hot young newcomer. The first festival, which took place in Boston's City Hall Plaza, quickly sold out, and a second iteration was immediately announced for Labor Day weekend 2013.
The second festival resembled the first, but reached tentatively beyond the indie-pop-rock umbrella into hip-hop and electronic music. Like its predecessor, the bill was co-curated by Boston-based Crash Line Productions, Aaron Dessner of The National, and New York-based The Bowery Presents. It was headlined by hipster baroque rockers Vampire Weekend and synthpop band Passion Pit. And the supporting lineup included Bostonian folk-rock duo You Won't, who combine brilliant, simple songwriting with outstanding musicianship; the ethereal-yet-muscular electro-pop singer Bat for Lashes; and the critically-acclaimed rapper Kendrick Lamar, who was in the midst of a meteoric rise and on the cusp of a Grammy nomination for his album "good kid, m.A.A.d city."
But when the upcoming installment of Boston Calling, scheduled for May 23 to 25, was announced, I felt betrayed. Headlining were indie rock bands Modest Mouse and Death Cab For Cutie, folkish-rockish supergroup The Decemberists, and soft-rock singer-songwriter Jack Johnson. Taken together, the headliners are disappointingly homogenous, even bland. Jack Johnson hasn't evolved musically since his breakthrough in 2003, so why is he headlining a festival that made its name curating bills that pushed at the boundaries of pop? Yes, I am glad to see an increased female presence in the lineup, with L.A. rock band Warpaint, queer girl duo Tegan and Sara, and singer-songwriter Jenny Lewis, but that does not make up for the fact that there is not a single artist of color on the bill. The lineup confirmed all my worst fears about what a high-profile popular music festival was destined to become: too white, too male, too straight, and altogether too safe.
But before I could take to my keyboard to unleash an angry screed about all the ways I thought the festival had privileged marketing calculations over artistic quality and all the isms of which it was guilty, the September festival was announced. It features Boston Calling's first female headliner, 17-year-old New Zealand pop darling Lorde, as well as a collaboration between two of hip-hop's most respected and established artists, Nas and The Roots. Also headlining are The National, proto-alt-rockers The Replacements, rapper Childish Gambino, and '90s cult indie band Neutral Milk Hotel. With a number of major artists who emerged in the '80s and '90s, it boasts a noticeably wider generational span than previous festivals. Hip-hop seems to be back on the menu. In contrast to the 2014 Memorial Day weekend lineup, the 2014 Labor Day weekend festival offers a tantalizing glimpse of Boston Calling's exciting potential.
"It's a blessing and a curse, but we just don't have the size in order to bring in the types of lineups that you see [at other festivals], with six or seven massive headliners," says co-founder Brian Appel. "Like Jazz Fest, they have Eric Clapton and Bruce Springsteen and Phish and Christina Aguilera—we're not big enough, we can't accommodate that. Our strength comes from curating interesting lineups that drive ticket sales and are not as super dependant on Eric Clapton selling out our concert for us, and everybody else being an afterthought."
That tendency towards a thoughtfully-curated lineup is exactly what made the first two festivals interesting. Yet focusing on artistic kinship can easily function as an excuse for homogeny, which invariably favors white male rock. And it can also be used as a reason not to take risks.
Popular music and the festivals that cater to it are rarely truly groundbreaking, but there is always plenty of innovation and talent to be found within the rather expansive pop genre. Top 40-charting Lorde, though she isn't a personal favorite of mine, is an outstanding singer, a magnetic performer, and genuinely interested in reaching beyond of-the-moment pop tropes. The Roots may have a cushy gig as the house band for Jimmy Fallon's "Tonight Show," but they are also some of the most inventive artists around, persistently pushing hip-hop's sonic boundaries and excavating the genre's enduring lyrical themes. Jeff Mangum, Neutral Milk Hotel's enigmatic lead singer and for a long time the main roadblock to the band's reunion, is a master songwriter and the godfather to indie music's do-it-yourself aesthetic.
I'd love to see the relentlessly creative Beck or Jack White headline. How about Janelle Monáe, or Frank Ocean? Hip-hop's prodigy-of-the-moment, Earl Sweatshirt? Please consider these woman-lead bands: Tune-Yards, St. Vincent, Lianne La Havas, Valerie June, The Julie Ruin, Xenia Rubinos, Sharon Van Etten. Experimental electro-pop violinist Kishi Bashi would probably go over well, as would the outspoken, virtuosic rapper/producer Le1f. And let's not overlook the wealth of talent here in New England: singer-songwriter Marissa Nadler, rapper Moe Pope, Northampton pop-punk outfit Potty Mouth. The list goes on.
"I would never make a declarative statement, like 'We are the definitive music experience in Boston.' ... We're not. We're part of a bigger community here and this is a great city for music and live entertainment," says Appel. "I think, unfortunately, Boston, in the live music scene, has been slightly overlooked from the tourist perspective. Lots of people come from all over the world to come to a Red Sox game, or to a Patriots game, to experience the sports that this city has. But I don't know for sure that people are traveling across the country to see the music events that Boston has."
Boston Calling has been featured in Rolling Stone and Spin magazine, and it seems to go without saying that this is a good thing. But the nature of that positive impact is murky at best. Why should we care if the event attracts tourists? Can't we just be content to enjoy a fun festival in our home city? Sure, Boston would probably benefit from a national reputation for interesting music events. Maybe that will help stem the tide of Berklee College of Music and New England Conservatory graduates moving to New York. Maybe.
Everyone in Boston knows what a special place the city is for music. I think that may be why it matters so much to me that the Boston Calling festival represent us as interesting, diverse and fun. Because that is what we already are.
Our vibrant local subcultures, from folk to experimental to hip-hop to Allston basement rock, would undoubtedly continue to thrive in their own small-scale contexts with or without the festival. It is certainly worth noting that Boston Calling always has a few slots reserved for established local bands—in the past, Bearstronaut, Viva Viva, and Tigerman WHOA!, to name a few—who no doubt benefit from the boost. Now that the festival has expanded to include a third day, I wonder if there are ways it could better pay homage to the local scene. Perhaps a few more slots devoted to homegrown artists? Something built around the music schools that bring so many gifted young musicians, however temporarily, to the city?
Last Labor Day weekend, I attended the second day of the second Boston Calling Music Festival. The brick-and-asphalt City Hall Plaza baked in the burning sun and reverberated with thunderous bass and the sound of a thousand flip-flops. Logistically-speaking, the event impressed. It operated with two stages, so that while one band was playing, the next could set up without there being a pause in the entertainment. When I attended, it was smoothly-run, not unpleasantly crowded, and sounded about as good as an outdoor festival can. Festival goers were allowed to come and go as they pleased, which is crucial considering City Hall Plaza's smallness and lack of shade. Most of the attendees were college-aged. I drank two beers and spent a lot of time in the quieter VIP section watching the sun-toasted, glowing young crowd revel in summertime's last glorious gasp.
As numerous as my complaints and suggestions for Boston Calling, I am genuinely interested in its evolution. The first blush of infatuation has faded, but I have not given up on the relationship. And what is a relationship without work? Yes, we should acknowledge and enjoy what we have. But we must never be satisfied, always working tirelessly towards that elusive, more perfect future.
Correction: An earlier version of this essay incorrectly referred to Lorde as an "Australian pop darling." We've since revised it to reflect the fact that she actually hails from New Zealand. We will regret this error until our dying days.
Amelia Mason is a writer, musician, and bartender living in Somerville. She is a regular contributor to The ARTery. You can follow her on Twitter @shmabelia and Tumblr.
This article was originally published on May 20, 2014.