Look Inside The New Legoland: 3 Million Bricks, 2 Rides And 1 Tiny Boston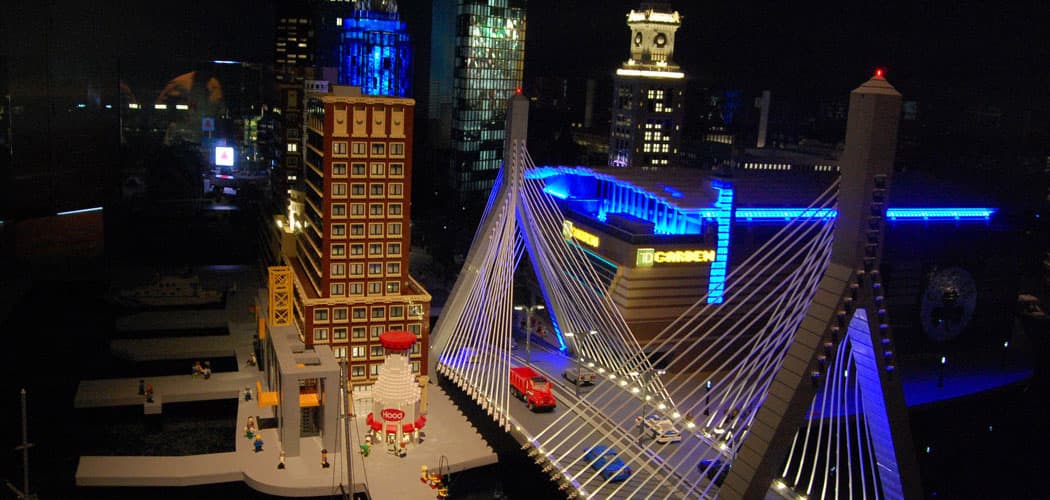 This article is more than 7 years old.
You'll recognize the Legoland Discovery Center, opening Friday at Somerville's expanding Assembly Row mall, by the giant yellow Lego giraffe standing some 15 feet tall on the street corner outside the building.
This Legoland is a cross between an amusement park, a children's museum, a toy store and a shrine to the iconic Danish plastic toy building brick. Already tickets are sold out through at least Memorial Day weekend, the venue reports.
"We'll be forever changing," Ian Coffey says.
The 26-year-old grew up in Albany, New York, filling the basement of his parents' home with Lego ships, an airport, the Eiffel Tower, a museum, an opera and so on. He worked as a clerk in the New York State Senate until a friend told him, "Ian, you are a Lego addict," and signed him up for a two-day competition against a hundred people that he won to become this Legoland's master model builder. Which means he'll develop the venue's Lego workshop curriculum, teach off-site workshops, and construct Lego structures for the center. Of late, he's busy malleting and gluing together Lego cases to enclose cash registers throughout the building.
The 44,000-square-foot indoor attraction offers an interactive video introduction, a Harry Potter-ish wizard-themed shooting-gallery ride, a room filled with Lego recreations of Boston landmarks, a theater screening three 15-minute 4D movies (4D in this case means 3D movie plus "wind, rain, snow"), a climbing maze with a slide, three themed Lego building areas (house, racetrack, farm with slide), another wizard-themed carnival ride, a "Master Builder Academy" classroom for demonstrations, a café, and rooms for private parties. Much of it accompanied by soaring, piped-in orchestra music.
The Somerville attraction feels roughly half the size of Boston's Museum of Science or Children's Museum. Its promoters suggest it's a two- to three-hour experience. Since it's geared toward children ages 3 to 10, adults can only enter when accompanying children—except during monthly adults-only events (the first is scheduled for June 18). For now, all tickets must be purchased in advance, but the venue expects that as opening day excitement recedes a bit, they'll begin selling walk-up tickets this summer.
Lego (a contraction of two Danish words "leg godt" meaning "play well") was founded in Denmark in 1932 by carpenter Ole Kirk Kristiansen to sell his line of wooden toys and remains in the family, according to the company. The iconic, interlocking plastic brick that we know today debuted in 1958, but grew out of products the company began manufacturing a decade before.
The original Legoland opened in 1968 near the company's factory in Billund, Denmark. Additional Legolands were developed, including the debut of the first Legoland in the U.S. in California in 1999. The Somerville Legoland Discovery Center is a bit more modest in its scale and indoors rather than outside. Over the past couple decades, the company has sold off most of its stake in the theme parks. This Legoland is not actually owned or operated by the Lego Group company, but by Merlin Entertainments Group, according to a publicist.
The potential of the place—from the exhibits you just look at to the various hands-on building stations—is a chance to create and recreate our own primary-colored worlds. It's about the power each one of us has to change the world.
"The purpose of Legoland," Coffey says, "for me is to take my creativity—it's in my hands, I'm a hands-on person—and put it in a room and have it grow and grow."
Greg Cook is co-founder of WBUR's ARTery. We highly recommend that you follow him on Twitter @AestheticResear and friend him on Facebook.
This article was originally published on May 22, 2014.