Photos: 5,200 People Splashed With Rainbows Running Around A Farm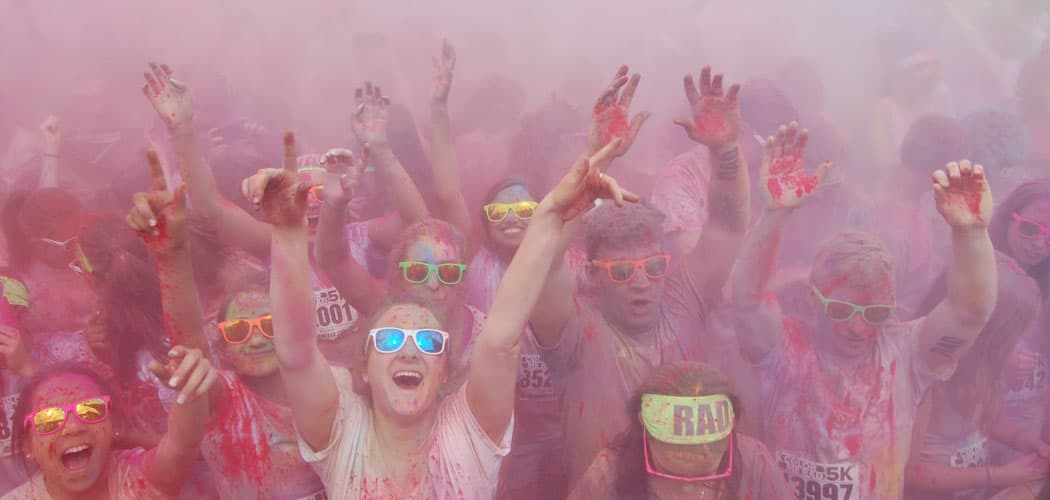 This article is more than 7 years old.
"I have the best job ever," hollered the smiling guy sporting sunglasses and a bunny costume as he hurled handfuls of fluorescent-hued powder at dozens of runners lined up at the starting line of the Color Me Rad 5K run at Kimball Farm in Haverhill yesterday morning.
"When Zoloft and balloon animals can't seem to raise your spirits—the best way to brighten your life"—that's one of the catchphrases for Color Me Rad, which offers participants the chance to get covered by rainbow clouds of colored cornstarch as they jog around the farm.
It's one of the growing field of themed fun runs—mud runs, obstacle courses, zombie runs and superhero runs—designed to reach beyond the usual hardcore fitness crowd. They are set for shorter distances—this one was just over 3 miles long or about 1/8 of a marathon—to accommodate average runners. And there's no pressure. Many of the 5,200 folks who signed up here, at $29 to $50 per person, just stroll sections of the course.
"About 45 percent of our participants in every single race have never run a race before," says race director Trevor White of the Utah-based business.
Well, it's not exactly a race. There are no winners. Just heats of runners dressed in white shirts (the better to show off the colors), sunglasses (to protect eyes from the colored powders), and (many) tutus sprinting off about every 10 minutes beginning at 9 a.m.
They head along a grassy path, up a muddy hill through some trees, zigzag across fields, and down another hill to the finish line and a mobbed dance party hosted by a tall bearded gent in a pink tutu. At stations along the way, runners pass under inflated arches where Color Me Rad folks hurl clouds of pink, purple, orange and yellow powder at them.
"This is our third year," White says. "Our first year we did about 20 races. Last year we hit just over 200. We're in 17 countries." This year they expect to top 250 runs.
Faizan Javed arrived with three other students from Boston College. They had participated in Holi—the traditional Hindu spring festival of colors in which revelers hurl colored powders at each other—via the school's South Asian Student Association this spring. "That was fun," he says. And this run seemed like more of the same.
Color Me Rad itself was actually inspired by an annual festival of colors, based on the Hindu tradition, put on by the Sri Sri Radha Krishna Temple in Spanish Fork, Utah, each spring that attracts tens of thousands of people. The Color Me Rad folks just grafted that celebration onto a fun run. White says, "It's almost like this unique way of dropping people's guards and everybody being friendly."
Greg Cook is co-founder of WBUR's ARTery. Make a rainbow connection with him on Twitter @AestheticResear and Facebook.
This article was originally published on June 01, 2014.