ARTery's Ultimate Guide To The Boston Music Underground This Summer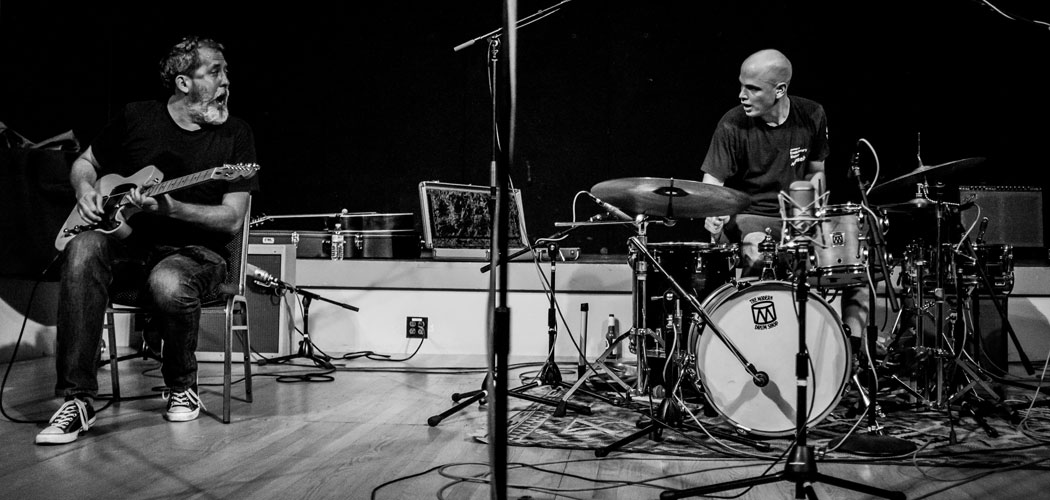 This article is more than 7 years old.
Out of the ordinary. That's what the Boston underground music ecosystem is about. So this preview of what's coming this summer is a guide to unusual methods of doing, ways of thinking, and approaches to performing, listening, and evoking of emotion. Some of them happen in spaces not-quite-legal. So forgive me if sometimes I'm vague, it's necessary to protect these beautiful, fragile things from being squashed by the authorities.
Non-Event presents Seijiro Murayama + Vic Rawlings + Greg Kelley trio, Kate Village, Linda and Mike Bullock | Washington Street Arts Center, 321 Washington St., Somerville | 8:30 p.m. tonight June 4
We jump directly into summer with Non-Event, the non-profit live music series, as our guide. Long one of Boston's most consistent and trusted exhibitors of experimental sounds; the evening of June 4 will take us to one of their regular haunts, the Washington Street Arts Center. You'll see and hear a mental, out-of-bounds improv trio of percussion + trumpet + cello/electronics (Murayama/ Rawlings/ Kelley), solo experimental guitar from the madwoman guitarist of Major Stars, Kate Village, and finally a date with electro-acoustic inter-media diffusion awaits with Linda and Mike Bullock.
This show is going to be amazing, and is indicative of what Non-Event brings to the table on a regular basis. Adding a sizeable dollop of intrigue to the evening is its official marking of sayonara to local live performance for the great experimental trumpet player Greg Kelley. Having performed with Nmperign, Heathen Shame, Life Partners, The BSC, and countless others, Kelley leaves a singular scar across the face of Boston area improv, experimental, and underground music. Raised in Massachusetts, the city and indeed the state will miss him a great deal as he heads 5 degrees latitudinally north to Seattle.
Glass Museum presents The Thing in the Spring | various venues at Peterborough, N.H. | June 5 to 8
The outstanding, open minded, and forward thinking curators of the Glass Museum give you a reason for one of those imperative New England road trips you'll be taking this summer. Each spring in Peterborough, N.H., they organize one of the best music festivals in New England each and every year, an event called The Thing in the Spring. It brings together a decidedly epic swath of experimental, straight entertaining, and thoroughly thought-provoking performers from all over New England and well beyond. A phenomenally amazing duo of drummer archangel/ phantom Chris Corsano and guitar mugger/melter Bill Orcutt? (They're pictured at top in a photo by Peter Gannush.) The otherworldly folk rock tidings of Sub Pop's now Icelandic based Death Vessel? The joy dousing circuitous-rock of the lone Bostonian that makes up Bad History Month? Most experimental folk half-brought to you by mighty New England sound artist & outsider folkster Dredd Foole (the other strange half of this duo is brought to you by another stellar Boston underground sound alum, Ed Yazijian)? They will all be on hand, and there will be many more beyond that, at this wondrous multi-day collection of performances, art fairs, and otherwise.
August Spies, Who Killed Spikey Jacket, Savageheads, The Virus | Cambridge Elks Lodge, 55 Bishop Allen Drive, Cambridge | 7 p.m. June 8
Legends of Boston punk new and old converge on Cambridge. August Spies were one of my favorite punk bands while growing up in the Boston area. Their sloppy, snotty continually almost-falling-apart punk influenced many, and will forever take up residence in a drunken corner of my mind and heart. Who Killed Spikey Jacket? are a newer era of Boston punk heroes, who if they had their druthers, would also be the last of the line. Up the punx, yeah. If there is a band on the planet that I would bet my money on to eventually take down that giant crappy hotel in Kenmore Square simply to find out if there are any more of those rubber rats with the glowing eyes left down in the bowels of the displaced Rathskeller, then these guys are that band.
Boston Hassle presents Scorched Ear | Cuisine En Locale, 156 Highland Ave., Somerville | 6 p.m. June 13
Larger events that celebrate performers making their art at extreme volumes are scarce in Boston. This, despite a scene overflowing with black metal, doom metal, power violence, sludge punk, noise rock, industrial, harsh noise, and rhythmic noise performers. Why? That's a discussion for another day. But the prolific nonprofit music and art curators known as the Boston Hassle, of which I'm one of the co-directors, is trying to fill the void with Scorched Ear. This event was birthed in order to celebrate and bring these kinds of performers together on a more regular basis. The longstanding damaged rhythmic noise of Philadelphia's Max Noi Mach, the new fangled urban noise rock hybrids of Boston's Guerilla Toss, and the crushing ooze of Rhode Island's doom metal hessians Pilgrim await. A new venue houses this monstrosity, Somerville's Cuisine en Locale. Explore this new space and hear these heavy sounds. Don't forget your earplugs.
Keith Fullerton Whitman, Jake Meginsky, Belarisk| a venue we'll call Funny Strange | 8 p.m. June 19
As we are digging in the mound of underground sound to be found in the Boston area this summer, never forget the sub-legal spaces that, freed from monetary and other restrictions, often serve as the extremely necessary incubators that help thriving experimental and underground art communities exist.
Sub-legal spaces include basements, warehouses, backrooms, and living rooms. These are the spaces where performers are allowed to fail and flail for an audience in a space that isn't making its booking decisions based upon the bottom line. No, these decisions are made in order to nurture the maturation of performers. These kinds of spaces can exist legally as well, but there is a severe dearth of their kind in the Boston area. Why? Another question for another day. Why am I talking about these spaces anyway?
Keith Fullerton Whitman of Boston, Jake Meginsky from western Mass. (Vapor Gourds), and Belarisk of Providence are the reason. Experimental electronic music runs deeply throughout the New England region. At a place that here we'll call Funny Strange (not its real name; to protect the mostly innocent, etc.), one of Boston's sub-legal music and art incubators to be sure, these three pillars of underground electronic sound converge to create a triangle that can be heard, felt, and later dreamed of.
Be warned: Some will find this video by Javier Fabregas wicked freaky.
Open Loop presents Mincemeat or Tenspeed, Unicorn Hard-On, Via App | Lilypad, 1353 Cambridge St., Cambridge | 10 p.m. June 20
Open Loop presents experimental and underground music events with frequency in the Boston area. Their tastes tend toward the frayed electronic portion of the spectrum, and their show at Lilypad in Cambridge's Inman Square is a perfect example of such leanings. Providence's bombastic Mincemeat Or Tenspeed has been making rhythmic noise recordings for nearly a decade down in that cauldron of experimental art just south of us. His new recording called "Waiting For Surfin' Bird" gets its release tonight. The record showcases David Harms (MOT's one member) as he begins to utilize synthesizers in making his dense, creaky, booming recordings for the first time. Valerie Martino (or Unicorn Hard-On), also of Providence, is lauded for her years of electronic experimentation set against a backdrop of various and constantly evolving strains of noise music. She and her particular brand of rhythmic noise make the trip with Harms. Boston experimentalist Via App appropriately commences the evening's proceedings with her own take on the electronically weird.
Open Sound presents a performance of John Cage's "Variations III" in memory of Lou Cohen | Somerville Armory, 191 Highland Ave., Somerville | 8 p.m. June 29
A hundred+ performers, sourced from myriad disciplines come together in memory of the composer and Opensound experimental music series director Lou Cohen. Opensound's own Lou Bunk and Tim Feeney are organizing as many performers as is possible in order to perform "Variations III" by John Cage, whom Cohen personally studied with in the 1950s. Steve Norton along with Preggy Peggy and the Lazy Babymakers are just two of the stellar experimental acts already confirmed for what could very well be the music event of the summer.
Non-Event presents Arkm Foam | Cafe Fixe, 1642 Beacon St., Brookline | 8 p.m. July 8
Arkm Foam, a long time steward of one of Boston's most wonderful sub-legal spaces, can now be found in western Mass. with his cool wife and young daughter (I am psyched for the day their daughter meets my even newer son!, but I digress...). Fear not! He's not so far away that he won't be showing his face, or sharing his array of electro-acoustic and noise experiments with we denizens of eastern Mass. Good thing too. I'm not sure my heart could take a true and real lack of Foam, a man revered up and down the east coast for his willingness to explore this world's sonic realm.
3TEETH, Theologian, Massdirge, Kintaan, DJ Brian L (WZBC's Industrial Factory) | Cambridge Elks Lodge, 55 Bishop Allen Drive, Cambridge | 7 p.m. July 19
Sounds and aesthetics associated with the industrial music of the 1980s have been rearing their ugly heads more and more over the last handful of years. An act that has been celebrated as of late, and that could perhaps be charged with such sound crime is Los Angeles's shadowy (natch) 3Teeth. Those fond of old school industrial thud can be heard muttering to themselves about the band and their planned performance at the Cambridge Elks Lodge. Not to be overshadowed is New York City's Theologian, who mines power electronics and industrial soundscapes to create a creeping, thick, swarthy mass.
Junk Day | Boston Children's Museum, 308 Congress St., Boston | July 27
Adam Schutzman leads a junk instrument workshop and will be joined by the experimental duck call group, Duck That, for the day. Duck That will be inviting children of all ages to join their ranks for the evening as well. What kid would not want to?
Illegally Blind Presents Boston Fuzztival | Middle East, 472-480 Massachusetts Ave., Cambridge | 1 p.m. Aug. 2
Boston Fuzztival is a more recent addition to Boston's ever growing crop of festival events. Newer organizers of the rowdier variety of rock show, Illegally Blind, make the Middle East ground zero for Boston area psychedelia and other manner of wild rock tonight. The psychedelic pop sounds, and transportive guitar playing of Cambridge's Doug Tuttle is a standout. He and his band are joined in this bill by a who's who of Boston and New England psych and garage rock bands, including The New Highway Hymnal, Gym Shorts, and Atlantic Thrills.
Tredici Bacci | Great Scott, 1222 Commonwealth Ave., Allston | July 18
Simon Hanes' outstanding Italian pop/lounge big band is perhaps the most easy listening situation one can find in the New England music underground. And you'd be a fool to miss a chance to see them play live. Word has it that July 18th at Great Scott is your next opportunity, and perhaps the only one you'll this summer. Tredici Bacci has a release out now called "The Thirteen Kisses Cassetta" on the great Vermont label NNA Tapes.
Now a few extras:
• Richmond, Virginia's amazing Mutwawa make their way to Boston in July. One of the best acts working today in combining hip-hop influenced beats with electronic noise, you should know they're strange name. Details are hazy as to where, or exactly when they will doing their thing in our city, but keep your ears and eyes peeled and satisfaction will be yours. They will have with them a new release via C.N.P. Records.
• Born of the ashes of Boston underground rock mainstays Arvid Noe, Lair are a two-piece capable of inducing a room full of stable mental states to go bonkers. Their Devo-informed Krautrock-isms have made them one of the most talked about bands in the area in 2014. The band's debut should see light of day in August, and will be the first release on the new Surveillance Investment label. The band will also hit the road for 3 weeks in August.
• Guerilla Toss has new recordings being readied for the light of day. Nashville underground rock heroes, JEFF The Brotherhood, will release this new album via their Infinity Cat Recordings imprint. While supposedly not quite as sonically bombastic as the band's previous album, word on the street is that these new recordings manage to maintain the high-energy, experimental groove oriented nature that GToss has been rightfully heralded for.
Dan Shea is head editor of the Boston Hassle webzine, music editor of the Boston Compass newspaper, and curator of the prolific Boston Hassle Shows live music series. He is currently in the midst of opening a restaurant and performance venue in the Boston area.
This article was originally published on June 04, 2014.