Why We're Still Talking About, And Watching, 'Hearts And Minds'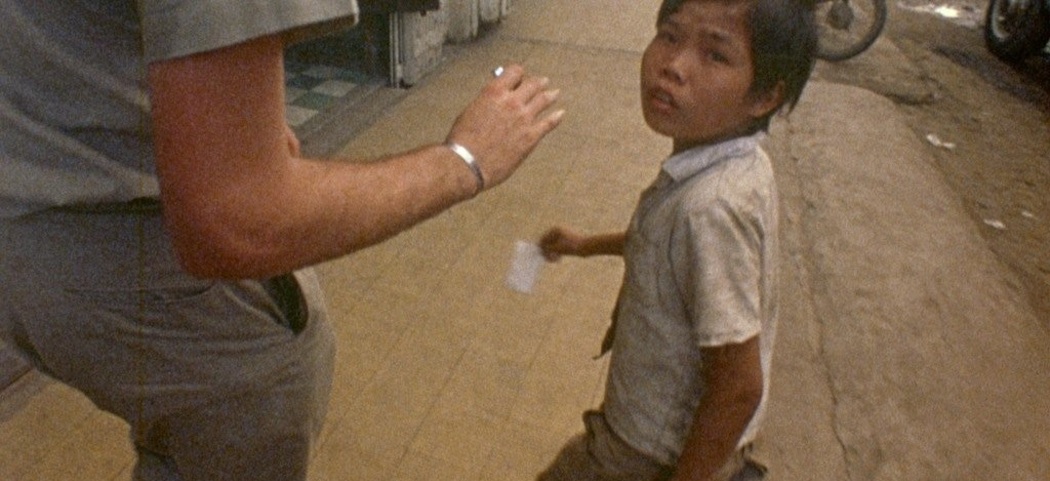 This article is more than 7 years old.
When Peter Davis set out to make the documentary "Hearts and Minds" in 1972 Vietnam had officially become the longest war in United States history.
In less measurable terms, it had also become the most televised, protested, bomb-reliant, and culture-splitting American conflict to date. It was called many things, from the Living Room War for its presence on television news to the War to Win Hearts and Minds, from a phrase used by Lyndon B. Johnson (as he does in this film).
"Hearts and Minds" takes on the utter failure of five consecutive presidential administrations to win over either Vietnamese or American hearts and minds. Unabashedly a film that the left was waiting for, it probes war's psychological consequences by asking, "What have we done to Vietnam and what has Vietnam done to us? "
Forty years after its 1974 release, the Criterion Collection has digitally remastered and restored the film, adding never-before-seen outtakes for a DVD/BluRay package that will be available June 17.
Davis, who now lives in Cambridge, had been working in network television and had just faced controversy for a 1971 CBS News documentary, "The Selling of the Pentagon," that chronicled how the long, sticky tentacles of the Pentagon's public relations apparatus helped lead the charge to Vietnam.
That documentary presaged the emotionally arresting editing tactics of "Hearts and Minds," which jumps from a graphic scene of American soldiers in bed with Vietnamese prostitutes to a metal lighter setting fire to a thatched roof. It also intercuts a sorrowful South Vietnamese burial scene with General William Westmoreland's shocking statement that "Life is cheap in the Orient."
"Hearts and Minds" offered some of the first footage Americans would see of North and South Vietnamese people mourning lost loved ones, homes, and their livelihoods, embracing the economic potential of war, and what they suffered for speaking out. The film also provided more complete scenes for some of the war's most iconic still photos, such as a young burn victim fleeing a napalm attack.
Davis and his crew shot more than 200 hours in the United States, France, and Vietnam, and one of the film's only snags is that it's not always clear what footage is original to the crew and what is sourced from various archives.
Original interviews, then, with an aim to feature men who at one time supported the war, form the film's backbone and also compose the majority of what's new about the Criterion Collection's release: unused interview footage with subjects both featured and left out of the original film. Ten years ago, the edition included a director's commentary and companion essays and those have also been updated.
Because of the film's relationship to television news, and also because he does not appear in the original, the outtake interview with David Brinkley stands apart as the most potent. Whereas "Hearts and Minds" wanted to plunge Americans directly into a Saigon brothel, the bombed out Bach Mai Hospital, or over the shoulder of an American kicking the ribs of a down Vietnamese soldier, Brinkley argues that this time around, a glossy-toothed correspondent could not sanitize the "bloody, muddy, brutal, wasteful, extravagant, expensive, disorganized, confused" realities of war that the government had censored throughout World War II.
In fact, Brinkley credits television as "one of major reasons people turned against the war." Yet he goes on to add that, "Washington pays little attention to public opinion… so [media] are accused of having all kinds of influence we don't really have." When pressed from off-camera to share his personal stance, he anticipates the future of news media and warns against an over-reliance on opinion: "[Audiences] say, 'Oh yes, let's have analysis, opinions, and reviews,' so long as they agree with them."
The repartee softens and Brinkley becomes more reflective, admitting he was "very distressed" by the war and saw "young people who probably won't ever again have any real respect for authority" as profoundly destructive. "I think it left social wounds, scars, that if they ever heal it will not be in our lifetime…" His job may not have been to share his judgments, but here it has undeniable gravitas.
The other outtake interviewees not in the film include French author Philippe Devillers, State Department adviser George Ball, and Anthony Russo, who helped Daniel Ellsberg photocopy files for the Pentagon Papers. Ellsberg, with his liberal star on the rise, is relatable and sympathetic in "Hearts and Minds" whereas Russo, sitting cross-legged in an unbuttoned shirt, exudes a tinge of ego satisfaction with his recent act of heroism. "Secret is a fact held prisoner," he says, wisely enough, yet his breakdown while reading a prisoner of war's poem feels off.
For close-watchers of this film or students of the Vietnam era, outtakes with General Westmoreland and Walt Rostow will be of particular interest. In broad strokes, they are the villains of "Hearts and Minds" with Westmoreland's callous gaffe and Rostow's extreme pompousness, asking the interviewer does he really want to go down this path again and discuss what should be obvious? In the outtakes, both men are more even-keeled, thoughtful, and while not repentant, show more humanity than Donald Rumsfield in Errol Morris's recent "The Unknown Known."
The two remaining outtakes of a Quang Nam funeral scene and Cong Hoa Hospital take a step further into showing Americans what they had never seen and are almost self-explanatory for why they do not make the director's cut. They go too far, or show too much—one wonders how a burn victim hardly able to drink through a straw could consent to being filmed.
Initially, "Hearts and Minds" was one of a six-part, million-dollar-a-picture deal with an independent company under Columbia Pictures. The others—"Easy Rider," "Five Easy Pieces," "The Last Picture Show"—went on to set the tone for American fictional cinema of that generation. But the one nonfiction title made Columbia uncomfortable, enough so that they refused to distribute it.
Davis was no worse for the wear. "Hearts and Minds" picked up the 1974 Academy Award for Best Documentary and producer Bert Schneider's politicized acceptance speech caused more hullabaloo than Michael Moore would almost three decades later when accepting for "Bowling for Columbine."
Davis understood, earlier than most, that the documentary form likewise must court viewers' hearts and minds. After writing several nonfiction books and serving as a correspondent for The Nation from Iraq, Davis has a novel in the works. "Girl of My Dreams" comes out this fall.
Erin Trahan edits The Independent and is teaching an adult education course for Montserrat College of Art that will travel to Montreal's RIDM Film Festival this November.