Grossman Gets Dem Endorsement, But No Clear Political Winner
04:36
Play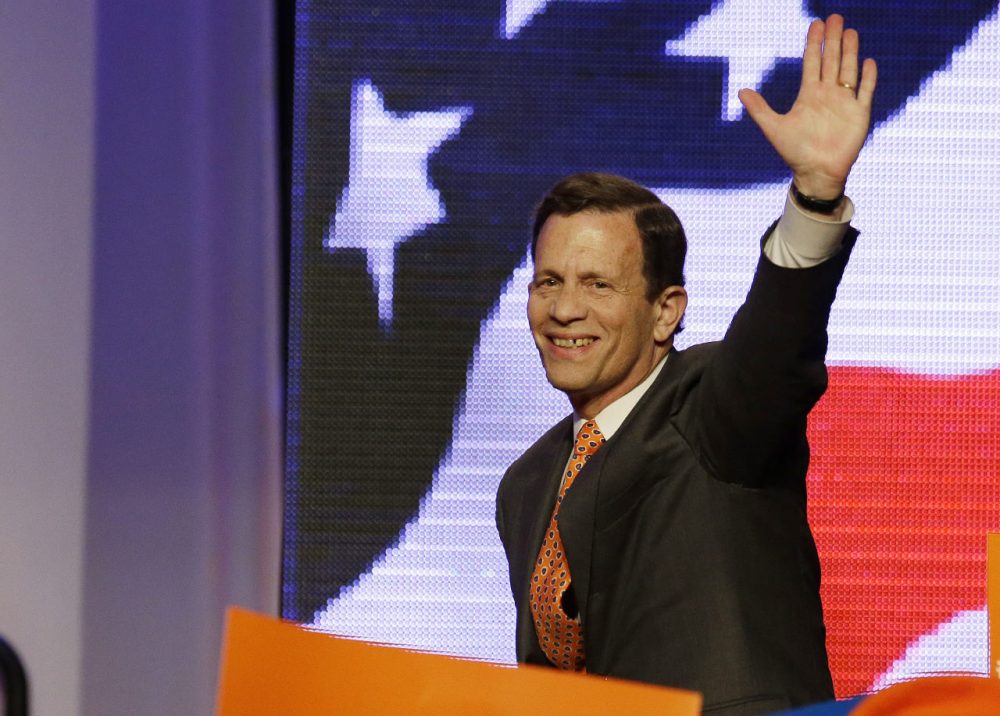 This article is more than 8 years old.
A sea of Grossman fans erupted into cheers when news broke of his official victory: Massachusetts Treasurer Steve Grossman received the state Democratic Party's endorsement on Saturday in the race to succeed Gov. Deval Patrick.
Attorney General Martha Coakley and former Medicare administrator Don Berwick also secured enough votes at the party convention to move on to the September primary.
But the political contest didn't provide a clear winner. Grossman captured 35 percent of the roughly 4,300 votes cast.

"Did you hear the noise there? That's the kind of energy we have seen all over the state," Grossman said, adding that a candidate cannot win without energizing the Democratic base. "In 40 years, from Michael Dukakis to Deval Patrick, no Democrat's been elected governor without an army of passionate activists."
That's a not-so-subtle dig at Coakley. She's been leading all the opinion polls but barely skimmed into second place with 23 percent of convention votes. Some delegates seemed anxious that she will not be a winnable candidate in the general election because of her stunning 2010 loss to Republican Scott Brown in the U.S. Senate special election.
"The 2010 Senate election was very painful for a lot of people in this room," Coakley said in her speech to delegates, trying to tackle that elephant in the room.
"I felt it really was important to say to people, 'I know how tough that loss was,' " Coakley said afterward. "I think people recognize that we don't win every race."
Coakley said she's jumping back into the political ring to continue to fight for issues she's worked on as attorney general. Plus, for her, the primary and the convention are two different animals. With a tight smile and a wave, she insisted she was pleased with Saturday's results.
"It's terrific. We had a goal coming in that we wanted to get our 15 percent, get on the ballot," Coakley said. "We've had a great day."
In order to secure a spot on the primary ballot, candidates needed at least 15 percent of votes from delegates at the party convention.
But perhaps the biggest surprise of the day came from Berwick, a rookie politician who's advocating for a single-payer health insurance system.
Berwick finished just 1 percentage point behind the sitting attorney general. He's not well-known, but he's a rock star in the progressive wing.
At a party Friday night, Berwick's supporters chanted "all means all," a reference to his focus on equality and poverty.
Julie Rafferty, a delegate from Brookline, said all the Democratic candidates would likely be good, competent governors, but to beat Republicans, the Democrats need to offer something special.
"To be successful in politics at the highest level — and governor is the highest level in Massachusetts — you have to be not only good at the job, and have a good vision, but you also have to be able to communicate that with charisma, with a sense of excitement," she said.
Berwick said finishing neck-and-neck with Coakley gives him a boost.
"It's a validation of the momentum we've already felt," he said. "This is a state ready for a really, really bold set of goals around helping people who need help."
And, as much as Coakley and Grossman might like to consider this a battle between two front-runners, Berwick begs to differ.
"This has become a real three-way race, and I'm the candidate that's offering the most progressive agenda," he said.
Berwick's courting the party's deep left progressive wing and trying to capitalize on the enthusiasm Elizabeth Warren and Deval Patrick built.
Peter Ubertaccio, a political science professor at Stonehill College, said Berwick's third-place finish is a big deal.
"If you start from a place where nobody knows you, and you're a clear underdog, and you take on someone who's run statewide on multiple occasions and has high name recognition, a lot of money, and you've been able to hold her to a pretty tight margin, that's a very significant boost for his campaign," Ubertaccio said.
And, he added, Berwick is sort of the wild card who could shake this race up over the summer.
Two other candidates for governor, Juliette Kayyem and Joe Avellone, did not muster the 15 percent of votes needed to qualify for the September primary. The question now is whether they will throw their support behind one of the winners.
This segment aired on June 15, 2014.