Danilo Perez Puts On His Panama Hat — It Fits Beautifully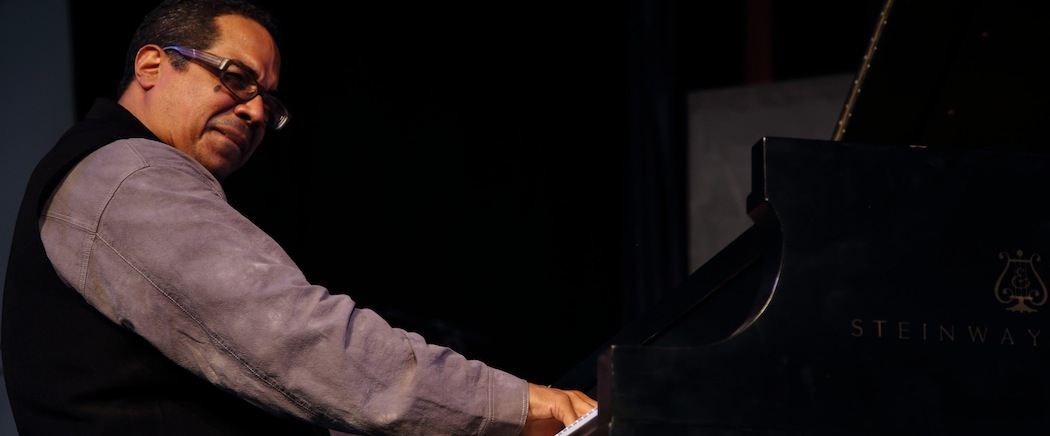 This article is more than 7 years old.
When pianist and composer Danilo Pérez left his home in Panama to study at Berklee College of Music he made a promise that when he became successful he would return and give back to the community. Now a UNESCO Artist for Peace, artistic director of the Berklee Global Jazz Institute, and the recipient of a 2006 Grammy award, three Grammy nominations, Pérez has not forgotten his promise. He has served as the cultural ambassador to the Republic of Panama, founded the Panama Jazz Festival, and has just released an album, "Panama 500," created in honor of his homeland.
Pérez will be bringing the colorful sounds of Panama 500 to the Museum of Fine Arts June 26 for "An Evening with Danilo Pérez." He'll have a quintet of musicians from the album: Adam Cruz on drums, Ben Street on bass, Román Díaz on percussion, and Ronnie Eytan on harmonica. I talked to Pérez about Panama 500, his musical inspirations, and his ongoing work as an educator.
Claire Dickson: Panama is a central part of this project and a very important part of your life. Could you elaborate a little on what Panama means to you and why you've chosen this time to make this album?
I'm always trying to picture my music as a symbol of the geographical position - the Panama Canal, the diversity of cultures we have — and I try to picture my music as a bridge. I've been trying to explore that for years in my music. The origin of this project is that I've chosen an important event. Last year was the 500 year celebration of [Balboa's] discovery of the Pacific Ocean. I really got inspired to write music to include the perspective of the indigenous people. Their perspective is that this is not a discovery, it's a rediscovery. I've been inspired by Panama but I've also been inspired to create a new level of awareness. We're really talking about a rediscovery not a discovery. That's been really important to me.
There are so many different sounds and textures on the album. It seems like every track has a different flavor.

The one thing that makes Panama so unique is exactly that. We have a very strong European influence, a very strong African influence, but we also have a very important indigenous native influence. Panama in particular, because of the canal, has very close ties to calypso, to Caribbean, to reggae, to folkloric music. A mix of Spanish music with indigenous and also black music. The diversity on the record, which I've been practicing for years, creates a story line that includes all these influences in an organic way by creating a platform, which is what jazz is to me, and exposing all these different views. What a perfect thing to choose jazz as a platform because it is the product of diversity and inclusion and different points of view.
Is that why you included a wide range of instrumentation?

The violin plays a role almost like an actor. The record is created like a movie. You have indigenous people — they're the narration and I didn't want to go changing their music. The violin representing a European influence and also the cello. The representation of the African elements, the American elements, Brazilian, Cuban - all those things are reading like they're in a movie, like actors.
Did the writing and the overall vision for the album come from just you? What role did the other musicians play in the project?

I put the music together and did that whole process by myself. The musicians I chose, they have been great partners for many years and I wrote it having them in mind. I play with Ben Street and Adam Cruz which is my trio I've been working with for years. They bring an understanding of the tradition of Latin America in a very free way. They understand Panamanian music so they can mix it with jazz and use jazz to improvise with those elements. The other element is the trio with John Patitucci and Brian Blade. Basically with them along with the figure of Wayne Shorter we created a language. We are like children playing together. It's very exploratory and I knew that we need that out of this combination. It's all about taking chances and what a better group of people to experience that with. They bring that element and they bring that element out of me. I wanted the record to feel exploratory at every second and at every level.
Speaking of Wayne Shorter, tell me more about what his influence has been on you and your music?

Wayne has been crucial to me on many levels. His advice to me was: "Write music the way you want the world to be like." That was a great lesson to me. The other thing is that the storyline of my music becomes the story of my life and the soundtrack of my life. With Wayne I found unity. He helped me to get away from my fears of performance and take chances on every level. Just commit to being creative at all times - music as a therapy in the world. He's been a great mentor and father figure to me. I would like to acquire the commitment and energy he has at 80 years old. He has been a great inspiration and helped me to find what I love. You learn so many things about music, but it doesn't end up being about notes or anything, it's really about connecting. Becoming more human.
Wayne has been a mentor and inspiration to you and you play that role in a lot of other people's lives. What do you try to pass on in your mentoring?

Before Wayne, one of the greatest influences I had was my father. And that's why I connected so well with Wayne - he reminded me of my father. My father taught me how to use music as a lens to view the world. By that I mean saying good morning to music, using it to learn subjects like mathematics, using it to learn a lesson I didn't like, and I became a really good student with A's because of that system. When I left Panama to study I promised that if I learned and became a professional I would come back and give everything I could. That promise has never been broken. I come back every year to teach students. In 2003, I created the Panama Jazz Festival and in 2005 I created the Danilo Perez Foundation. It's all around the same time. 2001, I joined Wayne, 2003, I did the festival, 2005 I did the foundation. The storyline has come into existence with my experience with the quartet.
And what about the work you do at Berklee?

It's interesting, because in Boston we have one of the greatest music institutes. It's a creative music institute with a progressive vision of education to create the artist of the 21st century. It's fantastic what's going on right now. It's such a great source of inspiration - the Berklee Global Jazz Institute. We're going to start a Master's Program next year. The partners I have here- Marco Pignataro, my wife Patricia Zarate - I have a tremendous team in Boston and we're doing tremendous work. We just took the students on a grant that we won to Africa. This year we have done a lot internationally - Chile, Panama. With the Global Jazz Institute we opened a jazz club in Panama specifically for underprivileged kids. There's a lot going on but it's in the tradition of the power of music and the restoration of humanity.
More
Claire Dickson Contributor, The ARTery
Claire Dickson is a jazz vocalist and writer studying at Harvard College.