Roxbury International Film Festival Gets A 'Lift' From Kerry Washington Film
For several dozen Boston actors and film crew members, 2000 was the year they saw actor Kerry Washington sprint through Downtown Crossing in a pink designer suit and diamond stud earrings. The real treat, though, wasn't rigging lights or running cables, but seeing their hard work projected on the big screen at the Roxbury International Film Festival.
Running June 25-29 at the Museum of Fine Arts, this year's festival will close its 16th annual celebration of films made by and about people of color with a throwback 35mm screening of "Lift," one of the Scandal star's first films. In it, Washington plays Niecy, a young woman who expertly lifts designer fashions from Boston's most luxurious boutiques and sells them to her friends and family.
"Lift" is a homegrown narrative feature written and directed by DeMane Davis and Khari Streeter, Roxbury and Cambridge natives, respectively. Shot entirely in Boston, it's a fitting bookend to a lineup of what festival director Lisa Simmons considers an unofficial thread of films featuring "women on the verge"—that is, women who endure life-changing personal and political dilemmas.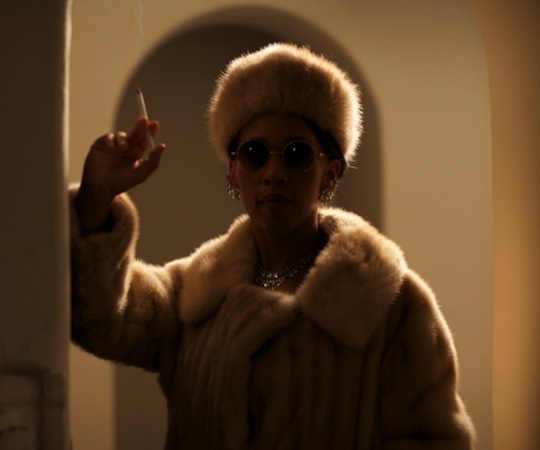 "Lift" makes a clever companion to the festival's opening night film "The Life and Crimes of Doris Payne," an absorbing documentary that explores the titular character's success as an international jewel thief—a thief who, now in her 80s, may have to live her final years in a Californian jail.
Like "Lift" and "The Life and Crimes of Doris Payne," "Anita: Speaking Truth To Power," which follows Anita Hill during and after Clarence Thomas' infamous Senate Judiciary Committee hearing, explores another woman on the verge. While rich in 1991 television footage and an apt reminder of a turning point in women's rights, the documentary aches for a more nuanced depiction of Hill's subsequent years as an influential advocate for gender equality.
For Simmons as well as the makers of "Lift," Washington has become a woman of influence. During casting, Streeter recalls that Washington "could flow into different tonalities…She had this dynamic quality in that she grew up in New York and went to this prep school and had to balance that by relating to cousins in the Bronx."
On set, the actress seamlessly carried scenes shot at low-rise housing projects in Roxbury, guarded shops on Newbury Street and Kennedy's department store, which Davis says was recreated so convincingly that extras tried to shop during breaks. In directing her performance, Streeter says, "you kind of knew she was going to be a star."
Before "Lift," Davis and Streeter (along with co-writer and co-director Harry McCoy) garnered critical acclaim for their debut feature, "Black & White & Red All Over." Premiering at Sundance in 1997, the film caught the eye of the burgeoning Sundance Labs program, which called the two filmmakers to find out what else they had in store.
Davis and Streeter flew to the Lab in Utah to workshop the "Lift" script. The Lab provided a provisional cast and crew so that the pair could shoot scenes that were then combed over by the likes of Denzel Washington and Kathy Bates.
"It was like a gauntlet," says Streeter when thinking back on the workshop process. He used to compare the experience to Space Camp with Robert Redford, wondering, "How did I land on this planet and how come these people helping are me?" Now, he and Davis agree, it was their graduate school.
Everyone who saw dailies "kept asking why," says Davis. "So you left knowing there has to be a reason for everything you put in the film." She also confesses she left with 60 pages of notes she still references to this day.
Simmons, who has worked in many aspects of independent filmmaking and exhibition in Boston, recalls 2001 as an exciting time for black filmmakers. "You had [Robert Patton-Spruill and Patti Moreno's]  'Squeeze' you had 'Lift' and 'Black & White & Red All Over' at the same time as John Singleton. Black film was separate and different from everyone else and you sort of made your mark in this one specific space." Filmmakers like Davis and Streeter are exactly why she helped start the festival in 1999.
Back then, Simmons would choose films from the American Black Film Festival, Hollywood Black Film Festival and Pan African Festival, though she clarifies that Roxbury has never been a solely black festival, but a festival of color. "Now," she says, "I am looking at Salem Film Fest, Arlington International, Bermuda, as well as Pan African."
Recalling what has changed locally since the release of "Lift," Davis says, "You don't have to convince anyone [to shoot in Boston] anymore." Both she and Streeter are still Boston-based and while they haven't had a recent artistic collaboration, the two occasionally cross paths in their ongoing work in advertising. Tax credits have certainly contributed to the blossoming local industry, says Streeter. Now, when he watches television, half the set-up shots are in Boston.
And yet, even with all those Boston storylines and settings, it's still uncommon to see an African American woman in the lead—in front of or behind the camera.
"There's a stereotypical Boston that exists in everything from 'Good Will Hunting' to the classic Southie angle where most people expect the high wall that divides and segregates our history," Streeter observes. "'Lift' challenged that there's some depth to how we get along in this city."
Local actors who appeared in "Lift"—Jacqui Parker (founder of Our Place Theatre Project), Naheem Garcia and Crystal Tyson—will attend the 2:30 pm event on June 29 to answer audience questions and discuss the challenges of sustaining an acting career in Boston.
For a complete schedule, visit the festival website.
Erin Trahan edits The Independent and is teaching an adult education course for Montserrat College of Art that will travel to Montreal's RIDM Film Festival this November.