St. Peter's Fiesta Will Bless You And Bruise You And Be The Love Of Your Life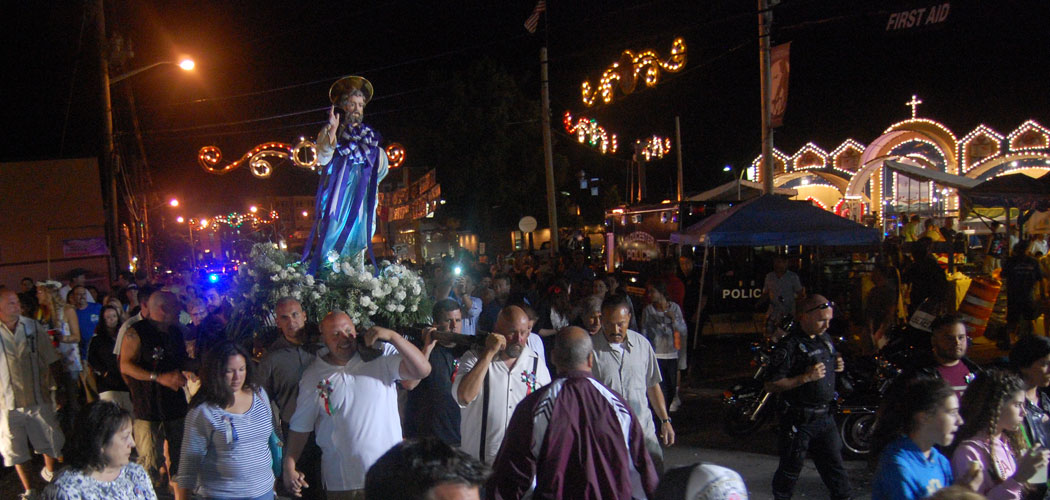 This article is more than 8 years old.
"Viva San Pietro," revelers shouted in Gloucester's streets during the annual St. Peter's Fiesta, which concluded Sunday. It is a festival that embraces ecstatic passions.
The multi-day celebration of the city's commercial fishing and Catholicism and ancestral ties to Sicily—with a good amount of festive drinking thrown in—has grown to become a city-wide party featuring parades of statues and paintings through the streets, rowing races, the blessing of the city's commercial fishing fleet, a Mass, nine evenings of prayer and a carnival. Oh, and the infamous Greasy Pole contests, in which costumed men vie to be the first to traverse a 40-odd-foot-long telephone pole slathered with grease and grab a flag off the end. Bangs and bruises and even the occasional busted rib are not unusual parts of the contest. But unending glory is showered upon the man who survives the gauntlet.
The festival began in 1926, when a Gloucester fishing captain by the name of Salvatore Favazza commissioned a Charlestown sculptor to fashion a statue of St. Peter, the patron saint of Catholic fishermen. The statue remains the centerpiece of the annual St. Peter's Fiesta, much like celebrations in Favazza's native Sicily, honoring and thanking the saint for his protection and support.
Previously: Photos of the 2013 St. Peter's Fiesta.
Greg Cook is co-founder of WBUR's ARTery. Follow him on Twitter @AestheticResear and be his friend on Facebook.




























This article was originally published on June 30, 2014.