Everything You Need To Know About Amped-Up Security For Pops Fireworks On The Esplanade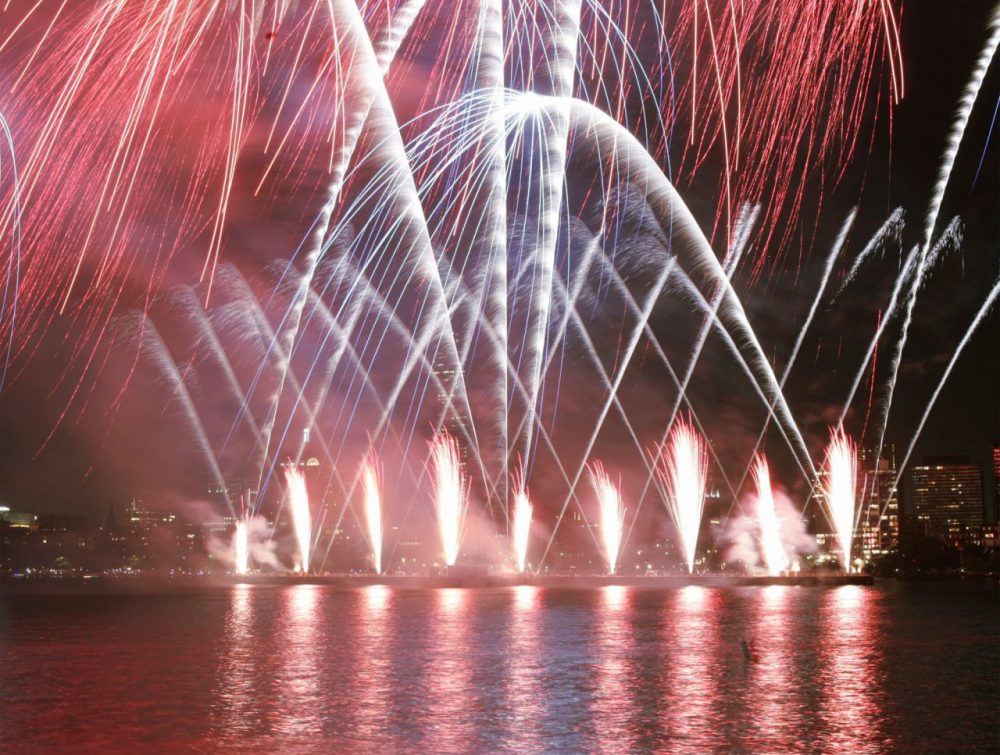 This article is more than 6 years old.
This post has been updated: 
The Boston Pops annual Fourth of July concert and fireworks show is being moved up a day because of potential heavy rains ahead of Tropical Storm Arthur.
The Boston Pops Fireworks Spectacular is now scheduled for Thursday, July 3.
We've updated this post to reflect the new event schedule.
---
State Police officials have announced tightened security measures for this year's Fourth of July celebrations, including additions to the list of items not allowed onto the Esplanade. Here's what you need to know:
New Locations Where You Can't Watch
People are not allowed to watch the fireworks from the Longfellow Bridge due to ongoing bridge construction.
Boats will not be allowed between the Mass. Ave. Bridge and the fireworks barges, which were moved slightly westward. State Police said that boaters must be east of the safety zone and west of the Mass. Ave. Bridge. Here is the State Police's guide for boaters.
What You Cannot Bring
No firearms, weapons, sharp objects or fireworks
No bicycles are allowed in the Oval and Lagoon/Island areas of the Esplanade. They are, however, allowed throughout the rest of the venue, but they cannot be left unattended or attached to fences, poles or other structures.
No backpacks
No coolers on wheels
No glass containers, cans, pre-mixed beverages or alcoholic beverages. All liquids must be carried in sealed clear plastic containers and must not exceed 2 liters in size.
No grills, propane tanks or open flames
What You Can Bring
All personal items must carried in clear bags. Small clutch bags and purses may be taken into the venue (after inspection) with clear bags.
Pop-up tents or canopies — as long as they do not have sides and are no bigger than 10-by-10 feet
Blankets and tarps in sizes no bigger than 10-by-10 feet
Folding or beach chairs only
Coolers are allowed. However, they must be carried in by shoulder strap or a single handle, as coolers with wheels are prohibited.
Travel And Transportation
Storrow Drive will close at 1 p.m. on Thursday in both directions.
Memorial Drive in both directions, as well as the Mass. Ave. Bridge and the Longfellow Bridge, will close at 6 p.m. Thursday.
State Police list of access points onto the Esplanade, which will still open at 5 p.m. Thursday.
At 2 p.m. on July 3, MBTA subway service on all lines will operate at rush hour levels. Late-night T and select bus service will run until around 2:30 a.m. after Thursday's fireworks. No subway or bus fares will be collected after 9:30 p.m.
Bicycles are not allowed on any subway lines on July 3 or July 4. They are also prohibited on inbound commuter rail trains from 10 a.m. to 6 p.m. and on outbound trains after 4 p.m. those days.
All MBTA parking garages will be cash-only.
State Police also released a list of road closures for both days.
Event planners' parking recommendations and directions are here.
Schedule
July 3: Concert begins at 8 p.m. Fireworks scheduled for 10:30 p.m.
This article was originally published on July 01, 2014.