Video Premiere: Boston Art-Rockers Bent Knee Are 'Obsessed With Sounding New'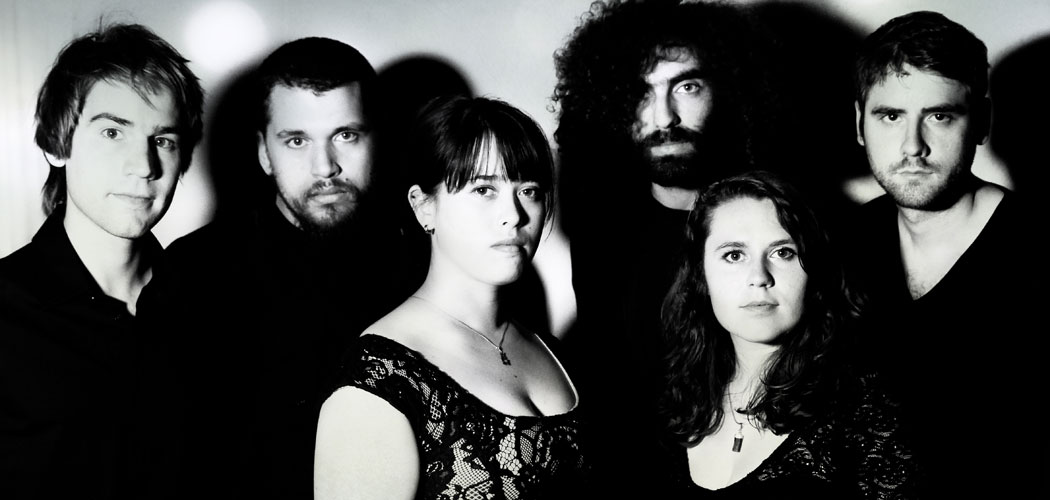 This article is more than 7 years old.
Bent Knee, a self-professed "art-rock" band from Boston, has a flair for the dramatic. When the six-piece ensemble whirls out of contemplative softness into blistering cacophony, it is not for the mere shock of contrast so much as the pleasure of the journey between extremes. Sometimes the ascent is grand, gradual, and complex, and at other times a swift series of solar plexus-aimed hits.
"We see our music as very intricate and weird, with so many layers and thematic elements, kind of very cerebral," says lead vocalist Courtney Swain, adding, "We are completely obsessed with sounding new."
Bent Knee (picture above by Zoe Ruth Erwin) began as an electronic, Portishead-esque collaboration between Swain and guitarist Ben Levin, both graduates of Berklee College of Music. When they assembled a live band for a recording project, the new format stuck and eventually coalesced into the group's current lineup: Levin on guitar, Chris Baum on violin, Jessica Kion on bass and backing vocals, Gavin Wallace-Ailsworth on drums, Vince Welch as producer/sound designer/synth player, and Swain on lead vocals and keys. The group will perform at the Davis Square Theatre in Somerville on July 19 and release their sophomore album, "Shiny Eyed Babies," on Nov. 11. (Watch a live rendition of Bent Knee's "Way Too Long" below, and scroll down to view the new video for "Toothsmile.")
The six musicians, who met at Berklee, did not come together with a specific shared vision. Rather, they pooled their disparate influences through an evolving collaborative songwriting process. Swain, who grew up in Japan, and the Colorado-born Baum both have backgrounds in classical music; on the other end of the spectrum is Wallace-Ailsworth, who was raised on progressive rock bands like Genesis and King Crimson. The music of Bent Knee has a crisp, metallic, prog-rock sheen but depends more upon inventive textural motifs and pop-inflected melodies than blinding displays of virtuosity. There is an intermittent whiff of jazz and the occasional ambient electronic oddity.
"I think we are attracted to the dramatic, in a musical-form-sense anyway. And the dynamic contrast has become very much a signature of the group. I think it's what makes our live shows stand out, what gets people to come back," says Baum. "Because a lot of the things that happen are very unexpected compared to what people in the audience are used to. And I think a lot of that comes from the more classical side of our minds—just having this narrative with lots of peaks and valleys, constantly keeping people propelled and on their toes. I think we're constantly trying to find the middle ground between doing that, but making sure everything fits and feels like a completed idea and vibe, as opposed to just stitched-together bits and pieces."
Swain's voice is the lynchpin of the band. She croons excellently but is more comfortable in extreme regions, where the boundaries of comfort are pushed. She likes to propel her voice into a banshee-like quiver, the rock n' roll answer to opera's vibrato. In Bent Knee, her singing is often submerged beneath thick sonic strata, but it always manages to pierce through, like a splinter through skin.
"I don't think I have a conventional voice," says Swain, who names Bjork, Fiona Apple, and the Japanese singer Shiina Ringo as primary influences. "I've tried singing R&B and jazz, and I always feel embarrassed when I do, just because I feel like I don't have the right voice. And so a lot of my development as a singer has been what's unique to me. What's my sound? And what kinds of crazy sounds will come out of me if I really push?"
"Shiny Eyed Babies" is not a concept album, though there does seem to be a thematic thread running through the songs, which Swain describes as "regret." But Bent Knee might be better characterized as defiant, or at least pissed off; theirs is no bashful, retreating regret. The album begins, oddly, with a sweet piano ballad and a grim subject: "I had a shiny-eyed baby/ That fell out of my womb/ I kissed her hello and I kissed him goodbye/ And that's how we go from cradle to grave," sings Swain, sounding for all the world like she is about to launch into a Broadway song-and-dance number. But what happens at the conclusion of the minute-and-a-half-long piece is more jarring still. The bass drum kicks in, followed by the high hat, and then the band unleashes a monstrous roar, at once percussive and dense.
The strongest moments on "Shiny Eyed Babies" are the result of contrasting, cleverly-executed variations on a single theme. "In God We Trust," for example, is built around a wistful little finger-picked fiddle riff that morphs into a grandiose, propulsive symphony. "Dead Horse" begins with a buoyant electro-pop motif that shifts, with nimble alacrity, into wave upon wave of explosive, polyrhythmic crescendos.
"I think we're very focused on a concept of a song. So one person will bring in the idea or the kernel of the song, and then we'll spend a long time discussing how to best depict that story through music," explains Swain. "And then it's just a lot of talking and working out ideas with everyone until we're all completely happy behind every decision that's in the piece. I think that's one of the interesting parts of our band, where we would never vote on a musical decision. It always has to be a consensus."
If consensus is the basis of Bent Knee's process, then it is that ineffable realm where six personalities intersect that gives the music its particular character, and its shiny-eyed newness.
"From a personal standpoint, I really enjoy making music that is accessible but has a lot of depth to it," says Baum. He uses a pickup and a laptop rig, experimenting with versatile effects to create gleaming, ethereal soundscapes. "The approach to the instrument needs to be different if you're amplified," he explains. "You can't play an acoustic guitar like an electric guitar, and the same goes for violin."
In many ways, Baum's playing exemplifies the band's approach: in uncharted territory, there are no signs pointing the way, only well-trod paths that lead to the point of departure. Sweeping through this wild country, Bent Knee is as apt to freefall into inky blackness as to be catapulted, suddenly, towards the heavens.
Amelia Mason is a writer, musician, and bartender living in Somerville. She is a regular contributor to The ARTery. You can follow her on Twitter @shmabelia and Tumblr.