Grace Kelly Is Figuring It Out On The Fly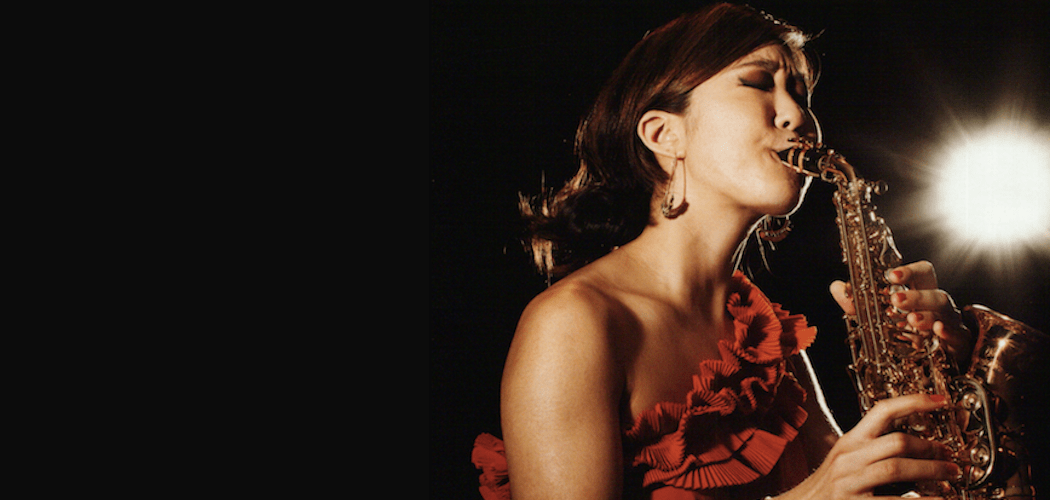 This article is more than 7 years old.
MONTREAL — It's about two hours before show time, and Grace Kelly is onstage with her band members, taking them through some tunes they've never played together before. Her father is recording this soundcheck with a camcorder, but she dispatches him back to the hotel to fetch a file from her Dropbox account. It contains the bass part for one song, and she needs him to ask the front desk to print it out.
The song is "Get Lucky," and no, it's not a lost Cole Porter chestnut. It's the Daft Punk radio hit. "When he starts doing this," she says to bassist Evan Gregor, singing a bit of the rhythm guitar figure from the song, "even if it's not on your chart, I think we need some sort of eighth-note groove."
Tonight's show, on a Thursday night near the end of the Festival International de Jazz de Montreal, is a big one for the saxophone whiz and bandleader who just turned 22 in May. It's her first time playing the event -- one of the biggest and most illustrious jazz festivals on the continent — with her own band, in a ticketed show. (The extremely precocious musician was here at age 18 to play two free, outdoor sets, and the following year scored a gig in large part due to the draw of her then-collaborator, four-time Grammy winner Phil Woods. Tonight, it's all on her.)
The addition of the Daft Punk tune to the repertoire isn't the only last-minute task. When Kelly's parents arrived in town that afternoon, they pointed out to her that the festival program promised she'd feature songs from her recent album of jazzed-up spiritual tunes, "Grace." It seemed a perfect fit, since the venue for the show is the theater at Gesù, a historic Roman Catholic church. But it was news to her.
"I'm really used to winging it — I'm a jazz musician!" she says earlier that day, munching on a salmon sandwich at a cafe a few doors down from the Hyatt, where she's staying.
---
Grace Kelly's Upcoming Appearances:
July 30 — Cape Cod Jazz Festival, Chatham, Mass.
July 31 — Shalin Liu Performance Center, Rockport, Mass.
Aug. 3 — Newport Jazz Festival, Newport, R.I.
---
On an outdoor stage near the cafe, a big band of Canadian students plays upbeat standards -- a daily occurrence that draws appreciative crowds. The night before, a few hundred dancers — mostly twentysomethings — at the club L'Astral, sweated it out until about 3 a.m. as DJs blended electronic beats with hipster-swing classics like "Jump, Jive an' Wail." A similar group was up the street in the smaller room of the Metropolis theater, hopping up and down to Beat Market's blend of jazz elements with EDM. Amid all the present company, it's easy to be optimistic about the immediate future of the music — in its many guises.
"Jazz is not just a music of the past. It needs to be brought to this generation," Kelly says, "and people my age, people who can really appreciate it in a context they recognize."
A bubbly translation of a dance-pop hit is one way to do that, but Kelly's still-evolving vision embraces jazz as a form of popular music without discarding her respect for tradition. She's clearly woodshedded with the bebop songbook, and attracts attention first with her great fluidity and technical command.
Kelly creates a sound on the alto that's urgent but not terribly big; coming out of her slight frame, it fits. She also sings some originals, closing her eyes and swaying her hips in a way that would seem sensual if the whole proceedings weren't tinged with a patina of innocence.
But she's no newbie. After switching from classical piano and clarinet to sax, the Brookline native (she's since moved to Los Angeles) recorded her first album at 12, when a teacher urged her to make a document of her quickly earned musical proficiency. Two years after that she was onstage at Symphony Hall with the Boston Pops, playing one of her own compositions. By 16 she was enrolled at Berklee School of Music.
Scanning her resume, you can pretty much pick your favorite accolade. Downbeat made her the youngest-ever "rising star" alto player on its influential list in 2009, and kept her in that spot for five years. Wynton Marsalis invited her to play with his Lincoln Center Jazz Orchestra at the Kennedy Center as part of President Obama's inauguration festivities. Even Huey Lewis is a fan.
After arriving in town the evening before the Gesù gig, Kelly checked out the festival's nightly jam session at the Hyatt, led this year by the John Roney Trio. She jumped up and joined the band for "All The Things You Are."
"This festival has always stuck out to me," she says at lunch, smiling as usual, her mind on her gig that evening. "The first time I was so nervous, but now I know the audience is amazing. They're great listeners. But to be at a ticketed event inside is a really special thing because it really means you're being featured and my name is up there as the leader. I'm really pumped."
Though she's been working steadily for years in various contexts, her name doesn't yet swing much commercial muscle. A repeat visit here is by no means guaranteed, whatever happens tonight. But a successful show could lead to future bookings, at this festival and elsewhere.
The set is due to start at 10:30 p.m. A bit after the soundcheck, at which Kelly passes around notes and instructions written on hotel stationery, the audience starts to line up in the lobby. Her mother sits at the merchandise table, selling CDs. The crowd seems to skew a little bit on the older side compared to other festival shows this year, which is a bit ironic.
Inside the venue, in the basement of the church, swaths of purple light bathe the gorgeous, grey stone walls. At least 80 percent of the seats are filled. The audience is engaged, and keyed in to what Kelly has to say. Someone in the front row clutches a poster, presumably hoping she'll sign it.
The set moves through various phases of Kelly's musical journeys to date. She sings a few original pop-jazz numbers, including her statement of artistic independence, "Please Don't Box Me In." "Get Lucky" turns out to be a big hit with the crowd, eighth-note groove and all. In her arrangement of the spiritual "Wade in the Water," she tosses in some bright bursts of Thelonious Monk's "Bemsha Swing."
As she charges toward the climax of her set, things play out pretty much exactly as they would in the movie version of her story. A full-band take on "Amazing Grace" is both soulful and full of chops; as her solo builds in intensity, she dramatically jumps up an octave. The audience howls. The song ends, followed by an immediate standing ovation.
It's about midnight, and an encore doesn't seem assured. But the applause doesn't rest until Kelly comes back out, this time with only pianist David Cook. They play a duet of "Somewhere Over the Rainbow" that ends the evening on an ethereal, dream-like note. It feels very much like she's conquered Montreal. Amazing Grace, indeed.
Jeremy D. Goodwin is a full-time independent journalist based in the Berkshires. He is a regular contributor to The Boston Globe and New England Public Radio. You can follow him on Twitter @jeremydgoodwin, or see more of his work here.