Hundreds Mourn Victims Of Lowell Fire
03:12
Play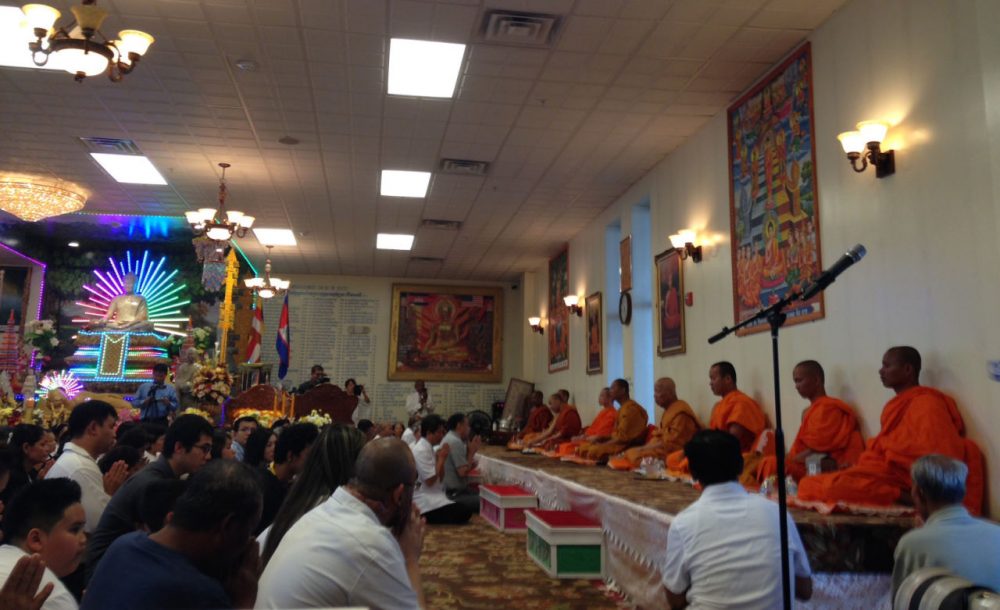 This article is more than 7 years old.
As investigators try to figure out what caused a fire in Lowell that took seven lives last week, members of the devastated community are counting on one another for support.
Hundreds turned out Sunday night for a memorial service for those killed.
Coming Together
The Glory Buddhist Temple has been a place of comfort for many Cambodian-Americans in Lowell in recent days. Five of the seven fire victims, all from one family, worshipped there.
But it's also been a place of comfort for the more than 40 people left homeless by the fire — many of whom are from Cambodia.
Bopha Malone, the board president of the Cambodian Mutual Assistance Association, said the community is there for relatives of those killed and the survivors of the fire.
"For the survivors, I know this is an incredibly difficult time," she said. "I know you are still haunted and scared by what happened. Please know that our thoughts and prayers are with you."
The tragedy has brought together an already tight-knit community.
Voop de Vulpillieres, a deputy director at the Cambodian Mutual Assistance Association, explained most of the community immigrated just 30 years ago, following the Khmer Rouge genocide.
"This group came together and really had to support each other because they needed to learn English together, they needed to learn how to deal in this completely new world, most of them having been subsistence farmers back in Cambodia," she said. "Now we find ourselves 30 years later in another tragedy."
City leaders and volunteers are collecting clothing, toys and donations to support survivors.
Suman Sun, who grew up across the street from the site of the fire, said she's proud of how everyone's responded.
"Anything that happens in our community, no matter what, we still come together like as a family," she said.
Among those displaced by the fire are the two surviving children whose parents and three siblings died. On Sak is their grandfather. Like others mourning dead family members, his head has been recently shaved.
"He came over here just to thank you, everyone, for being here to give support to the family, to the survivors from the fire last week," a translator said. "And you all are blessed and thank you very much."
City leaders and community organizers are meeting Monday to figure out how to get victims housing, new identification documents, clothing and other essentials.
The Cambodian Mutual Assistance Association, the city and the fire department will host a forum in a couple of weeks to examine the outcome of the fire.
This segment aired on July 14, 2014.