Smetana's 'Bartered Bride' Gives A Taste Of The Czech Countryside (In Boston)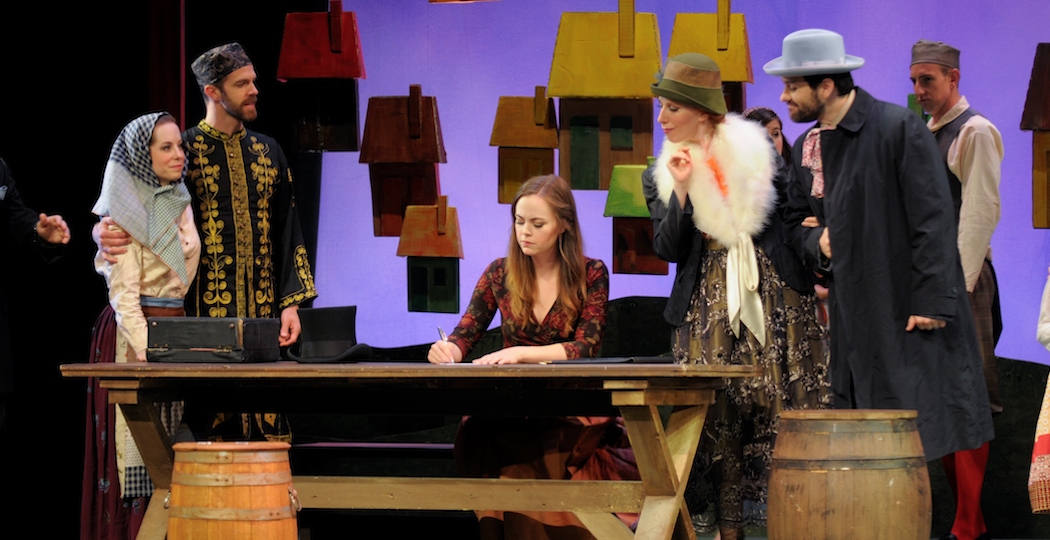 This article is more than 8 years old.
BOSTON — As I listen to the overture of Bedřich Smetana's "The Bartered Bride" in preparation for my call with Boston Midsummer Opera music director and conductor Susan Davenny Wyner, I sense something different, something exciting and unfamiliar. It is not simply the richness of the rhythms and tones that makes Smetana's operatic extravaganza so special, but the true sense of culture and history that pervades the melodies and brings them to life.
Dazzling in its detail and emotion, "The Bartered Bride" (July 23 and 25 at 7:30 p.m., and July 27 at 3:00 p.m. at Boston University) weaves together sounds evocative of peasant life in the Bohemian countryside, proving itself an opera unlike its German and Italian contemporaries, but one whose music, with wonderful complexity, becomes a character itself. "What I love about it," says Wyner, "is that it has a sense of the country people—the lives, the fun, touches of melancholy—everything that is a part of the Bohemian characters—their longing, yearning and searching for identities."
It is unsurprising that "The Bartered Bride" captures the rustic essence of peasant life so fully, though. Born in a small village east of Prague, Smetana found himself fighting, at an early age, against the idea that Czechs couldn't create music—or at least, music of their own. This was what Viennese conductor Johann von Herbeck had suggested to the aspiring composer during an 1857 visit to Weimar. That comment, as Wyner puts it, "struck a chord" in the young Smetana, who was determined immediately after to create something that would prove von Herbeck wrong—something that would not only be great, but "a comedy that would showcase colloquial language, villagers and people of the land." Something truly Czech.
For five years, Smetana worked tirelessly to produce the passion, rural quality and colloquialism of his native language. In 1866, having spent three years on the dialogue and characters, he premiered "The Bartered Bride" in Prague only to be met with rather disastrous disappointment—the premiere date clashed with a public holiday leaving much of the city empty, the day itself was terribly hot, discouraging guests from sitting through a performance in an insufferably airless space, and the threat of war between Prussia and Austria loomed in the minds of the public, making a light romantic opera less than appealing. Still, Smetana pushed on, adding more dancing and music in his second version, and in the third and final, a new translation.

Despite the many translations that have followed, including BMO's own English translation, "The Bartered Bride" succeeds in capturing the "Czechness" that Smetana so determinedly aspired towards. Though the traditional language has been replaced with 21st century idioms, the immensity of the emotions that characterize the Bohemian life are more present than ever, ebbing and flowing with the beautifully distinct melodies to create something truly spectacular. "So much wonderful music intertwines to give texture to the piece," says Wyner. "It excites me that the poet [J.D. McClatchy] gave us permission to use this new English translation."
The characters in "The Bartered Bride" feel and express with powerful intensity, their sentiments of love and betrayal, anger and humor heightened by their Bohemian identities. Smetana gives Mařenka, his heroine, a "much more complex aria, deeper and richer in its expression," explains Wyner, while the longing of Jeník, Mařenka's lover who has been constrained all his life by his mother, is full of passion; "Smetana worked and worked and worked on capturing the yearning of this young man, the complexity of his nature and emotion—almost all of the characters have that complexity, even the marriage broker."

For Wyner, "The Bartered Bride" has been an especially exciting adventure because of its non-traditional music and dancing. "One of the most enchanting things about those real Bohemian rhythms is that they're off center—they have an incredible kind of spring that doesn't seem like it belongs in a regular rhythm," she says. Unlike English, Czech is trochaic, making it not only more nuanced in its patterns, but much more alive. "I've conducted Czech chamber music and orchestras, but there is so much of the music that we're not aware of…it's just such fun."
With traditional Bohemian dance forms like the polka and furiant, "The Bartered Bride" brings a refreshing change to familiar operatic choreography. Though dancing can often be overlooked as an accompaniment to the music, it is, in this opera, and entire entity in itself, further characterizing the peasant life and incorporating movement faithful to the countryside. With a colorful circus troupe, flying acrobats and a wildly amusing dancing bear, Smetana brings a whole character of travelling performers into his opera, not only inspiring cheer and liveliness, but evoking a sense of wonder and mystery.
When I asked Wyner in the end why she thought the opera was such a crowd pleaser, I already felt that I had the answer. In listening to her talk about "The Bartered Bride," it was clear that the better question was why wasn't it a crowd pleaser. Smetana's music is the type that is accessible and lively. It is entertaining, fun and striking, the "really kind of hold your sides comedy," says Wyner. "The tunes sweep you up, the rhythmic vitality, the mind with the melody—that is what really captivates the audience. In a certain sense, it's hard not to have fun, hard not to become involved."