Market Basket Board Will 'Seriously Consider' Ex-CEO Proposal To Buy Chain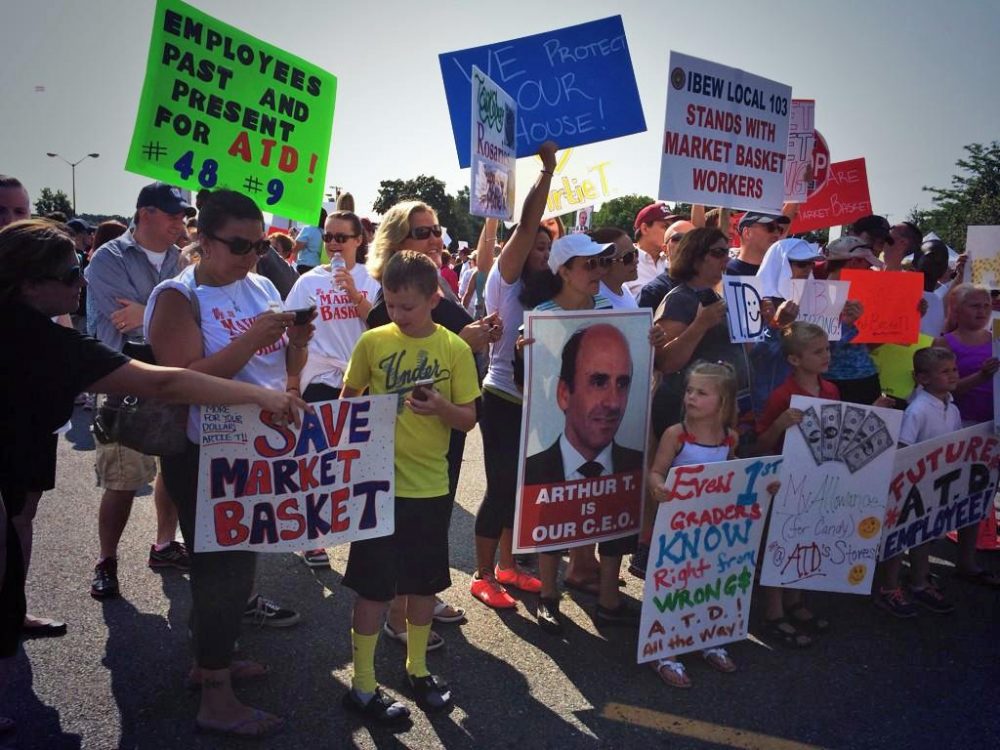 This article is more than 7 years old.
Board members of the beleaguered Market Basket grocery store chain say they will "seriously consider" a proposal from its fired chief executive to buy the company as the chain faces a workers' revolt that has paralyzed the stores.
The board issued a statement Friday after meeting to discuss the company's future as thousands of employees protested the firing of a popular chief executive, Arthur T. Demoulas.
Market Basket also said Friday night there would be no penalty or discipline "for any associate who joins in what will be a significant effort to return to the unparalleled level of performance and customer service that have been hallmarks of the Market Basket brand." It says there would be no changes to compensation and benefits.
Despite earlier threats by new management to fire any workers who fail to perform their duties, some 300 warehouse workers and 68 drivers refused to make deliveries to the chain's 71 stores in Massachusetts, New Hampshire and Maine for more than a week.
The workers' revolt has severely depleted store shelves and prompted customers to shop at competitors' stores, either because of the limited selection or as a form of protest. Many customers have taken to taping their receipts from competitors on Market Basket store doors.
So far, eight supervisors have been fired.
Steve Paulenka, one of eight employees fired last weekend over the protests, says he has been impressed by the customers response.
"All of these people are still shopping," he said. "They're going somewhere else and they're paying a lot more by their own volition. That says a lot."
Arthur T. Demoulas was fired last month by a board controlled by his cousin, Arthur S. Demoulas. Both are grandsons of the company's founder and have feuded for decades.
The board said it will evaluate Arthur T's offer, as well as prior offers and future offers.
Arthur T. offered to buy the 50.5 percent of the company now controlled by relatives who backed his firing last month.
"Our offer is a very full and fair one and should meet or exceed a seller's expectations of the value of the company," Arthur T. said in a statement Wednesday. "We care deeply about Market Basket and all of our associates and we want to work together to return the company to its successful model for serving our loyal customers."
The amount of the offer was not disclosed, but a trade publication estimated the company's value as high as $3.5 billion.
Elizabeth Cleary is from Billerica but shops at the Wilmington Market Basket. She was at the rally Friday to show her support for Arthur T.
"He's an awesome person, he's a real person. He cares about us. He cares about the store," she said. "He gives scholarships to the kids. He's like a family member to anyone who needs anything. He's just amazing."
With reporting by The Associated Press and the WBUR Newsroom.
Clarification: An earlier version of this story referred to Friday's gathering as the "final" rally. Protesters had originally said they hoped this rally would be the last, but now say they will continue their fight until Arthur T. is reinstated.
This article was originally published on July 25, 2014.