Dazzling, Traditional Polish Folk Craft Designs Hand-Cut From Paper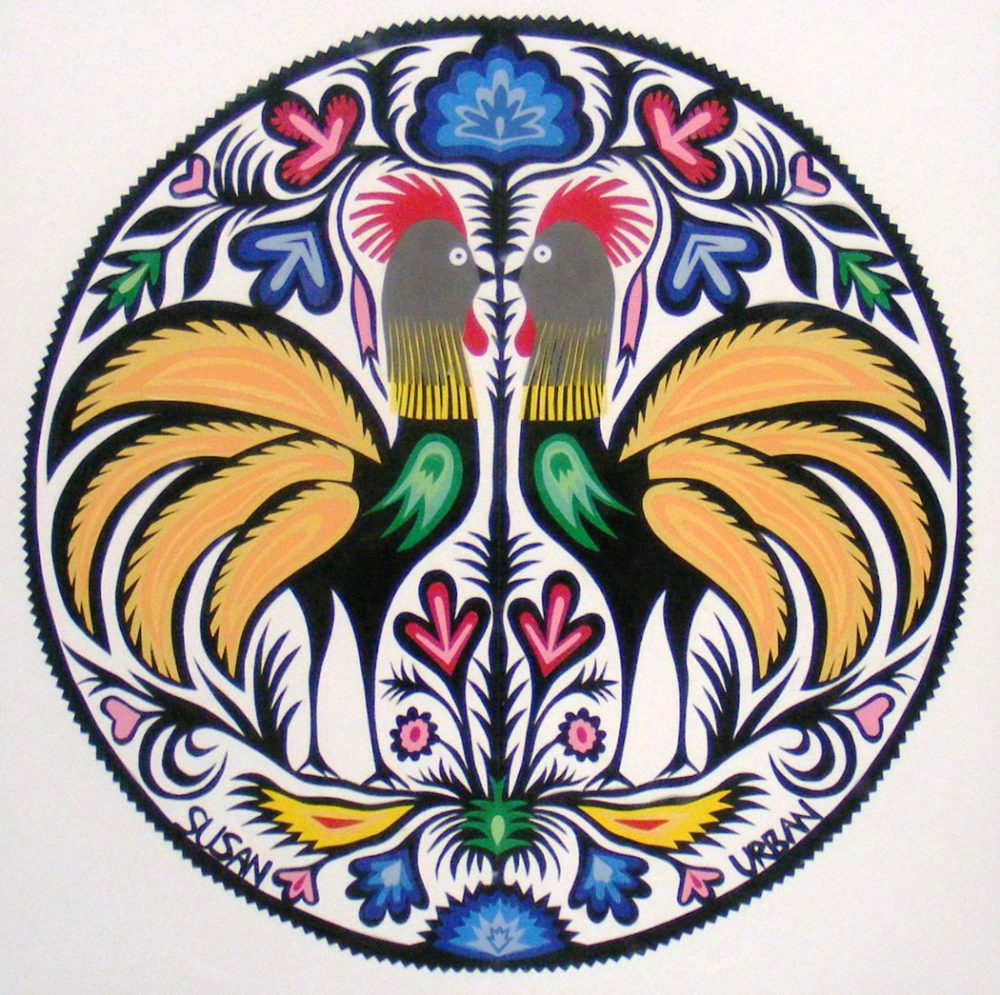 This article is more than 7 years old.
Paper and scissors are the basics of Susan Urban's craft. "I have about 20 pairs of scissors in different sizes," the West Springfield artist says. "When you're using scissors on paper, they get dull quickly."
With them, she carefully, hand snips out dazzling designs—cocky roosters, dancing couples, kaleidoscoping flowers and birds perched in magic trees. Her original compositions, which often mirror and repeat so that they seem to vibrate, are rooted in two centuries of the traditional Polish folk craft called wycinanki.
She'll be showing her designs and demonstrating her technique in the folk craft area along Kirk Street in Lowell tomorrow and Sunday of the free Lowell Folk Festival of music, crafts and food that begins today and runs through July 27. At her booth, visitors will be able to try paper-cutting themselves, and she'll be showing traditional Polish paper eggs, stars, ornaments and miniature costume designs.
Some of Urban's papercuts reflect the style of the Kurpie region in the northeast of Poland, which is known for designs snipped from a single sheet of paper, often depicting trees. "The trees evolved from spruce trees or pine trees, where they were believed to have produced medicinal herbs that healed people," Urban says. "They're called 'Trees of Life.'"
But she leans toward the style of Lowicz in the country's northwest, known for layering multiples sheets of cut paper to create colorful roosters and circle motifs filled floral patterns. "The native Polish rooster was black and the roosters were a sign of new life, when the hen lays an egg," Urban says.
Wycinanki is thought to have originated in the 19th century among peasant farmers who covered the windows of their homes with sheepskins to keep out the elements. "They cut little holes for light and air to come in," Urban says. "Some of them look more like lace and some of them do have an actual design in them."
"They decided to try them on paper when paper became more available," Urban says. "And they started embellishing them more." The paper designs were used to decorate homes and given as gifts.
Urban got hooked when she traveled to Poland to better connect with her Polish ancestry in 1977 via a Kosciuszko Foundation exchange program. Her grandparents came to Massachusetts from Lubla, near Tarnow. "They came over looking for a better life, for work," Urban says.
Urban's designs begin with Polish motifs, but over years of study she's come to often incorporate inspiration from paper-cutting in China, Mexico, Japan, Switzerland and Germany as well.
If the design is simple, she says she just starts cutting. For more complex compositions, she usually sketches her design right onto the black paper, then cuts out the design while folding the sheets—much like cutting out a paper snowflake. Traditionally sheep shears were used, which allowed artists to cut through up to 16 layers of folded paper at once to create the style's signature kaleidoscoping designs. Urban says she usually doesn't cut through more than eight layers. Color comes in when she cuts shapes out of other papers and adds them on top. The effect is a little like stained-glass.
Urban says, "It's like painting with paper."
Greg Cook is co-founder of WBUR's ARTery. Follow him on Twitter @AestheticResear and be his friend on Facebook.
This article was originally published on July 25, 2014.