Revere Cleans Up After Tornado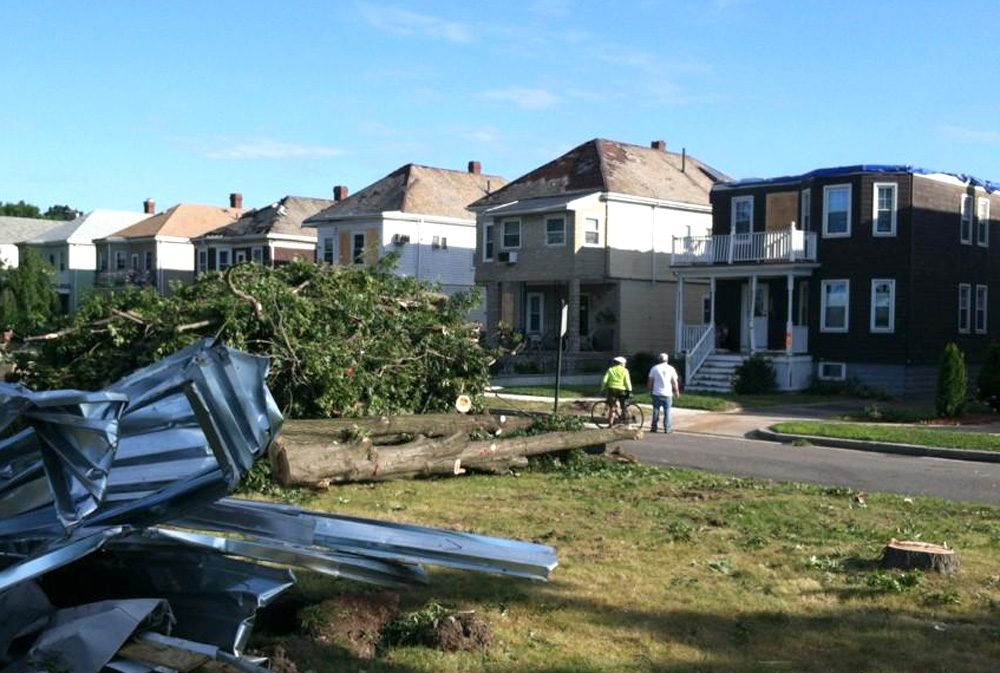 This article is more than 7 years old.
Some residents remained out of their damaged homes while others continued cleaning up Tuesday after a rare tornado that struck just north of Boston.
Monday's storm hit Revere with winds of up to 120 mph. The National Weather Service said it was a relatively modest EF-2 on the Enhanced Fujita Scale of 0 to 5.
No deaths or serious injuries were reported.
City and state officials planned to continue damage assessments Tuesday. City Hall was among the dozens of buildings that sustained damage. Thirteen homes were rendered uninhabitable.
Mayor Dan Rizzo said Tuesday the city appeared to be getting back on its feet.
"These recovery and rebuilding efforts will continue over the next several days and I would like to ask all residents to be as patient as they can as we move forward with this cleanup effort," Rizzo said in a statement.
Any residents who believed there was a dangerous situation at their homes were encouraged to call the city for assistance, the mayor said.
State police were on hand overnight to protect against any looting in the city. A shelter was opened for displaced residents, but Rizzo said it appeared that all residents who were unable to return to their homes found friends or relatives to stay with.
Gov. Deval Patrick said officials will evaluate the damage and then decide whether to request federal assistance.
"[The Massachusetts Emergency Management Agency] has had, I am sorry to say, some experience with this both in terms of gathering assessments and making the case and understanding what the different avenues may be at the federal level," he said Monday.
But Revere Fire Chief Gene Doherty said despite an estimated $2 million in damage to public property alone, he doesn't predict the city will qualify for federal disaster aid.
"When they do bring those about, it's usually based on a county-wide assessment," Doherty said. "So obviously Revere and parts of Chelsea were hit, and so the total amounts for the county, based on population, it's going to be very difficult."
Tornadoes are relatively unusual in Massachusetts, but extremely rare along the coast. The National Weather Service said it had not had a report of a tornado in Suffolk County, which includes Boston and Revere, since it began keeping tornado records in 1950.
The tornado was on the ground for about four minutes, sending residents scrambling for safety.
Luis Fonseca said emergency warnings came too late. By the time a tornado warning popped up on his cellphone, he said, he was already running to the basement with his niece and nephew as windows shattered and the wooden house swayed from side to side.
With reporting from the WBUR Newsroom and The Associated Press
This article was originally published on July 29, 2014.