2,780-Calorie French Toast: Cheesecake Factory Tops The (Calorie) Charts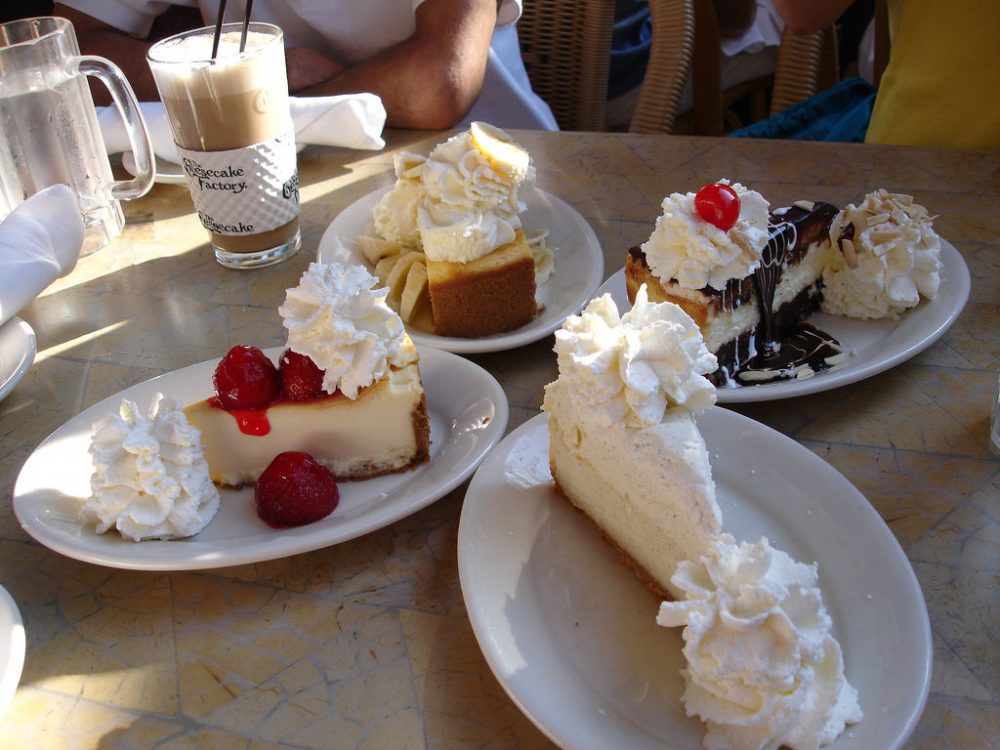 This article is more than 7 years old.
Veronica Thomas
CommonHealth Intern
The Cheesecake Factory doesn't just have the biggest menu. It also has the biggest calorie bang for your buck, according to this year's Xtreme Eating awards from the Center for Science in the Public Interest.
Consider their Bruléed French Toast, described in the menu as: "Extra thick slices of rustic French bread baked and grilled golden brown. Topped with powdered sugar and served with maple-butter syrup with bacon or grilled ham."
French toast seems innocent enough, and it's even "bruléed." If the French do it, it must be healthy. After all, French women don't get fat, right? But at a whopping 2,780 calories, this breakfast treat is enough to satisfy an average person's energy needs for the entire day—and half of tomorrow. To burn off that toast, you'd have to run a marathon. Yes, you read that right. A marathon.
This custard-stuffed toast, along with the Farfalle with Chicken and Roasted Garlic and the Reese's Peanut Butter Chocolate Cake Cheesecake (yes, that's double the "cake"), placed The Cheesecake Factory as the clear winner of this year's Xtreme Eating awards.
Ranked by the Center for Science in the Public Interest each year, these nine awards go out to the meals highest in calories, sugar and salt sold at chain restaurants around the country. The center is making a point: It's pushing for the federal government to require calorie counts on chain-restaurant menus -- and the numbers certainly do pack a punch.
So, who are the other six offenders—or should I say, winners?
Red Robin's A.1 Peppercorn Burger, a serving of Bottomless Steak Fries, and a Monster Salted Caramel Milkshake (3,540 calories and four days' worth of sodium)
Famous Dave's "Big Slab" of St. Louis-Style Spare Ribs with a corn muffin, Famous fries, and Wilbur (baked) beans (1.5 pounds of meat and 2,770 calories)
BJ's Signature Deep Dish Chicken Bacon Ranch Pizza (2,160 calories—or what you burn while swimming for four hours straight)
Chevys Fresh Mex's Super Cinco Combo (1,920 calories, not including the bottomless basket of greasy tortilla chips)
Joe's Crab Shack's Big "Hook" Up Platter (3,280 calories and three days' worth of fried saturated fat)
Maggiano's Prime New York Steak Contadina Style (2,420 calories—half of which come from the sausage-and-potato garnish alone)
I must admit, I got a little hungry writing this post. But if I ever do get one of these meals, I think I'm going to have to take the long way to the restaurant — as in walk to the location in the next state over.